YouVersion Bible App is nothing but a brand name given for a Bible App. YouVersion Bible App helps us to access the bible easily in our day to day life through various mediums. Today's world is dependent on digital platforms, and gone are those days when people used to collect books. Now books are read digitally through eBooks, apps, web portals, etc. this helps book readers to access their favorite collection on the go without physically carrying it.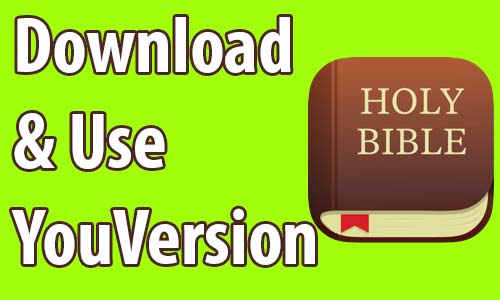 So with this idea, YouVersion launched a Bible App named YouVersion Bible App which can be accessed on every device and can be read whenever you are free. You can carry the Power of God everywhere with you in the form of YouVersion Bible App and can be read every day anytime when you are free or when you get the time.
If you are the one who loves to explore the Words of God, the YouVersion App is the best companion for you. YouVersion App is not only limited to reading the Bible, but you can also hear the words of God in the Bible.
YouVersion Bible App is available for almost all devices like android, iOS, BlackBerry, Windows Phone, Java, Symbian, Kindle Fire, Windows OS, MAC OSX, Amazon's Alexa devices, Google Assistant, etc.
The best things about YouVersion Bible App is it's free and also free from ads, you can enjoy reading Bible + listen to Audio Bible and get Daily Verse.
YouVersion Bible App Main Attraction
Read and Listen Bible in 40+ languages
You can read selected versions of the Bible even when you are offline without any network connection
Switch between 1,400+ Bible versions, 1,000+ languages
You can also listen to the Audio Bible, but only when online
Offers Verse of the Day widget
Different Versions of the Bible App can be read on the YouVersion Bible App. Some of the popular versions in YouVersion Bible App are King James Version KJV, New International Version NIV, New King James Version NKJV, New Living Translation NLT, English Standard Version ESV, NASB, Revised Standard Version RSV, New Revised Standard Version NRSV, and NIV
How to download and Install the YouVersion Bible in Android or iOS Smartphone
To install the YouVersion Bible App on your Android Smartphone open Google Play Store and in iOS device open App Store
Search for YouVersion Bible by Life. Church
Tap on the install button and the app will get downloaded on your phone
Once the app gets completely downloaded it will automatically install on your phone
Tap on the installed YouVersion Bible icon to open it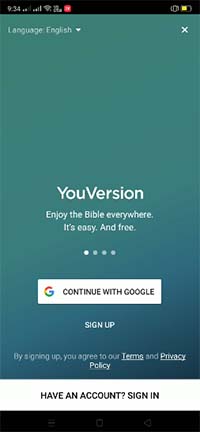 To access YouVersion Bible App you will need to register an account, which can be done with Google, Email or Facebook
Just register an account and confirm your YouVersion Account
Once an account has been set up and you are logged in, you will be able to access all resources present in YouVersion Bible App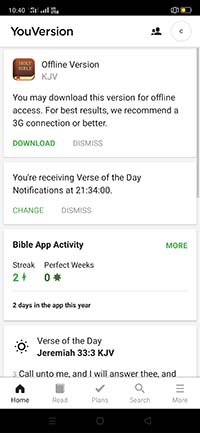 You can start reading the Bible in YouVersion App and also can download bible versions for offline viewing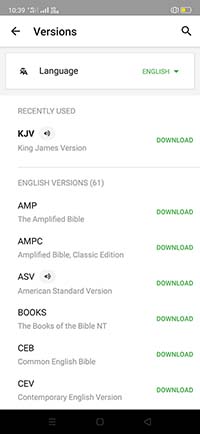 With a search option, you can search bible passages, or search through bible stories, etc.
How to download and Install the YouVersion Bible App in Windows OS
YouVersion Bible App has a compatible program for Windows 8, Windows 8.1 and Windows 10. To download Windows version of YouVersion Holy Bible just open Microsoft Store and search for YouVersion Bible App
Just install the app by clicking on the get button and the app will start downloading and later on install on your pc or laptop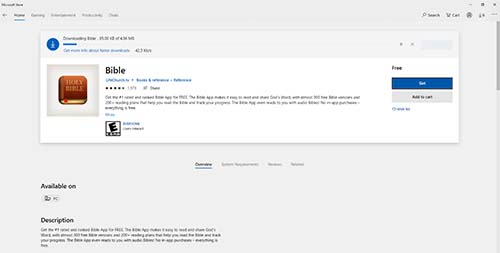 Once the app gets installed, open the app by going to start menu
Once the app gets launched, you can start reading the bible without logging in or registering, if you want you can register an account or if you already have an account then sign in using those details.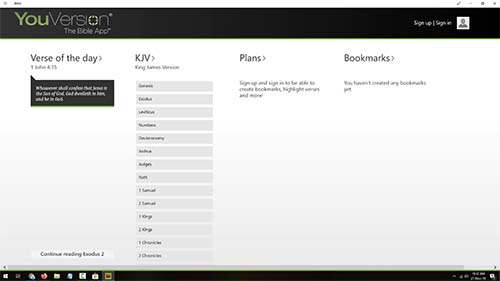 Logging in into YouVersion Bible App will help you to highlight verses, make plans, study with friends and do many more things.
How to Access YouVersion Bible in Amazon Alexa and Google Home
If you have Google Home and want to access YouVersion Bible on it then you will need to say "Ok Google, talk to YouVersion Bible"
And if you have Amazon Alexa Device and want to access YouVersion Bible then you will need to say "Alexa, open YouVersion Bible"
How to Access YouVersion Bible on Website without installing any apps
If you don't like to install apps on your phone or want to access YouVersion Bible on the specific device which doesn't have a compatible app of YouVersion then you can also access or read the bible directly from its web portal.
To read YouVersion Holy Bible from web portal just visit https://www.bible.com/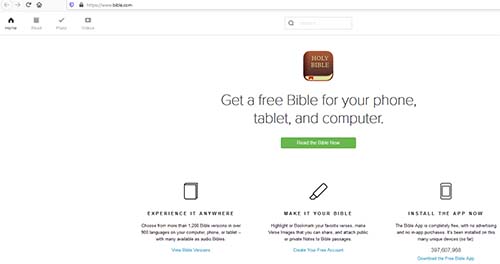 Click on read the bible now and bible version will open a new page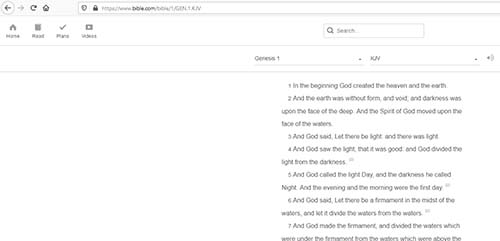 You can select any version of the bible which you want to read, and even you can listen bible, make plans and watch videos.
How to Use YouVersion Holy Bible App
Once you finish with installing the app, and setting up your account you will see YouVersion App homepage on which several options will be displayed such as verse of the day, your bible app activity which will display how much time you have spent in the app, Verse of the day image, suggested friends, share the bible, discover thankfulness in God's promises.
To start reading the bible you will need to tap on read and the bible will load, you have the option to select the books, chapters, verses, versions, and languages. On selecting from books, chapters, verses, versions, and languages it will take you right there in a matter of seconds.
Another way to find the passage which you want is by using the search option, a very convenient option which YouVersion offers you is to search by Bible Stories. Many different stories of the bible will be highlighted under this option and on tapping it will take you to the different passages that are included in the bible stories.
A very interesting feature in YouVersion Bible which you can see is you can search mood-based verse selection, in the search just choose one of the emojis here like happy, sad angry, etc. and then choose the different moods displayed in the menu. On choosing the mood it will search different verses relevant to the mood which you have selected.
While reading you can compare with the translations, just select the verse by holding it for a while and several options will be displayed, to compare just tap on compare option and you would be able to compare with the text of various translations. You can also use add version by tapping on the + button and add whatever version which you would like so that you can better understand the verse.
You can listen to the current page by tapping on the audio button which you can find on top, a small mini player will open where you will need to tap on the play button to start listening to the bible.
You can highlight any verse while reading the bible by long-pressing the text and then set the color to highlight it. In the same way, you can also share, create an image of the verse by selecting a background from different available images, make a note, share, bookmark, copy or find related.
With YouVersion Bible you can study with your friends, on the homepage you will find what your friends are doing and what all plans and different verses in which your friends are participating. You can encourage them by commenting, liking or you can also do a bible study plan with friends.