ATM cum Debit Card Upgrade feature by HDFC Bank lets the HDFC bank account holder's freedom to choose and order suitable and beneficial debit cards. When you are not satisfied with the features and benefits available on your current debit card or when you want to opt for a debit card with a lower annual fee than the current one which you hold, then here in such cases the upgrade HDFC Debit Card option plays a vital role.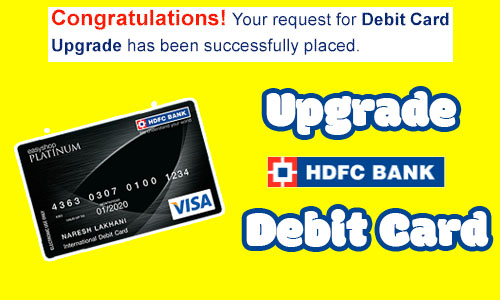 The upgrade request for a debit card can be placed online as well as offline by visiting the branch. As nowadays almost all the account holders have the internet banking facility enabled, so most of them would love to tackle to upgrade their cards through the online mode rather than visiting the branch. But still, as per your convenience, you can opt for any of the modes, and below we have explained both the modes which are the online and offline mediums for upgrading HDFC Debit Card.
How to Downgrade HDFC Debit Card: The upgrade option in NetBanking not only allows you to upgrade your existing card to a higher variant, but you can also degrade or downgrade your card to any low variant card.

For e.g. if you are holding easy shop rewards or any other debit card then you can downgrade to rupay or any low annual fee card.
HDFC Debit Card Upgrade through Netbanking
To upgrade your HDFC Bank Debit Card visit the HDFC Bank official website https://www.hdfcbank.com/
Login to NetBanking account using your User ID/ Customer ID and password
Once you are logged in, just click on the Cards tab
From the cards page, under debit card section click on Transact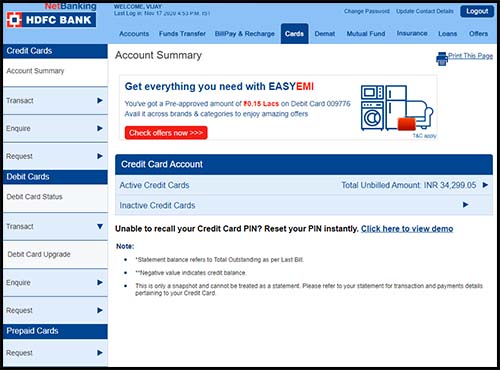 Under Transact, you will get an option Debit Card Upgrade
Just click on the Debit Card Upgrade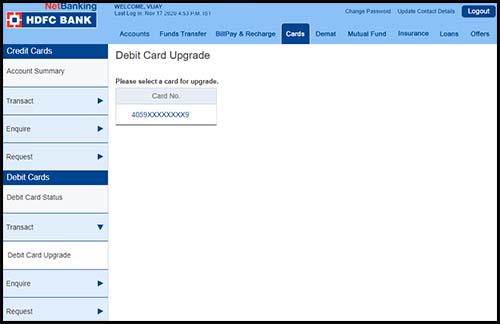 On the next page, your current debit card will be displayed which you will need to select by clicking on it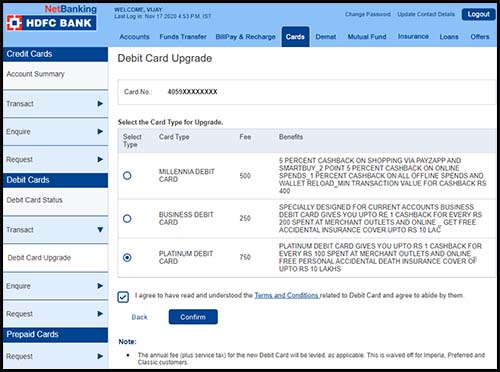 On the next screen, all the cards will be displayed showing its card type, fee and it's benefits
So as per your choice, you can select any of the card from the list to which you wish to upgrade
Once selecting the card from the list, just tick mark on the "I agree to have read and understood the terms and conditions related to Debit Card and agree to abide by them"
Click on the Confirm button to place the upgrade request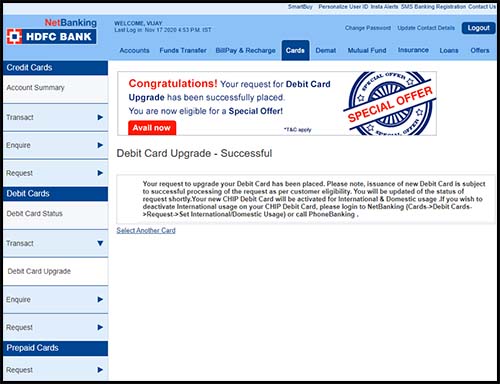 On the next screen, Debit Card Upgrade Successful message will be displayed
The new debit card will be issued subject to successful processing of the request as per the customer's eligibility.
On the same day itself in a few hours, you will be able to see the newly upgraded card in the debit card section of your NetBanking account
The upgraded Debit Card will be delivered to mailing address on record within Next 5 Working Days (for Metro Locations)
Once your new debit card is dispatched you will receive the AWB No
At the time of the delivery of your card, you will need to provide the OTP Code sent on your registered mobile number for the secure delivery.
Your existing Debit Card will get deactivated within 3 working days of receipt of your new upgraded Debit Card. (In case your new Debit Card is sent to Branch, the existing Debit Card shall be de-activated after 15 days from date of dispatch of the new Debit Card)
Upgrade HDFC Debit Card through Branch
To upgrade your Debit Card by visiting the branch, you need to carry proof of identity, proof of address document, and your account number while visiting the branch
The branch executive will fill the physical form of debit card upgrade and will ask you to signature on it
You need to tick mark on the debit card to which you wish to upgrade, but before make sure to check the annual fee and benefits
Once you are done with the signature your photocopies of the documents will be enclosed to the form
You are now done placing the upgrade request for the debit card
The new debit card will be issued subject to successful processing of the request as per the eligibility and it could take up to 5 working days
Can I use both debit cards?
No, once your upgraded debit card is delivered, your existing Debit Card will get deactivated within 3 working days.
Is the debit card upgrade feature available for all types of accounts and account holders?
Debit Card upgrade facility is available only for Savings / Salary Account holders where the mode of operation in account is Singly / Either or Survivor. However this facility will not be available for Minor,NRE and NRO Accounts.
Will my existing debit card get deactivated after placing the upgrade request?
No, your existing card will still stay active even after placing the upgrade request. Until your upgraded debit card gets delivered, you can still use your old debit card. The existing debit card will get deactivated after 3 working days of successful delivery of upgraded debit card.
Can I upgrade HDFC Debit Card by SMS?
No, you cannot upgrade your HDFC Debit Card by sending SMS.
Is there any issuance fee charged if I upgrade my HDFC Bank Debit Card?
No, there is no issuance fee charged to upgrade your HDFC Bank Debit Card. However you will be charged the annual fee depending upon the card which you select to upgrade.
Will HDFC Imperia, Preferred, Savings Max, and Classic customers charged an annual fee on Debit Card?
No, the annual charge on the selected debit card will be waived off for Imperia, Preferred, Classic, and Savings Max customers. However, if the customer decides to upgrade the debit card other than the card which is provided as a free lifetime card then the annual fee (plus service tax) for the new Debit Card will be levied, as applicable.