HDFC Bank Limited provides its credit card users a facility to upgrade their card using upgrade HDFC Credit Card option. Using the card upgrade feature, the existing HDFC bank credit card users can upgrade their card to any variant as per their eligibility.
If you are an existing credit card customer who wishes to hold a different variant of credit card then you can upgrade to the variant which you wish without closing the existing one or applying for a new card.
There are several modes available to upgrade the HDFC bank credit card, and here we have explained all the available methods clearly. So as per your convenience, you can upgrade your HDFC Credit Card using any of these modes.
HDFC Credit Card Upgrade Online
To upgrade your HDFC Bank Credit Card online, you will need to login to the HDFC NetBanking portal using your customer/ user id and password
Once you are logged in to NetBanking, just go to cards section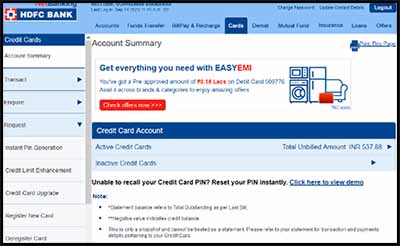 Under Cards page your credit card will be listed, under Credit Cards menu just click on Request > Credit Card Upgrade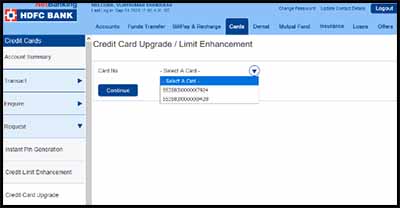 On Credit Card Upgrade page, just select the card which you wish to upgrade from the list and click on the confirm button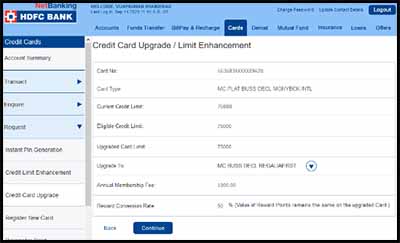 On the next screen, if you are eligible for a card upgrade then the eligible card will be listed
Your existing card details will be listed on the screen, and from the upgrade to option you need to select the card to which you wish to upgrade (you may be one or more than one options of credit card upgrade)
From the available upgrade option, select the card which you wish to upgrade, and once selecting the card its annual membership fee will be displayed below
If you are having reward points earned from your existing card, then the reward conversion rate will be displayed which means how much existing rewards points will be transferred to your new upgraded card
If you feel you are getting fewer reward points transferred to your new upgraded card then before you place the request for upgrade make sure you redeem the reward points.
Once you confirm all the details, just click on the continue button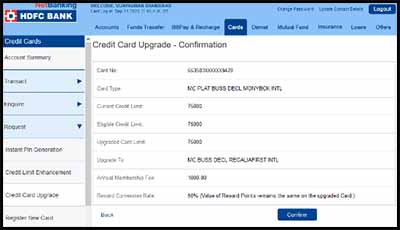 On the next screen confirmation will be displayed, just confirm that you have selected the correct card for upgrade and click on the confirm button to proceed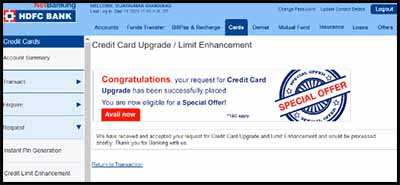 Your request for credit card upgrade will be successfully placed, and a message will be displayed stating "We have received and accepted your request for Credit Card Upgrade and Limit Enhancement and would be processed shortly. Thank you for Banking with us."
Now you will need to have some patience till your upgraded card gets delivered to you. Till then you can use your existing old credit card.
The newly upgraded card will be dispatched to you in 1 – 3 working days, mostly through the Bluedart courier facility. Once the card dispatches, you will receive the SMS as well as an email containing the tracking code. You will receive the card on your address which is registered with your bank. While delivery you need to provide the secure delivery code (OTP) sent on your registered mobile number to receive the package.
HDFC Credit Card Upgrade Offline
Irrespective of whether you are eligible for an upgrade offer or not, you can still request for the upgrade of the HDFC Credit Card by submitting income documents through this offline mode.
To request the upgrade you need to download the Application for Credit Card Upgrade/ Limit Enhancement
Fill up the form with your valid details as per bank records, tick mark on the card to which you wish to upgrade (If you wish to make your Card Life Time Free/ First Year Free Credit Card you need to avail products mentioned in the form such as SmartPay, One Assist, Add-On Card, Credit Shield, General Insurance)
Make sure you fill the form completely, enclose your income documents and submit it to the branch or post it to cards division
Card Upgrade / Limit Enhancement Offer is sanctioned at the sole discretion of HDFC Bank Ltd subject to the customer fulfilling all the necessary and sufficient criteria as decided by the bank at the time of processing. If you fulfill the criteria then your request for the upgrade will be accepted and the new card will be dispatched to your registered address.
Personal Experience of Card Upgrade
I was holding HDFC's most popular entry-level credit card which is Business MoneyBack, and after doing a good number of transactions on this card I had received an upgrade offer to Business Regalia First.
So I placed the request for the upgrade through the NetBanking portal, and in two working days, I received a message as well as an email saying Your Credit Card is on its way with tracking details. The card was dispatched through BlueDart and I was able to track it online using the tracking airway bill no.
The package was delivered to me the next day after the dispatch, through BlueDart Courier, and while delivery I was asked to provide the secure code sent on my registered mobile number for secure delivery.
Below is the picture of my upgraded Business Regalia First Credit Card Package.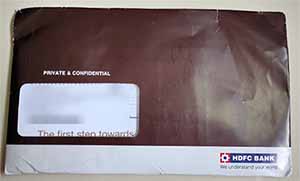 Once you use the new card, the existing card will automatically get deactivated. Or even if you don't use the new card then also the old card will get deactivated after the deadline which would be communicated to you through SMS. So you won't need to worry about the existing card deactivation.
How to get delivery of the card if my mailing address has changed after applying for the Card?
If your mailing address has changed after applying for the Card, you need to send your new address on a letter signed by you to:
HDFC Bank Cards Division
PO BOX # 8654
Thiruvanmiyur PO
Chennai 600041
What to do if I don't get delivery of the card?
If you do not receive it within seven days from the date of this e-mail, please call us on our 24-hour Phone Banking Numbers
What to do if I am not eligible for credit card upgrade through netbanking?
While upgrading your credit card through netbanking if you are getting error "We apologize, but this facility is temporarily unavailable. Please try again later." then it means, you are not eligible to upgrade your card. To become eligible you need to use your card regularly and pay the dues on time for next few months and try again.
How to track the delivery status of upgraded HDFC Credit Card?
Once you place the request for the upgrade, your upgraded card will be dispatched in 2 -3 working days. And once your card dispatches you will be communicated with tracking details through SMS and email. Using the tracking number, you can track your card delivery status by visiting the courier site.