How to Update LG TV: All the Smart TV's produced by LG, run's on the operating system named WebOS also known as LG WebOS. WebOS is a very light weight firmware operating system which helps to run the TV Smoothly without any lags. LG also provides Software updates to all their Smart TV's from time to time as per the requirement, which helps in enhancing the features and also fixes the bugs if present on existing OS.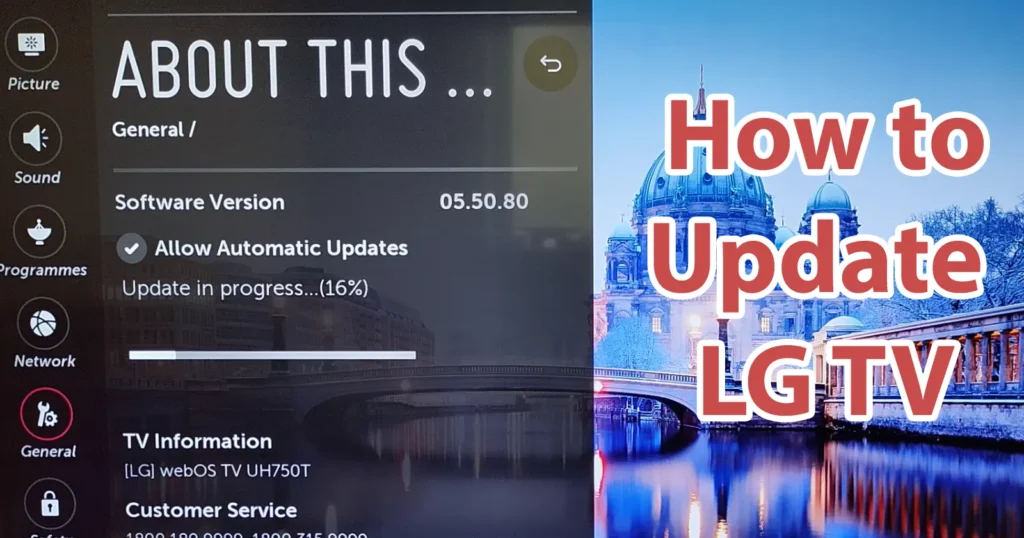 LG Smart TV users have the option to update their TV software, also known as firmware, through an OTA (over-the-air) online update or a manual offline update. This allows users to conveniently update their Smart TV to the latest version using the method of their choice. Whether opting for the online or offline update, updating the firmware which is webos update is a seamless process that can be performed at the user's convenience.
Benefits of LG TV Software Update
Here are the benefits of LG TV Software Updates.
| | |
| --- | --- |
| Latest features | Bug Fixes |
| Improvement in User Interface | Addition of new apps |
Maintaining the latest software version on your LG Smart TV enables you to experience the newest features available. Below are the step-by-step instructions to guide you on how to upgrade LG TV Software.
How to Update LG TV Software Online – OTA
To update your LG Smart TV using the online OTA method, it is necessary for your TV to be connected to a WiFi network or have a LAN port connected in order to download the required LG webos update.
Turn ON the TV
Go to Settings page by pressing the settings button on the remote
On settings page, just click on General tab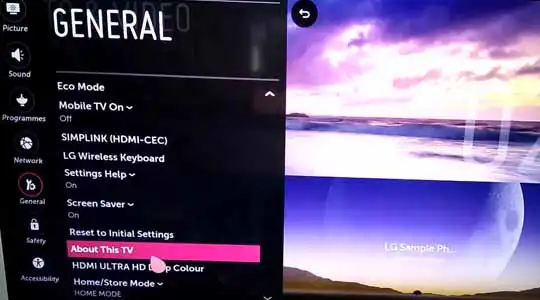 Scroll down the options on General tab and click on About this TV
About this TV page will display the current software version of your TV or webos current version installed on TV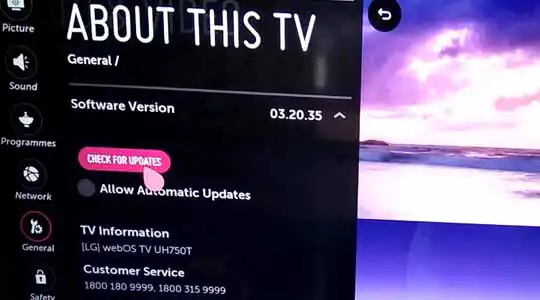 To check for the lg firmware update just click on the Check for Updates option (this is a inbuilt LG software update Tool)
This will check for the updates of the TV and if LG TV Latest Firmware Update is available it will present a message Update Available and it will mention the LG TV Latest Software Version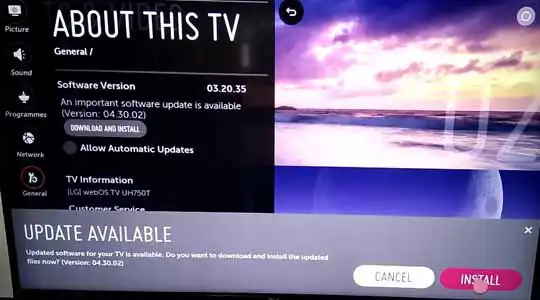 If Webos latest version update is available for your Smart TV then just click on Install button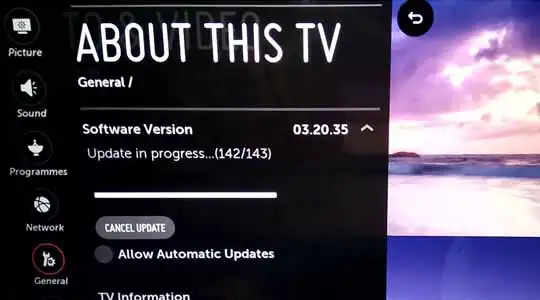 It will start downloading the LG TV Update, which could take several minutes to hours depending upon the file size and your internet connection
Once the software is downloaded it will prompt you to install the lg tv update
Just click on the Install button and it update will start installing
While the update installation make sure you don't turn off your TV or make sure there is no power cutout going on in your area
The LG TV Firmware Update installation could take several minutes and once installing your TV will restart
Once the installation of update is finished you will get a prompt stating your TV Software is updated.
Incase while checking for updates, if you are getting a message no update available then it means your TV is currently running on latest version of operating system.
LG TV Software Update Offline
The manual method of updating TV software is ideal for those who do not have an internet connection on their TV or are unable to update to the latest software version by using the "Check Update" option.
For offline firmware update for lg tv method you will need following things:
| | |
| --- | --- |
| USB Drive | Laptop or Computer with Internet |
In order to perform an Offline LG TV Firmware Update, the user will need to download the LG TV firmware update USB download file.
From your computer or laptop open any web browser and visit https://www.lg.com/us/support
Enter your TV model in the search box
Click on the model from the drop down list which is appearing below
On clicking on TV model, the page will get navigated to the specific TV model product support page
Just scroll down and under Software & Drivers, you will be able to see the LG TV latest software version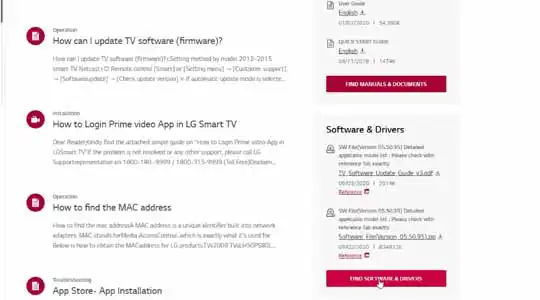 You just need to cross check your TV Software Current running version by going to Settings > General > About this TV and on this page your TV Software version will be mentioned
If the Software file under Software & Drivers section page (lg tv software update download) is a newer version then your existing software installed on your TV then just download the file by clicking on it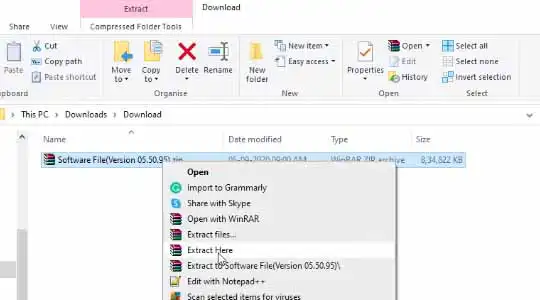 Once the software file is downloaded, just extract or unzip the file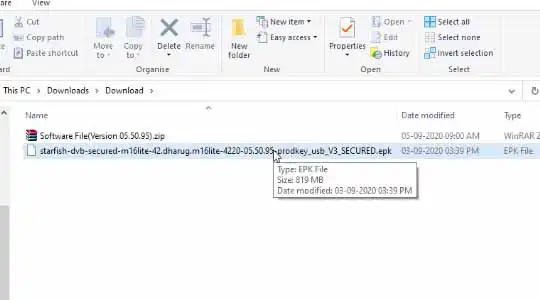 Now you need to plugin the USB Drive, Create a folder named LG_DTV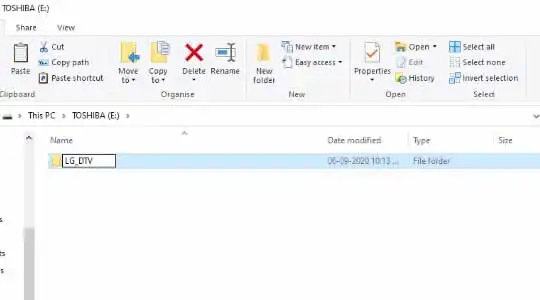 Copy the extracted .EPK file in this folder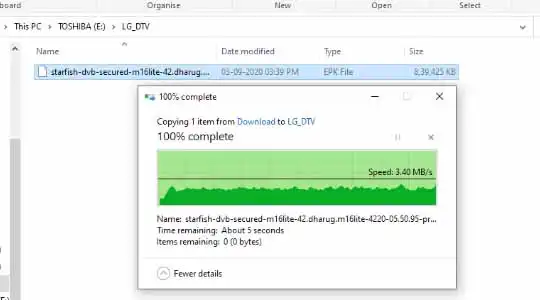 Once the file is successfully copied, unplug the USB drive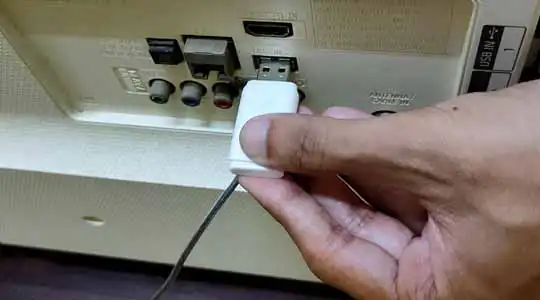 Insert the USB Drive into TV USB Slot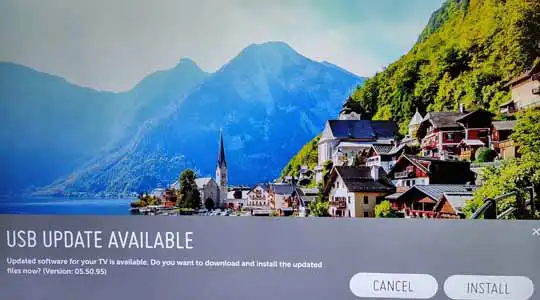 Once USB is connected, your TV will prompt with a message USB Update Available
On this prompt message there will be Install button, just click on the Install button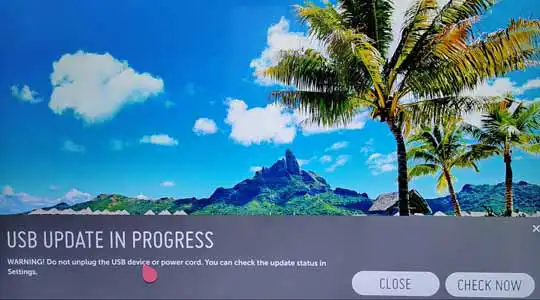 An USB Update in Progress message will popup which will mention the warning: Do not unplug the USB device or power cord. You can check update status in Settings.
Just click on Check Now button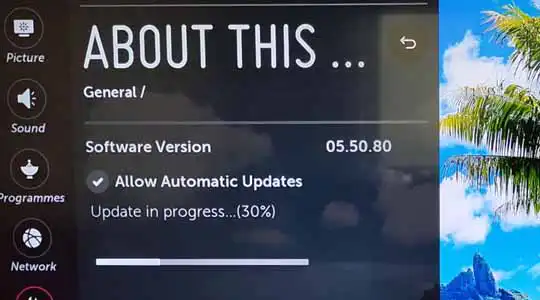 The Software Installation process will take several minutes, while this process is ongoing you should not switch off your TV or remove the USB Drive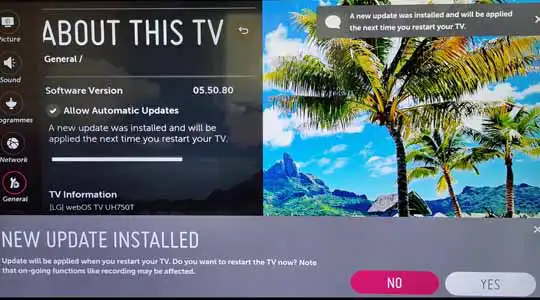 Once the instillation is done, a prompt will appear New Update Installed, Update will be applied when your restart your TV. Do you want to restart your TV now?
Just click on Yes button and your TV will restart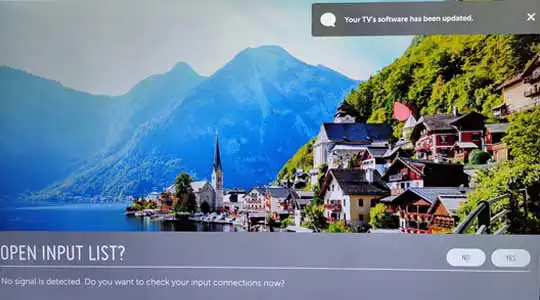 And here it finishes successfully installation of latest software on your TV.
Can you upgrade WebOS on LG TV?
Yes, LG provides WebOS software updates from time to time, please follow the instructions mentioned above to update your LG TV to the latest firmware.
How to restart LG TV for update?
Once update is completed, your LG TV automatically restarts. You don't need to do anything.
How to update LG TV apps?
If updated version of app is available, when the app is launched it will prompt for update. Just click on update and it will start downloading the updated version of the app. This will take some time as per file size.
Where can I find LG TV Software update 2023?
The lg tv software update 2023 or the latest update can be found on the official website of LG, as explained above.