Australia is one of the best educational places in the world. The universities are equipped with modern laboratories and libraries that facilitate easy learning. The mode of transportation in Australia is excellent and students have a chance to get to their learning institutions in time. There are also sandy beaches, nice cafeterias, nightclubs, and historic parks. The weather is wonderful and this makes learning very enjoyable.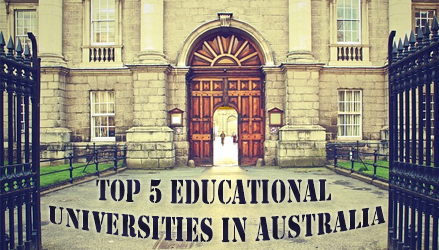 Top Universities in Australia
University of Melbourne
The University of Melbourne is ranked among the best universities in Australia and in the world. The university is highly credited in the fields of biomedicine, arts, and humanities. The university has 40,000 students and 6,000 full-time and part-time workers. The University of Melbourne was established in 1853 but classes began in 1855 with only two professors and sixteen students. The university has eleven faculties which include faculties in Education, Law, music science, medicine, dentistry among others. It offers these courses from Bachelors, Degrees to Doctorate level.
University of Queensland
The University of Queensland is also one of the best universities in Australia and worldwide, It is home to more than 45,000 students, 11,000 of whom are foreign students. It is well known for its premier learning and research. Teachers who teach here have won more teaching awards than teachers in any other Australian university. They have six major faculties that offer more than 375 programs at the undergraduate level, postgraduate and research higher degree levels. The university has produced researchers whose innovations have impacted the world like the cervical cancer vaccine.
University of Western Sydney
The University of Western Sydney is the fifth largest university in Australia with a student capacity of 40,000. More than 3,000 of these students are foreign students from more than 75 countries across the globe. The University is young and very energetic with six campuses situated in Sydney's Greater West region. The university has a reputation for academic excellence and research. The lecturers are highly qualified and they encourage their students to adapt to new technology and embrace more.
Monash University
Monash University is also among the largest universities in Australia. It is recognized for its excellence in academic performance and groundbreaking research. The university is among a group of eight universities in Australia recognized for its contribution to research projects, teaching, and scholarships. Since the first student joined in 1967, Monash University has grown into a big learning institution with six campuses around the globe with one in Malaysia and another in South Africa. There are also centers in the UK, Prato, Italy, and London. There are more than 48,000 students, 1200 of whom are international students.
University of New South Wales
The University is located in the eastern suburbs of Sydney and is known for its excellent academic research and performance. Its graduate is of high quality and makes a very huge impact on global development. The university was established in 1949 and has expanded rapidly. It is now home to more than 44,000 students from more than 130 countries. The university has many campuses but the main campus is on a 38-hectare site in Kensignton.
All international students are required to have an Australian visa in order to study in Australia.