Orange Dot on iPhone is what making you worried? Then there isn't any need to panic or worry as its not an serious issue or a failure on your device. The orange indicator will be in circular shape which will light up on top right corner screen of the iPhone. This indicator appears on all Apple iPhone versions Phones as well as on all Apple iOS version above iOS 14.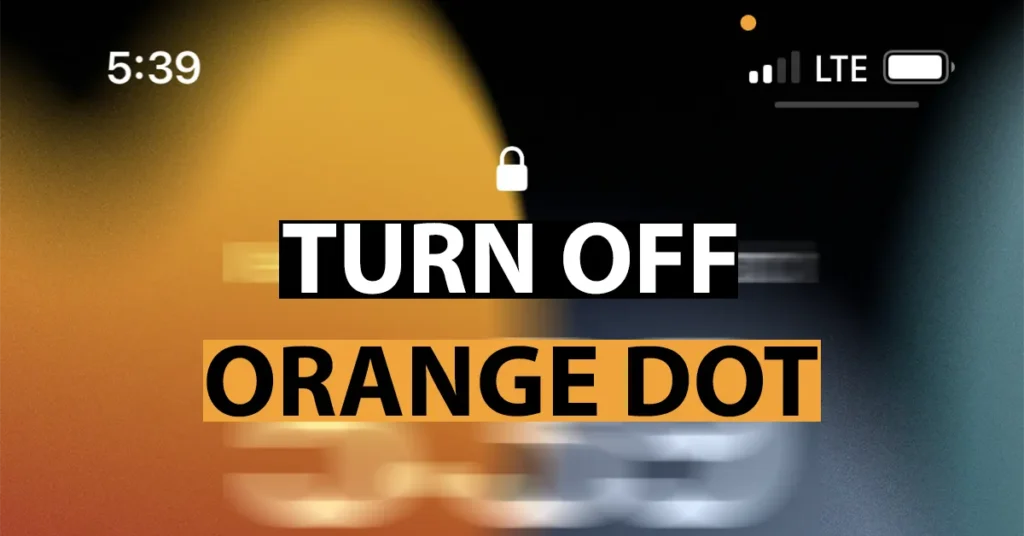 Before we provide you the solution to turn off orange dot on iPhone screen, lets first try to understand what exactly the Orange Dot on iPhone mean and then later on lets get introduced to the process on how to get rid of orange dot on iPhone or How to turn off orange microphone on iPhone.
Orange Dot on iPhone
Orange Dot on iPhone is a newly introduced feature in Apple's iOS 14 onwards. The purpose of this feature is to indicate that the app on iPhone is making the use of microphone on your iPhone device. So when ever the little orange dot gets ignited on your iPhone Screen, it means any of the app installed on your iPhone is making use of the microphone. In conclusion as per Apple the Orange Dot indicator is a privacy feature which alerts the user whenever the microphone on device is in use.
This feature was added by Apple to ensure apps aren't secretly capturing image/ video and audio without user consent. Whenever you see the orange or green indicator turned on your iPhone screen it means an app is using your camera or microphone, and you can choose to allow or deny access if you find it suspicious.
When Does The Orange Dot on iPhone Lights
Whenever the microphone is accessed by iPhone default apps or installed apps, the orange light on top right hand side corner lights up. Some of the common occasion when the orange dot indicator on screen ignites are:
Calling or When On Call
Asking Siri
Recording Voice Memos
The above were some of the occasion when the orange indicator on iPhone lights up, where as if you have installed any apps on your iPhone and when it makes used of microphone at that time the orange light will also ignite.
Orange Dot on iPhone How To Remove
The Orange circular dot on top of the screen is ignited only when microphone is in use, otherwise when not in use the light won't illuminate. It is an additional security feature introduced by Apple, and there isn't any option to remove orange dot on iPhone or turn off orange light on iPhone.
However if you have having trouble in differentiating the color indicators on your iPhone Screen or if you are suffering from color blindness then you can turn on differentiate without color. On turning on differentiate without color instead of solely relying on color it will replace the user interface of the indicator from dot to square.
Differentiate Without Color
Open Settings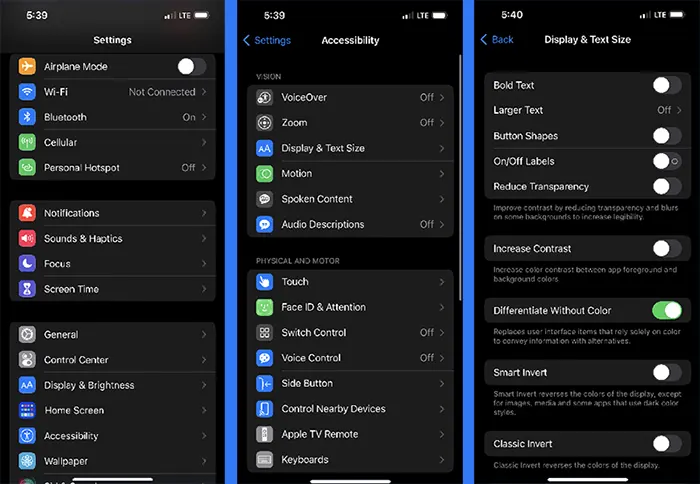 Scroll down and go to Accessibility
From Accessibility page tap on Display & text Size
From the Display & Text Size page, enable Differentiate Without Color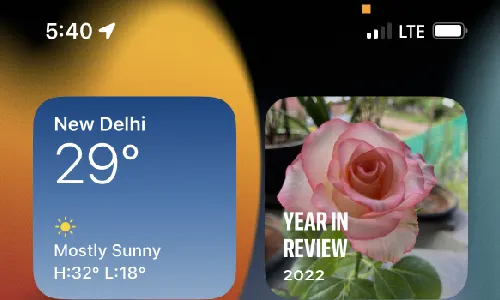 Next time when microphone is used by any of the apps on your iPhone, the Orange Dot will appear as orange square.
Which app is using Microphone in iPhone
If you are able to see orange dot lighted on your iPhone screen, and wish to see which app is using microphone in your iPhone then follow the below instructions.
Swipe down from top right corner screen on your iPhone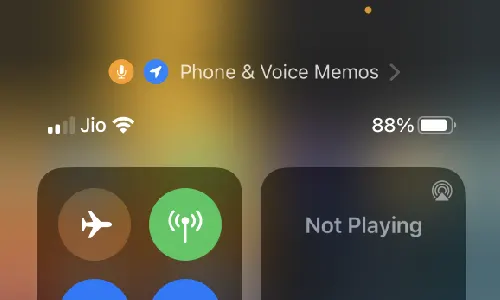 It will list the apps which are using the microphone of iPhone
In the above example image you can see that voice memo and Phone app is accessing the mic and that's the reason orange dot has been ignited.
Other than the orange dot, there is also a green dot indicator which is again a privacy feature. So lets know more about the Green Dot Indicator.
Green Dot on iPhone
The green dot also appears in a circular shape, same as orange dot. But when the green indicator lights up it means camera or both camera and microphone is in use by app on iPhone.
Some of the occasions when green dot appears on dot top right corner of iPhone are:
Camera app is open
Using Facetime app or any other video calling app
Does orange dot on iPhone mean someone is listening?
Not at all, it doesn't mean someone is listening. Instead it mean the microphone is used by the app on your phone. If the orange dot is always lighted up, then it could be concerning thing as your phone might have hacked or attacked with malwares.
Is orange dot on iPhone bad?
No, its just to make you alert that mic is being used by app.
I am seeing Orange dot on iPhone screen when on a call?
It's usual, as the call app is making use of the microphone so as per the feature the orange dot lights up.
Why iPhone green dot when unlocking?
If you have enabled Face ID Unlock, while unlocking you may see green dot as it uses Camera for face unlock.