Shree Maruti Courier Service PVT. LTD. is a courier service provider since 1985 providing domestic and international courier services. So here there is a quick tutorial to track the status of Shree Maruti Courier for those who are having difficulty in tracking their parcel. Follow the below step by step guide to trace or track Shree Maruti Courier Shipment.
Steps to Track Shree Maruti Courier Online
To track your shipment dispatched with Shree Maruti Courier you should have your shipment tracking Document No or Docket Number.
Visit https://www.shreemaruticourier.com/
In the Track your Shipment field, enter your document / docket/ shipment number and click on track your shipment button
On clicking search button it will show you the current status of your parcel or shipment as you can see in below screenshot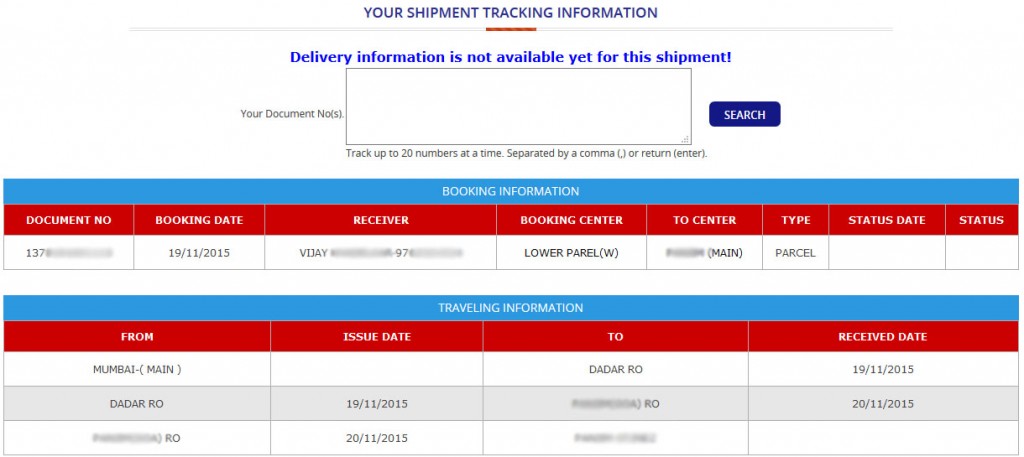 At one instance you can Track up to 5 numbers at a time. Separated by a comma (,) or space
This is how you can easily track your parcel dispatched with Shree Maruti Courier Online. Alternatively you can even track the status on your iOS or Android Smartphones by downloading their App from respective app store.
If you are facing any difficulty in tracking your shipment or on tracking your document number you are getting message "Booking & Delivery information is not available yet for this shipment!" you can reach them by dialing their Toll Free No. 1800-212-1234.