Computer and peripherals have become an imperative part of our lives. Many leading websites in India offer a huge range of peripherals at competitive price from all leading brands. Instead of going to an offline store, buying peripherals from online store is wise as it not only saves your time, but it can also help you save money. These websites used to offer exciting discounts and gifts to fascinate buyers, which will also benefit you.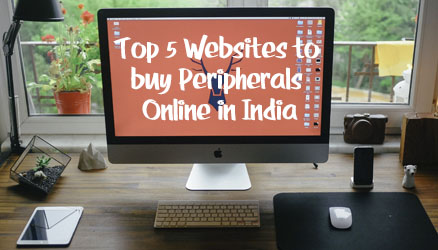 If you are planning to buy peripherals online in India, then following are some reputable websites you can check:
Top 5 Sites to buy Peripherals Online in India
Amazon: Amazon India needs no introduction in the field of retail online shopping. Amazon offers a large selection of computer peripherals, including adapters, blank media, cables, computer screws, fire wire hubs, keyboard & mice accessories, KVM switches, memory cards, printer accessories, tablet accessories, and others. You will find here all popular brands such as Stronium, SanDisk, Samsung, Kingston, Lenovo, Quantam, HP and more. In order to make your search more focused, you can pick your favorite brands or accessories from filters, or can also set the price range to find a peripheral that meet your requirement and budget.
SnapDeal: SnapDeal is the fastest growing online retail store that has a wonderful selection of computer and peripherals from top brands. You will find here external hard disc, printer, scanners, cartridges and toners, pen drives, RAM, software, mouse and other produces. Apart from popular brands, you will find local trusted brands as well to save money. What adds an edge to this site is that you can also avail exciting discount on your chosen product.
Junglee: Junglee is a leading online shopping store of India. The website offers a huge selection of peripherals that includes adapters, blank media, blank media cases, cables, computer screws, fire wire hubs, hard disk bags, hard disk docking stations, hard disk frames and enclosures, keyboard and mice accessories, KVM switches, memory cards, monitor accessories, laptop accessories, printer accessories, scanner accessories, tablet accessories, UPS, USB gadgets and USB hubs. Popular brands available are SanDisk, Samsung, Kingston, Neopack, Strontium, Transcend, Dell and more.
Infibeam: Infibeam is not so popular, but still can be considered as an ideal place to buy peripherals due to large collection. The site deals into a variety of gadgets, accessories and more from different brands to satisfy the requirements. In peripherals, you will find here at Infibeam are memory storage equipment, networking, software, printers & scanners, monitors, components and accessories. Peripherals from all reputed brands are available such as A-DATA, Acer, ADATA, Advik, Agile Learn, Ambrane, AOC, APC and Apple.
CompuIndia: CompuIndia is the Dell Express Ship Affiliate, and it is the only official Dell distributor. The website delivers all kinds of technology products and services to buyers at the best price. Here under peripherals, you will find batteries & adapters, speakers and headphones, PC accessories, Monitors, tablet accessories and more. The website aims to become a one-stop solution for all computer related purchase in India and therefore, provides a massive selection of computer peripherals online. If you are looking for discount on peripherals device visit CouponzGuru.com and save money while shopping.