STEPN is a Web3 lifestyle app with Social-Fi and Game-Fi elements. Users equipped with NFT Sneakers – walk, jog or run outdoors to earn GST, which can be used to level up and mint new Sneakers.
Player can choose to lease or sell their NFT Sneakers on the in-app Marketplace; users' GST earnings are stored in the in-app Wallet, which has a built-in Swap function.
To signup on app STEPN, you will require activation code, the activation code can be requested from the already joined members of STEPN. But if you are in a hurry and tried requesting the activation to your friends and relatives then there is a one more method to get the activation code to join.
STEPN officially provides activation code's to the users who can answer to the quiz which is related to STEPN. The quiz can be played right away and you can obtain the activation on the spot.
Below are the quiz correct answers, in case if you are stuck on any questions then here you can refer to the correct answers of the quiz.
STEPN Quiz Answers
WHAT IS STEPN?
WEB3 RUNNING APP
BROWSER GAME-FI PROJECT
LIQUIDITY MINING PLATFORM
GAME GUILD
Answer: WEB3 RUNNING APP
WHAT NFT SNEAKER CANNOT DO IN THE APP?
LEVEL UP
COLLECT ENERGY SHARD
MINT NEW SNEAKERS
EARN ACHIEVEMENTS
Answer: COLLECT ENERGY SHARD
WHAT TOKEN PAIR DOES STEPN USE IN ITS ECOSYSTEM?
GST + GET
GST + GMT
GOT + GMT
GST + GIT
Answer: GST + GMT
WHAT IS THE TOTAL SUPPLY OF GMT?
1 BILLION
2 BILLION
4 BILLION
6 BILLION
Answer: 6 BILLION
WHAT DID THE STEPN TEAM ACHIEVED IN OCT 2021?
INCORPORATED FINDSATOSHI LAB
COINED MOVE2EARN CONCEPT
WON SOLANA IGNITION HACKATHON
ACHIEVED 10,000 DAU
Answer: WON SOLANA IGNITION HACKATHON
WHAT ARE THE GOALS YOU WANT TO ACHIEVE USING STEPN?
Answer: Want to become punctual in my goal towards becoming fit. This will motivate me to run or walk more as side by side I will also keep earning tokens.
How to Play the Quiz to Win Activation Code of STEPN
To win the activation code of STEPN you need to visit the official site quiz page, click on the below button to play the quiz
Answer to all five questions correctly by referring to above correct answers, the sixth question will be answered by yourself as it asking your goal which you want to achieve by using STEPN.
Once completing just click on finish button and you will get the activation code on the next page.
Those who are still struggling to get the activation code may contact me through email.
Alternatively there are many other ways to get the activation code of STEPN to signup in the app.
Get STEPN Activation Code from Official Website
STEPN has kept an option to get the activation codes to signup on the app on their official website.
The get code link looks like https://stepn.com/getcode, you need to visit this link and prove yourself you are not a robot
Once completing the verification that you are a human
On the next screen it will generate a unique activation code for you
You can use this activation code to signup in the STEPN app
Get STEPN app Activation Code through Official Social Profiles
STEPN regularly shares activation codes of STEPN on their social profile's such as Twitter, Instagram, Telegram Group, Discord, etc.
You can follow them on these platforms, and get hold of a free activation code.
They also regularly run contest's, you need to participate by performing the actions mentioned by them in their post. And you can become one of the winner of the activation code.
How to Generate Stepn Activation Code in the app
If you are a Stepn app user and using the app to earn tokens while walking then you are eligible to generate a activation code. The generated code can be used as a invite code to make someone join Stepn.
Stepn user can generate a activation code from the app if they have spent 10 energy. The user can only hold one activation code at a time, untill it is used.
This activation code can be shared with anyone who is interested in joining the app. Below are the steps which you need to follow to generate the activation code.
Launch the STEPN app by tapping on it
Tap on your profile avatar, this will open your profile page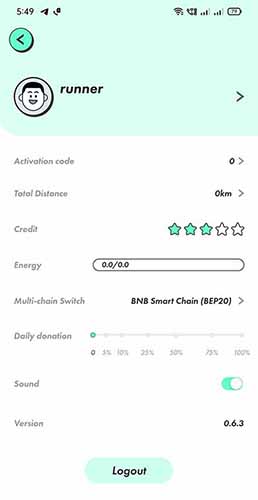 Under the profile page, the first option you will get to see is Activation Code
Tap on Activation Code option
This page will open activation code (you will be only able to see the activation code if you have started using the app by buying the sneaker and have spent 10 energy)
You can share this code with your friend, relative or enemy who wish to join the Stepn app.
How to Create Account in STEPN app using Activation Code
To create an account in STEPN, download the app named STEPN from the app store
Once app is installed, tap on the icon STEPN to launch the app
The app screen will ask you to enter your email address, you need to enter your email address in that field and click on Send code button
You will receive email verification code on your email address
Enter the received verification code and tap on the login button
The next screen will ask you to enter the activation code, you can get this activation code by following the above modes mentioned in the article
Once you have the activation code, enter it in the activation code field and click on the start button
You will successfully end up creating an account in the STEPN app
After entering the activation code I am getting error "Player hasn't logged in yet?"?
After entering the activation code if you are receiving error "Player hasn't logged in yet?", then you need to just move out request the email verification code again and then complete the activation by entering the activation. This error usually happens when you wait for a while after entering the email verification code.