Amazon Pay ICICI Bank Credit Card is one of the best Credit Card available as it rewards on every spends. The best thing about this Amazon Pay Credit Card is that the earned reward points automatically get credited into your Amazon Pay Balance on monthly basis. So there is no trouble of redeeming your reward points manually or worrying about the reward points getting expired.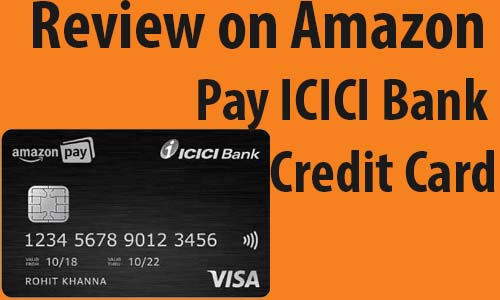 Earlier applying for Amazon Pay ICICI Bank Credit Card was on invite basis only. If you used to get apply now button enabled on Amazon Pay ICICI Bank Credit Card Application Page then only you could apply for this card. But now everyone is eligible to apply for Amazon Pay Credit Card.
I had applied this card during the Amazon Pay Credit Card inception times. For me personally apply button was grayed out for almost 3 months, and finally one fine day I was able to see that apply now button was enabled for my Amazon Account.
So I thought to give it a try as it was Lifetime Free Credit Card without any annual fee etc. so I didn't find any harm in applying for it. However, on top, there was also an Amazon offer running which would give a cashback of ₹700 for Prime Members and ₹600 for Non-Prime Members upon card approval.
If you are also interested in applying for this specific card, the before applying one do ready my complete Amazon Pay ICICI Credit Card Review.
This review will help you to make decision whether you should apply for this card or not.
Amazon Pay ICICI Credit Card Application Review
The Online Application Process of Amazon Pay ICICI Credit Card is very simple and includes just 3 steps.
I just navigated to the Amazon Pay Credit Card Application page.

And the Apply now button was enabled, so just clicked on apply now button.
The page was redirected to the ICICI Bank website for instant application of Amazon Pay ICICI Credit Card.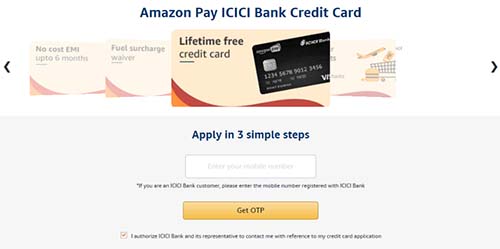 In the first step, I was been asked to provide the mobile number (it also stated if you are existing ICICI Bank Customer then please provide bank registered mobile number). So I was an existing ICICI Bank Customer so I provided my registered mobile number and clicked on get OTP button.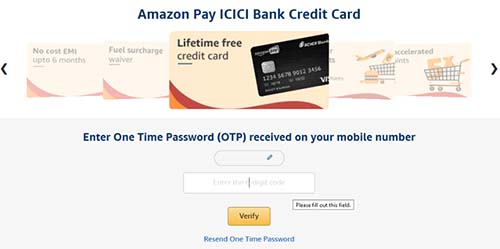 One time password was received on my mobile number instantly so on the next page I entered the received OTP and clicked on the verify button.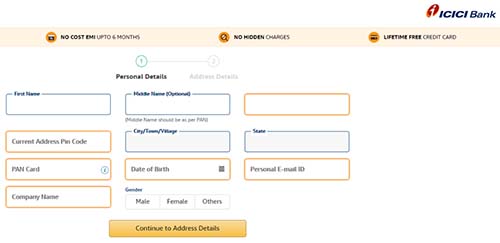 Now verification step was completed and the page moved to personal details that is step two, where I was asked to enter first name, middle name, last name, Current Address Pin Code, City/ Town/ Village, State, Pan Card, Date of Birth, Personal Email id, Company Name, Gender.
So I entered all these personal details and clicked on Continue to Address Details.
On the third step, the page was asking either to enter the Current Residential Address or Office Address by selecting the option.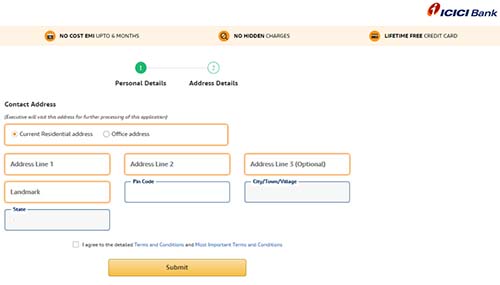 So I selected Current Residential Address option and entered Address, Landmark, Pin code, City/ Village/ Town, State, accepted the terms and conditions and most important terms and conditions by ticking on it and clicked on submit button.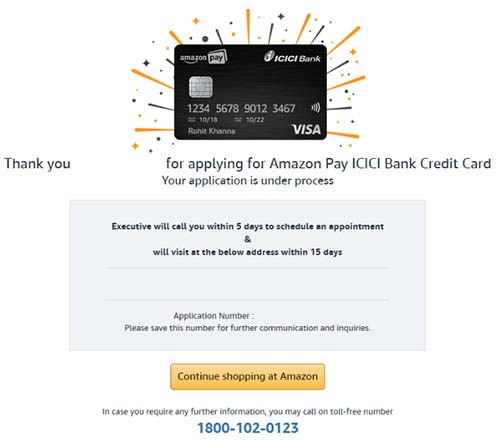 The Online Application process was completed and on the next screen Thank you for applying for Amazon Pay ICICI Bank Credit Card message was displayed with my application reference number. It also stated that your application is under process and the executive will call you within 5 days to schedule an appointment and will visit the below address within 15 days.
So I was done with the application process. On the same day I got a call from ICICI Bank executive so schedule an appointment, I gave him the next day 11 AM Appointment.
On the next day, the executive visited my address at sharp 11 AM. He asked me for PAN Card, Aadhaar Card and my picture was clicked. The executive processed the application from his App and scanned my PAN and Aadhaar, this almost took 10 minutes.
The executive told me that I will be receiving SMS about my application approval or disapproval in the coming 5 working days upon verification by the bank.
In two working days I received SMS stating "Dear Customer, your Amazon Pay ICICI Credit Card generated. Please login to the Internet banking/ iMobile App after 4 hours to view the details". So this message was sufficient and proved that my application for ICICI Bank Amazon Pay Credit Card was approved. At the same time, I received one more SMS as well as an email from Amazon that Rewards for signing up for Amazon Pay ICICI credit card ₹700 added to your Amazon Pay balance as per the offer promised.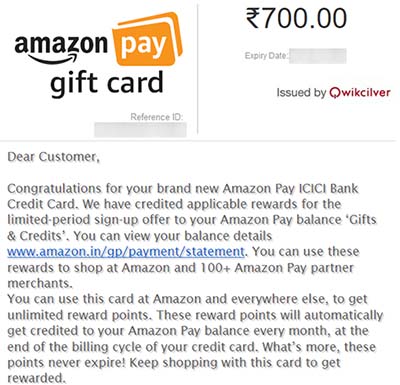 In again 4 hours I received one more SMS stating "Dear Customer, your new Credit Card has been linked to User ID XXX You can now access your Credit Card through Internet Banking and iMobile App".
I tried logging into ICICI Bank Internet Banking and iMobile App too and in both, I was able to see my new Amazon Pay ICICI Bank Credit Card details. Also, the card was added to my Amazon Account under saved cards so that I can start transacting with my new card. Amazon Pay Credit Card details like complete card number, valid from, valid thru, and CVV was able to view on ICICI Bank Internet banking and iMobile App.
So before my ICICI Bank Amazon Pay Credit Card Physical Copy gets delivered I was able to use my card online by referring to details on iMobile and ICICI Bank Online Banking Digital Card.
In 5 working days, my Amazon Pay Credit Card was dispatched and it got delivered to me in two working days.
That's it, this was my experience with Amazon Pay ICICI Bank Credit Card.