Facing difficulties in removing the CMOS or BIOS password from your computer? Exhausted all attempts with imagined passwords? If you're still struggling, we can help you overcome this challenge.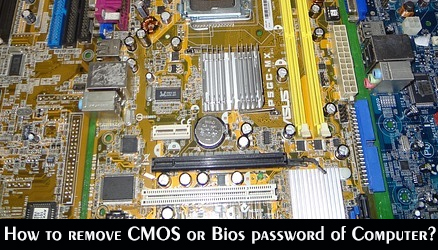 But before proceeding with the process to remove bios password of computer, lets understand what is BIOS and why you may need access of it.
What Is BIOS
BIOS stands for Basic Input/Output System, some people also call it as CMOS. It is a firmware that is embedded on a computer's motherboard. BIOS initializes and controls hardware components during the computer's startup process. It provides the computer with basic instructions on how to perform essential functions before the operating system takes over. In modern computers, the traditional BIOS has been replaced by UEFI (Unified Extensible Firmware Interface), which offers a more user-friendly interface. With UEFI, users can interact with the system using both a mouse and a keyboard, providing a more intuitive and convenient experience.
There are several reasons why you may need to access the BIOS:
Hardware configuration: The BIOS allows you to configure various hardware settings such as CPU settings, memory timings, and storage configurations.
Boot device selection: You can use the BIOS to choose the boot device order, determining which device the computer should start from, such as the hard drive, SSD, or USB drive.
Overclocking: If you want to overclock your CPU or RAM to achieve better performance, you can access the BIOS to adjust the necessary settings.
System troubleshooting: Accessing the BIOS can be helpful for troubleshooting hardware-related issues, such as detecting faulty components or checking temperature and voltage readings.
BIOS updates: You may need to access the BIOS to update its firmware, which can provide bug fixes, improved compatibility, and new features for your computer.
It's important to note that accessing the BIOS requires caution and should be done with care, as improper changes can affect the stability and functionality of your computer.
The process described below for resetting the BIOS password is applicable to all computer brands, regardless of the manufacturer.
How to remove BIOS password
Begin by shutting down your computer or laptop and disconnecting the power cord.
Using a screwdriver, carefully open one side of the computer compartment to access the motherboard.
Once you have opened the compartment, locate the small battery on the motherboard.
Remove the battery from its slot on the motherboard and wait for a few seconds.
Reinstall the battery in its original position and reassemble the computer.
Reconnect the power cord and turn on the computer. You should now be able to access the CMOS or BIOS settings without being prompted for a password.
Congratulations! You have successfully removed the password from the CMOS or BIOS of your computer.