NGDRS denotes National Generic Document Registration System. The National Generic Document Registration System (NGDRS) is a common configurable generic document registration software registering documents with Registrar offices of the State Govt. This project has been launched by the Government of India, Ministry of Rural Development, and Department of Land and resources as a step towards the Digital India Initiative.
So if you have any registration work in Goa like document registration, property registration, etc. then getting registered on this portal called ngdrsgoa.gov.in is essential to submit your application online.
In this article, we will discuss and explain to you how to get registered on NGDRS Goa Portal or ngdrsgoa.gov.in, correctly. So below are the complete steps explained in a brief manner that will guide you throughout on citizen registration of ngdrsgoa.gov.in Portal.
Process to Register on NGDRS Goa Portal – ngdrsgoa.gov.in
To Register on NGDRS Goa Portal, you will have to make sure that you have decent internet speed and mobile or computer or laptop on which you can access the website.
If you have the above requirements handy then just visit NGDRS Online Registration Goa Portal by visiting https://ngdrsgoa.gov.in from your web browser
To register yourself on the portal, just click on the register button under Citizen section
It will open a new citizen registration page in which you will need to fill up your details as mentioned below:
Select from Citizen Type whether you are Indian or NRI
Select Type whether you are Individual or Body Corporate
Under Contact Person, fill in First Name, Middle Name, and Last Name
Under Address, section fill in Building Name / No. / Floor (Enter only alphabets, space, commas, and rounded brackets), Street/Locality, City, Pincode, Select State, Select District, and Select Taluka/Sub District
Under ID Details, you will have to fill in your email id, mobile number, Select Id Proof from the list and after selecting the appropriate one which you have, you will have to enter the Id Proof No. in next field
Under Username and Password section you will have to set username as per your choice depending on availability, then set password by entering the password in password field and confirm password field (make sure Password should contain: compulsory one uppercase & lowercase alphabet, one number, one this @ # * special character. Minimum length is 5. eg. Dev*nic#76)
Solve the captcha by entering the same which is being displayed in the image in below captcha field
Under "In case your forgot password" field, select hint question from the list and answer it, this would be needed when you want to reset your password in case you forget it
Make sure you have filled every detail in the registration form correctly and click on the submit button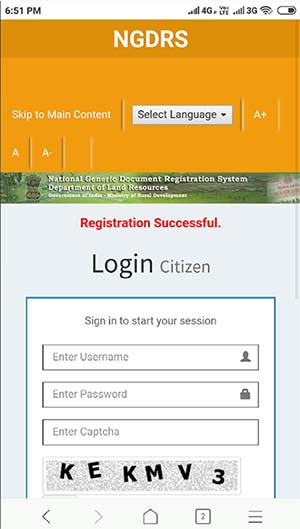 On the next page, you will get prompt saying registration successful
Now you can log in entering your username, password and by solving the captcha
Once you click on get OTP button, you will receive a one-time-password on your registered mobile number.
Enter the received OTP and click on the login button
That's it, you will be successfully logged into your account, now you can click on the left pane and click on document entry option to start registering the document title.
Once you submit the document title details you will need to upload the required documents and make online fee payments to successfully book an online appointment to visit the sub-registrar office for document registration.
This is how one can Register on NGDRS Goa Portal ngdrsgoa.gov.in
Do i need to pay any fee to register on NGDRS Goa Portal?
No, there anren't any fees charged to register on NGDRS Goa Portal.
What all details are required to register on Goa NGDRS Portal?
To register on NGDRS Goa portal you need mobile number and email address.
While logging in on NGDRS Goa i am getting "Authentication Failed" message?
Even after entering correct password and OTP, if you are getting Authentication Failed error message then there is some technical glitch in the NGDRS Goa portal. So you should try logging in after few hours or after few days.