Now a days it is very essential to register the product online after the purchase. Registering the product online helps in many ways like we can take full advantage of manufacturer's warranty, by registering the product online you get confirmed that you have purchased genuine product, it also becomes easy to verify the ownership of the product as well as the manufacturer can easily contact you.
And Finally if something is wrong with the product you can easily get a replacement without providing additional proof of purchase documents as the manufacturer will already have all the information and purchase documents to send you the replacement.
However in recent times it is also experienced that the warranty applies only to the original purchaser who have properly registered the product within 10 days of the purchase. This new condition by APC Schneider Electric makes online product registration mandatory if you want to avail warranty on your product.
So whenever you purchase any electronic or non-electronic item you should always check if there is an option to register the product online for future warranty claims. And if it is present you should register your product without delaying.
So today we will show you How to register APC Product Online.
Steps for APC Warranty Registration
You can register your APC Product in any of the two ways first one is Offline by Filling up the product Registration Form provided and place the form in postage paid envelope provided by APC and drop in mail.
Secondly with no much hectic you can instantly register your APC Product Online through Internet registration.
From your web browser go to the official APC Portal https://www.apc.com
Select your country from the list
From the homepage, scroll down to Quick Links section and under popular products click on the product registration
On next screen APC Product registration page will appear, in which you will need to fill up your first name, last name, select country, mobile number, address, email address, city, postal code, select usage area where will be APC product used and click on next registration summary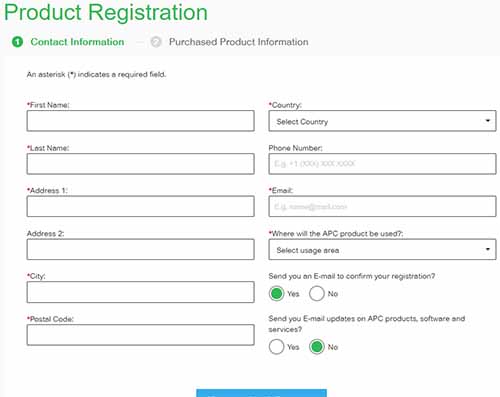 On next page, you will need to select the model purchased from the list, enter the APC model number, select date of purchase, and enter the APC serial number (APC model number and serial number can be found by referring to the product back panel)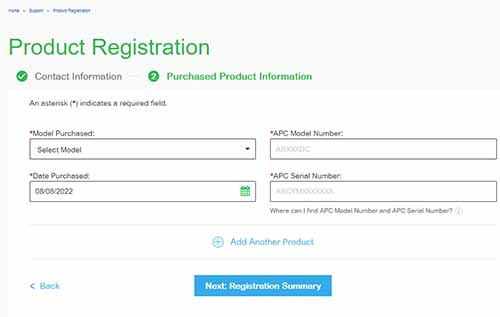 Once entering the details, just click on the next registration summary button
On the next page, your entered details will display. You can tick mark on send product registration and enter your email address
To confirm the registration, just click on the complete registration button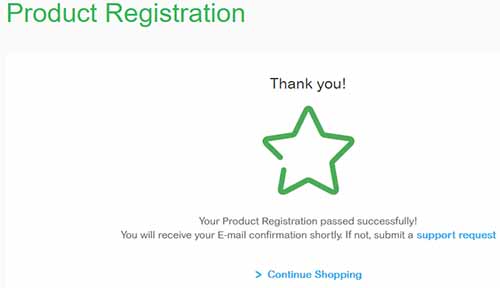 That's it your are now done registering the APC warranty, you will also receive a confirmation email regarding the same.
The above registration process is applicable to all products from the brand APC such as Uninterruptible Power Supply (UPS), Surge Protection and Power Conditioning, AV Power Conditioners with Battery, Cooling Products, Security and Environmental Monitoring, Racks and Accessories, Power Distribution, Prefabricated Data Center Modules, Data Center Software, Data Centers and Server Rooms and Network Closets, Portable Device Chargers, Networking and Cable Solutions etc.