Power Play with Champions is a predict and win-based show, presented by Flipkart Video. The show is hosted by Virender Sehwag AKA Baba Swag and Samir Kochhar AKA Sam Prabhu, and they are the ones who will help you to predict the outcomes of upcoming cricket matches. Viewers who predict the right outcomes stand to win exciting prizes.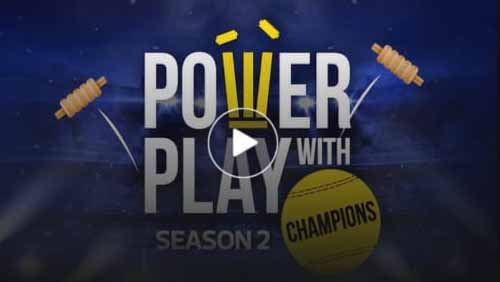 Power Play with Champions Win Daily Rewards
Smartphone
1 Winner
₹1,000 Flipkart Gift Voucher
25 Winners
₹50 Flipkart Gift Voucher
500 Winners
SuperCoins
15 SuperCoins for 10000 Winners
10 SuperCoins for 2500 Winners
5 & 1 SuperCoins for all remaining winners
How to Play Power Play with Champions
Install the Flipkart app if you haven't installed
Sign in with your Flipkart account
Go to the Games section
In the Games, section page scroll down until you Power Play with Champions, or else just click on this link and you will directly land on the game page in the Flipkart app
To start playing just tap on the Play button
The episode of the day will start playing
Watch the episode carefully and answer the questions asked by selecting the available options provided
After the question is presented on the screen, you will get 30 seconds to select the correct answer
Answer all three questions correctly and unlock the surprise gift
Note down that to claim the prize you need to unlock the mystery box, in case if you miss claiming after the episode ends then you can also unlock the surprise for the game played by going to the Power Play with Champions page and tap on my rewards, select the episode of which you didn't claim the reward, and tap on the unlock surprise gift.
The rewards are credited instantly to the user's Flipkart account once claiming it.
In order to be declared as the winner, the contestant needs to solve murder cases & win SuperCoins
Below are the Power Play with Champions answers of every episode
Season 2
EP05: 12th April 2021 | Answers
Invite to Play Power Play with Champions & Win
Win more surprise rewards by inviting your friends and relatives to play the interactive Power Play with Champions Show Quiz
On inviting 5 friends you can unlock surprise gift up to ₹1000.
To invite through referral program, just open the Flipkart app
Login with your account
Go to Games > Under Game Zone tap on Power Play with Champions
On the Power Play with Champions page, scroll down a bit and you will find a banner invite now
To start inviting just tap on that Invite Now button and invite your friend or relatives by sending your referral link through WhatsApp, email, message, etc.
Anyone who plays the game with your link will be counted and you will be able to see the count stats
Once you successfully finish inviting 5 friends you will be rewarded