Paying your monthly rent with credit card is now possible. You don't need to stick to those traditional modes like cash, cheque, bank deposit or IMPS/ NEFT etc., to make payment of rent. The main benefit of making payment of rent via credit card is that you get free credit period which ranges from 20 to 50 days depending upon on your credit card issuing bank.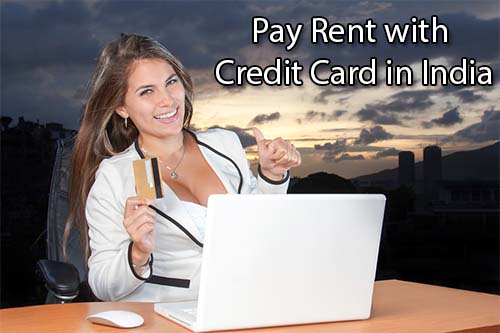 Below are some of the benefits which you gets entitled on availing Rent payment with Credit Card.
Benefits of Paying Rent with CC
Gives you free credit period
Earn reward points on your rent payments
Rent Payment can be done in few clicks, which doesn't waste your time. Otherwise it could have wasted visiting the bank to deposit the cheque/ cash into your landlords account
No requirement of landlord to get registered for any service to accept credit card online payments
You will receive Digital Rent Receipt and this can be used to claim HRA exemption on your income tax filing
If such a service exists in India to pay rent with Credit Card, then I don't think any Credit Cardholder will miss such an opportunity. This service is very beneficial to the rent payer in many aspects as stated above.
Now let's understand the process on how to pay rent with credit card in India.
Process to Pay Rent with Credit Card in India
To pay your rent with Credit Card you will need your credit card, landlord's bank account details, valid mobile number, and your email address
You will find many service providers that allow you to pay your rent with Credit Card, but one of the service providers which we came across is no broker.
To pay your Rent with Credit Card just visit Nobroker website www.nobroker.in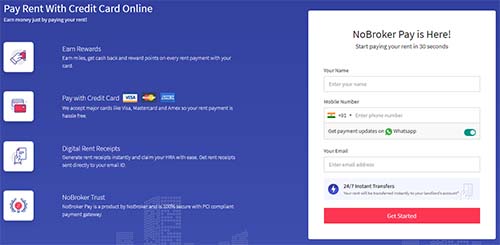 On its homepage on top menu you will find option pay rent, just click on that option
Pay Rent with Credit Card Online webpage will open.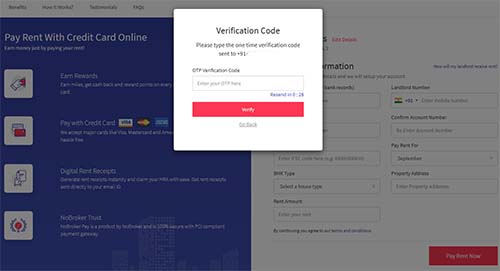 Fill the form of NoBroker Pay with your details like Name, Mobile Number, Email id and click on get started.
You will receive Verification Code on your mobile number provided, just enter the received OTP and click on verify button.
On next page you will need to fill up landlords details like full name, mobile number, account number, IFSC code, select the month from the list of which rent you are paying, select house type, property address, rent amount and click on pay rent now.
Now you will need to complete the payment using your Credit Card.
Once you have successfully initiated the payment, a receipt of your payment will be generated which you can store on your device and keep it for future purpose.
You will also receive the payment details via email and SMS.
The rent will be credited into landlord's bank account in 2 working days.
Note down that No broker will levy fees/charges depending on the total amount of payment which you are making.