30th September 2022 Answers
HARD
MEDIUM
EASY
29th September 2022 Answers
HARD
MEDIUM
EASY
28th September 2022 Answers
HARD
MEDIUM
EASY
27th September 2022 Answers
HARD
MEDIUM
EASY
26th September 2022 Answers
HARD
MEDIUM
EASY
25th September 2022 Answers
HARD
MEDIUM
EASY
24th September 2022 Answers
HARD
MEDIUM
EASY
23rd September 2022 Answers
HARD
MEDIUM
EASY
22nd September 2022 Answers
HARD
MEDIUM
EASY
21st September 2022 Answers
HARD
MEDIUM
EASY
20th September 2022 Answers
HARD
MEDIUM
EASY
19th September 2022 Answers
HARD
MEDIUM
EASY
18th September 2022 Answers
HARD
MEDIUM
EASY
17th September 2022 Answers
HARD
MEDIUM
EASY
16th September 2022 Answers
HARD
MEDIUM
EASY
15th September 2022 Answers
HARD
MEDIUM
EASY
14th September 2022 Answers
HARD
MEDIUM
EASY
13th September 2022 Answers
HARD
MEDIUM
EASY
12th September 2022 Answers
HARD
MEDIUM
EASY
11th September 2022 Answers
HARD
MEDIUM
EASY
10th September 2022 Answers
HARD
MEDIUM
EASY
9th September 2022 Answers
EASY
MEDIUM
HARD
8th September 2022 Answers
EASY
MEDIUM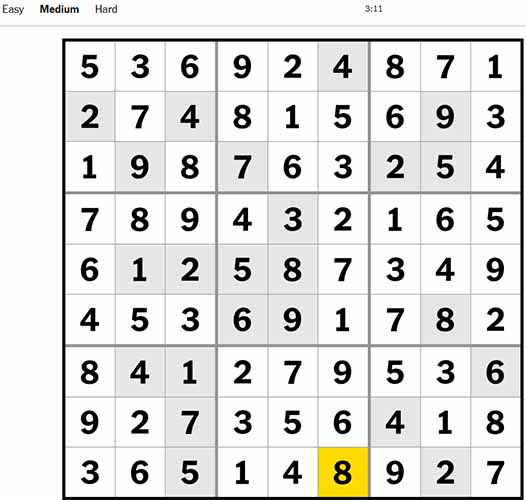 HARD
7th September 2022 Answers
EASY
MEDIUM
HARD
6th September 2022 Answers
EASY
MEDIUM
HARD
5th September 2022 Answers
EASY
MEDIUM
HARD
Can I Solve Old Sudoku Puzzles through NYT Sudoku Archive?
New York Times doesn't provide NYT Sudoku Archive like they do of crosswords. You can only access current days Sudoku.
When does NYT sudoku reset?
NYT Sudoku resets every day at 12 a.m. EST.
Is there nyt sudoku app?
Yes, you can install NYT app on your phone from app store and play NYT Sudoku.