National Cinema Day 2023 is right around the corner, and movie enthusiasts are in for a cinematic treat like never before. On the 21st of September, the Multiplex Association of India announced that NationalCinema Day would be celebrated on the 13th of October, a Friday. This remarkable event is set to take place at over 4000 participating cinema screens across India, including popular theaters such as PVR, INOX, Cinepolis, Miraj, and many more. In this article, we'll provide you with comprehensive details on how to secure your tickets for National Cinema Day 2023 and unveil the exciting movie releases scheduled for this momentous day in Indian cinema.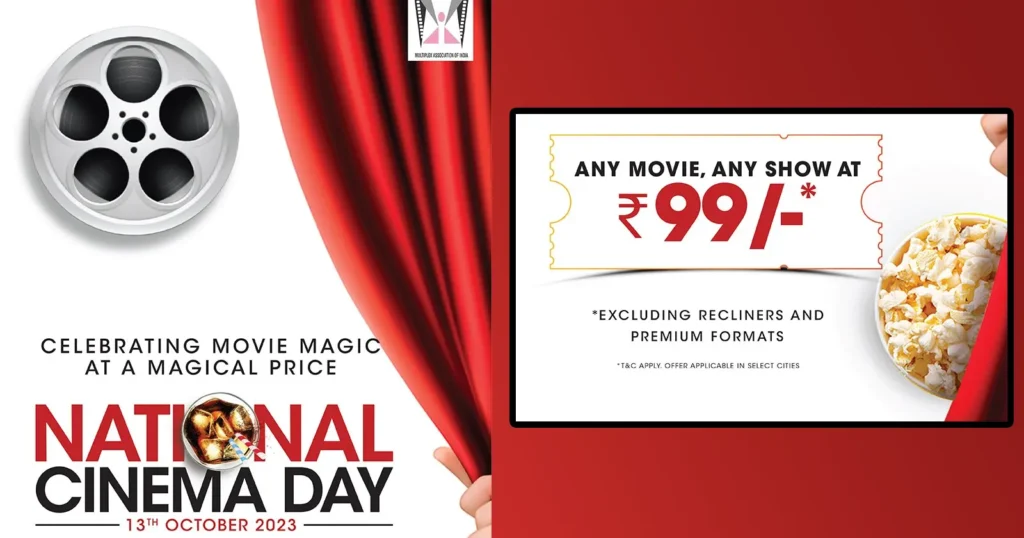 This offer closely mirrors the "$3 movie day," a popular tradition observed in many American theaters as part of the newly inaugurated National Cinema Day, designed to entice movie enthusiasts back to the big screen.
| | |
| --- | --- |
| Event Name | National Cinema Day |
| Cinema Day 2023 Date | 13th October 2023 |
| 13th October Movie Tickets Price | ₹99 |
| National Cinema Day Movie Theaters | PVR, INOX, CINEPOLIS, Miraj, CityPride, Asian, Mukta A2, Movie Time, Wave, M2K, Delite and many more |
National Cinema Day 2023 Movie Booking Offer
The Multiplex Association of India introduced the concept of National Cinema Day for the first time in 2022. Initially scheduled for the 16th of September, it was later postponed to the 23rd of September. Coincidentally, the highly-anticipated movie "Brahmastra" was being screened in theaters around the same time as the original date (16th September).
This year, it appears that history is repeating itself with another postponement. National Cinema Day is now set for the 13th of October. The official announcement from the Multiplex Association of India stated:
How to Book Movie Tickets on National Cinema Day 2023
Mark your calendars for the 13th of October as the National Cinema Day 2023 booking date. On this day, you'll have the incredible opportunity to book movie tickets at a special price of just ₹99. Tickets can be booked through various online platforms and websites, including PVR, BookMyShow, Paytm, and more. To secure your movie tickets for National Cinema Day 2023, follow these simple steps:
Visit your preferred cinema network's website (e.g., BookMyShow).
Select your city for a list of participating cinemas.
All tickets will be available at the exclusive price of ₹99 across India.
Choose your desired date and showtime slot.
Complete the payment process.
Note: This offer is applicable for standard tickets and excludes recliners and premium formats.
It's worth noting that last year, the ticket price for National Cinema Day was ₹75. Interestingly, the film "Jawaan," starring Shahrukh Khan, is currently playing in theaters, coinciding with the original date of National Cinema Day (September 23rd), had it not been rescheduled. Nevertheless, National Cinema Day in India remains a fantastic opportunity to enjoy your favorite movies on the big screen for just ₹99.
But the question remains: which movies are hitting the theaters on the 13th of October for National Cinema Day 2023? Stay tuned as we unveil the exciting lineup of films that you can book tickets for at this incredible price.
National Cinema Day 2023 Movie Lineup
National Cinema Day 2023 promises an exceptional cinematic experience with a diverse array of films set to captivate audiences. Here's a sneak peek at some of the highly anticipated movies releasing on the 13th of October:
Movie Name
Description
White Punjab 2023
White Punjab 2023 is set to hit theaters on the 13th of October. This Punjabi film boasts a star-studded cast, featuring Kaka, Kartar Cheema, Rabbi Kandola, Dakssh Ajit Singh, and more. Notably, the makers of this film are the same creators behind "Jalwayu Enclave," which holds an impressive IMDb rating of 8.2 stars out of 10.

White Punjab 2023 delves into the escalating gang culture in Punjab, promising an engaging and gritty narrative. Don't miss the chance to book a movie ticket at just Rs.99 for this film on National Cinema Day 2023.
Bombay 2023
Bombay 2023 is an action-packed crime thriller releasing on the 13th of October as part of National Cinema Day 2023. This Hindi film delves into the criminal underworld and revolves around the enigmatic figure, Ulas Mhatre. The movie unfolds a web of intrigue and conspiracy, raising questions about the forces conspiring against Mhatre's empire.

As audiences, we are left to wonder whether the threat comes from a rival gang or someone within Mhatre's own circle. The answers to these questions will only be revealed once the film hits the screens. Be sure not to miss the opportunity to book a movie ticket for Bombay 2023 at the unbeatable price of Rs.99 on the 13th of October through BookMyShow.
Guthlee Ladoo 2023 (51+ awards nominated film)
Guthlee Ladoo 2023 is another cinematic gem gracing the screens on the 13th of October. This Hindi drama film tells the inspirational tale of Guthlee, a young boy with a simple dream – to go to school like other children in his village. However, life isn't kind to Guthlee and his family, who struggle in poverty. His father takes on unconventional jobs such as sewer cleaning to make ends meet.

Remarkably, Guthlee Ladoo 2023 has garnered over 51 national and international award nominations, making it a must-watch on National Cinema Day 2023. To catch this compelling story, you can book your ticket on BookMyShow.
While it's true that this year's National Cinema Day was postponed by over half a month, resulting in some disappointment among entertainment enthusiasts who missed out on blockbuster releases like "Jawan" in September, it's worth considering the diverse and promising lineup of films scheduled for the 13th of October.
These are just a few of the exciting titles set to grace the screens on National Cinema Day 2023. With such a diverse lineup, there's something for everyone to enjoy. Don't miss out on this incredible opportunity to experience the magic of cinema at an unbeatable price.