Mobikwik one of the major wallet company and recharge/ bill payment provider in India has launched a virtual card. But this time the virtual card is from American Express, which comes bundled with a lot of benefits and rewards.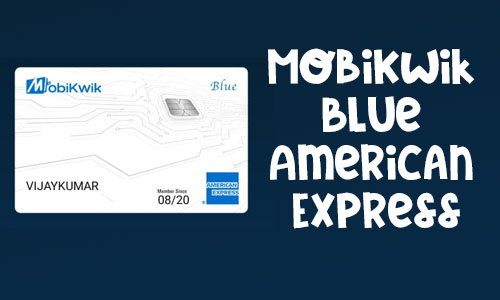 What is MobiKwik Blue American Express Card?
MobiKwik Blue American Express Card is a prepaid card linked to your wallet balance. Now you can use your MobiKwik wallet balance not just on merchants that accept MobiKwik, but also on online merchants that accept payments via American Express cards.
Charges and Fees
There are no transaction charges for this card. A special fee of 5% will be charged for payments made on financial services like wallets, payment banks, money transfer, etc.
There aren't any charges or annual fees associated with Mobikwik's Blue American Express Card
Let's know the offers and rewards offered on MobiKwik's Blue American Express Card.
Offers & Rewards
Earn 1% Supercash on every transaction
15% off on Zee5 annual subscription fee
Additional 7% off on Pepperfry
Get 15% instant discount on Ferns n Petals
₹300 instant discount on BigBasket
Use 3% Supercash on every transaction
Earn ₹200 Supercash on 1st transaction
Blue American Express Card has been made available for all MobiKwik users, but to start using it you need to activate it.
Activate MobiKwik Blue American Express Card
To activate Blue American Express Card, make sure you update your MobiKwik app to the latest one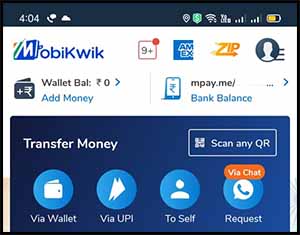 On the MobiKwik app home screen, you will be able to see AMEX logo
Just tap on AMEX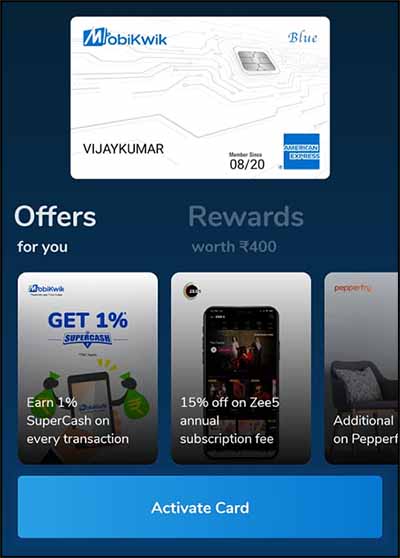 This will open the Blue American Express Card page
Just click on Activate Card
Or else, just tap on the wallet and scroll down the page
Under saved cards, you will be able to see AMEX card added, just tap activate now
Your Blue American Express Virtual Card will appear on the next page
To view your card details such as card number, expiry date, CVV, OTP, etc. just tap
Now you can use your Blue American Express Card details on all American Express Online Merchants.
How to load money in Blue Card?
Your MobiKwik wallet balance is also your card balance. So you can recharge your card by adding money in the wallet as you normally do.

All the card holders are pre-approved for ZIP once they spend 10k through the Blue Card as well. It is a feature that allows users to spend without adding money in the wallet. In case of insufficient balance, a user can make a transaction through ZIP balance and settle the bill later.
How to get a physical Blue Card?
Physical cards are not available right now.
Where to see my card in app?
You can access the card by clicking on the American Express logo at the top right corner of the home screen
Where can i use it and how does it work?
You can use it while making payment on any online brand, where American Express cards are accepted. Since the balance in the card is the same as your wallet balance, all you need to do is add money to your MobiKwik wallet to use it. Please not that at the checkout, during choosing payment options, use your Blue Card in the credit card section.
How to use the card on online merchants?
Click on 'Make Payment' then choose the 'Credit Card' option, enter the 15 digit card number ,4DBC and expiry date mentioned on your Blue Card. Finally, enter the 'TOTP' when asked for OTP.
Can i use this card to pay on international websites?
No. This card can't be used for making payments at the international websites.
What is the validity of the Blue Card?
The Blue Card is valid for 5 years from the date of issuance.
Will i receive any alerts after each transaction via Blue card?
Yes, you will receive an email, SMS and push notifications post each transaction via the Blue Card.
Are there any transaction limits on the Blue Card?
The transaction limits are the same as the wallet limits. You can add and transact up to ₹1,00,000 in a month.
How can I get a Mobikwik Blue American Express Card?
It is currently an Invite only card. Please check your registered email id with Mobikwik for more details.
Can i gift Mobikwik Blue American Express Card to my friends and family?
No, this card is non-transferable and cannot be gifted to anyone.
What all details are available on the card?
On the front side you will be able to view. 'Card Holder Name' and 'Member Since'. On the back side, '15 Digit Card Number', '4DBC' and 'Expiry Date' are mentioned.
Can i withdraw money from the ATM?
It is a virtual card so you cannot use it to withdraw money from the ATM.
Is it safe to use this card?
Yes, it is safe to use this card for online transactions as it has 2 factor authentication asking the users to put the card details. 4DBC and the OTP to complete a transaction.
I did not get the OTP while making the transaction?
The OTP is present below the card with a timer of 60 seconds.
If my OTP has expired after 60 seconds, will I get a new card?
In this case a new TOTP will be generated for you to use.
What restrictions are applicable for the Blue Card?
International transactions are not allowed. Apart from that you can use your Blue Card to pay at any online website or app which accepts payment through American Express cards.
How can I get download the card statement?
The card statement is available in your transaction history.
I didn't get SuperCash on my transaction made via the Blue Card?
SuperCash takes up to 48 hours to reflect in your MobiKwik wallet.
My SuperCash balance wasn't redeemed on a transaction even though I claimed it in rewards?
Please refer to the T&C's
I want to block my Blue Card because of a fraudulent transaction?
To block your card juts visit AMEX in MobiKwik app and tap on gear icon and block your card.