Khel Paheliyon Ka is a new Flipkart Game Quiz Show formerly hosted by the ultimate winner Prince Narula. In this game, you need to solve riddles and win exciting prizes.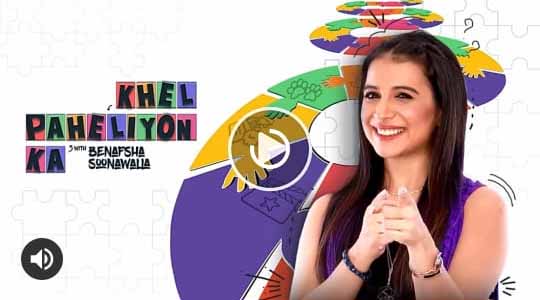 Prince Narula has won several reality shows, as well as everyone's heart. But now Prince Narula is coming as you Good Luck Charm, where you will be given a chance to be a winner on his new game show Khel Paheliyon Ka with Prince Narula.
The master of reality shows Prince Narula is here with a brand-new game show for you! Prepared to play and win with the ultimate winner? From 2nd June, get ready for an exciting new Flipkart interactive quiz show Khel Paheliyon Ka with Prince Narula! The reality TV star Prince is here in an all-new style on this latest Flipkart game show. All you have to do is solve 3 riddles daily with the help of important clues and hints that Prince gives you. Answer all 3 questions correctly to win exciting Flipkart rewards daily! And along with some of the toughest riddles, enjoy the best of Prince Narula, the reality TV superstar on this new Flipkart interactive game show. So, if you are ready to solve fun riddles with Prince Narula, then watch, play, and win on Flipkart Video presents Khel Paheliyon Ka, starting from 2nd June, only on the Flipkart App.
A one of a kind show on Flipkart video, This exciting short-form game show will test the knowledge of the viewers and witness their sharp minds. This anagram/fill in the blanks, based show will feature 3 questions. The host, Prince Narula will give our three clues in 30 seconds and the viewers have to decode the clues and the given jumbled letters at the same time. The show will feature themes ranging from Bollywood, Sports, Music, Fashion to famous personalities etc.
As on Episode 31st, the show Khel Paheliyon was been hosted by Pammi Aunty (Ssumier Pasricha). This epic Punjabi aunty is not just funny but smart too, and she has some interesting riddles (or pahelis) for you. If you can solve them correctly, the prizes are yours!
The Second Season of the Khel Paheliyon Ka Quiz Show is being hosted by a VJ and Former Bigg Boss Contestant Benafsha Soonawala.
Host
Prince Narula (Episode 01 – 30)
Ssumier Pasricha AKA Pammi Aunty (Episode 31 – 100)
Benafsha Soonawala (Season 2)
Khel Paheliyon Ka Daily Rewards
Daily New Prize
2 Winner
₹1,000 Flipkart Gift Voucher
50 Winners
₹50 Flipkart Gift Voucher
2000 Winners
SuperCoins
20 SuperCoins for 5000 Winners
15 SuperCoins for 10000 Winners
10 SuperCoins for 15000 Winners
5 SuperCoins for all remaining winners
The contest starts at 00:00 hrs on 2nd June and ends at 23:59 hrs on 31st July 2021. Every day a new episode will be available in the Flipkart app Game Zone Section.
Paheli Suljhao Prizes Le Jao
How to Play Khel Paheliyon Ka
Install the Flipkart app if not already installed on your smartphone
Sign in with your Flipkart account
Tap on the Game Zone or Video section or else just click on this link
Scroll down to the games until you find the Khel Paheliyon Ka banner
Just tap on it
To start playing just tap on Play and Win
The episode of the day play
While the episode you will be asked three questions to which you need to reply by selecting the available clues provided
Answer all five questions correctly and unlock the surprize gift which may be Bluetooth Headsets, SuperCoins or EGV's of Flipkart
Note down that to claim the prize you need to unlock the mystery box, in case if you miss claiming after the episode ends then you can also unlock the surprise for the game played by going to the Khel Paheliyon Ka page and tap on my rewards, select the episode of which you didn't claim the reward and tap on the unlock surprise gift.
Below are the correct answers of every Khel Paheliyon Ka Episode
Season 2 [S2] – Solve Puzzles w/ Benafsha Soonawala
NEW EPISODES COMING SOON
EP49: Bye Bye Ben – 2nd January 2022 | Answers
Shell
Saree
Instagram
EP48: New Year New Me – 31st December 2021 | Answers
Carpet
America
Drink
EP47: Ben's Beauty Tips – 30th December 2021 | Answers
Fruit
Hair
Lipstick
EP46: Shopping Therapy – 29th December 2021 | Answers
Ludo
Eyes
River
EP45: Pajama Party – 28th December 2021 | Answers
Amitabh
Circus
Hospital
EP44: Doctor Stranger – 27th December 2021 | Answers
Yellow
Chef
Fire
EP43: The New Neighbour – 26th December 2021 | Answers
Charger
Umbrella
Glass
EP42: Santa Banta – 25th December 2021 | Answers
Tree
Station
Christmas
EP41: Lights Camera Action – 24th December 2021 | Answers
Badminton
Rock
Dubai
EP40: Ben ki Kahani – 23rd December 2021 | Answers
Milk
Green
Temple
EP39: Breakup Playlist – 22nd December 2021 | Answers
Parachute
Window
Ship
EP38: Chance Pe Dance – 21st December 2021 | Answers
Diwali
Candie
Dhoni
EP37: Party People – 20th December 2021 | Answers
Apple
Corn
Icecream
EP36: Sapne Bachpan Ke – 19th December 2021 | Answers
Google
Newspaper
Picnic
EP35: Master Chef Ben – 18th December 2021 | Answers
Cooker
Moon
Rose
EP34: Galti Se Mistake – 17th December 2021 | Answers
Coins
Bird
Holi
EP33: Rockstar Ben – 16th December 2021 | Answers
Push
Winter
Guitar
EP32: Party Toh Banti Hai – 15th December 2021 | Answers
Priyanka
Camel
Dance
EP31: Get on the floor! – 14th December 2021 | Answers
Table
Wine
Rice
EP30: Fly High – 13th December 2021 | Answers
Airport
Kashmir
Youtube
EP29: Travel Nostalgia – 12th December 2021 | Answers
Aeroplane
Volleyball
Cycle
EP28: Boring Friend – 11th December 2021 | Answers
Church
Sand
Burger
EP27: Make-up ki Pathshala – 10th December 2021 | Answers
Virat
Chair
Jaipur
EP26: Dil Garden Garden Hogaya – 9th December 2021 | Answers
Chemistry
Village
Park
EP25: Holiday in Heaven – 8th December 2021 | Answers
Mask
Paris
Catch
EP24: Feel the Rhythm – 7th December 2021 | Answers
Watch
Headphone
Mirror
EP23: Who's that girl – 6th December 2021 | Answers
Deepika
Pie
Smell
EP22: Fun in the Sun – 5th December 2021 | Answers
Beach
Orange
Snake
EP21: Shaktimaan Ben – 4th December 2021 | Answers
Agra
Yoga
Food
EP20: Train your Brain – 3rd December 2021 | Answers
Biryani
Internet
Olympics
EP19: Selfie with Ben! – 2nd December 2021 | Answers
Camera
Computer
Suitcase
EP18: Safar aur Suffer – 1st December 2021 | Answers
Road
Battery
Maths
EP17: Back to School – 30th November 2021 | Answers
Punjab
Paper
Joker
EP16: Anchor bani Rapper – 29th November 2021 | Answers
Neeraj
Tiger
Pizza
EP15: Ben Calling…. – 28th November 2021 | Answers
Petrol
Gift
Phone
EP14: Dhana Dhan Goal – 27th November 2021 | Answers
Football
Pull
Danger
EP13: Lets Go Goa – 26th November 2021 | Answers
Swim
Baby
Card
EP12: Filmy Ben – 25th November 2021 | Answers
Mumbai
Heart
Tea
EP11: Selfies out Reels in – 24th November 2021 | Answers
Books
Fly
Family
EP10: Ben ki stories – 23rd November 2021 | Answers
Chess
Train
Delhi
EP09: Benafsha ke dil ka rasta – 22nd November 2021 | Answers
Mouse
Hockey
Light
EP08: Dreams of Benafsha – 21st November 2021 | Answers
Horse
Sleep
Plant
EP07: Aakhri pasta – 20th November 2021 | Answers
Sign
Smoke
Radio
EP06: Mujhse friendship karoge – 19th November 2021 | Answers
Cricket
Key
Egg
EP05: Sabse bada rupaiyya – 18th November 2021 | Answers
Water
Money
Brain
EP04: Shadi ka proposal – 17th November 2021 | Answers
Wheel
Ring
Kolkata
EP03: Rock N Roll Soniye – 16th November 2021 | Answers
Snow
Flower
Music
EP02: Tu kheech meri photo! – 15th November 2021 | Answers
Shoes
Rain
Golf
EP01: The Sizzling Benafsha! – 14th November 2021 | Answers
School
Coffee
Party
Starting 14th November
Season 1 [S1] – Solve Riddles w/ Pammi Aunty
EP100: The Finale – 9th September 2021 | Answers
Who am i
Shahrukh
Who am i
Buddha
What is this
Flipkart
EP99: Travel with Pammi – 8th September 2021 | Answers
What is this
Indore
What is this
Hawamahal
What is this
Australia
EP98: Fake Profile – 7th September 2021 | Answers
What is this
LIZARD
What is this?
RABBIT
What is this?
TURTLE
EP97: Yoga Capital of the World – 6th September 2021 | Answers
What is this
Pune
What is this
Newzealand
What is this
Rishikesh
EP96: Korean Drama – 5th September 2021 | Answers
What is this
Fish
What is this
Spinach
What is this
Greentea
EP95: Wonder Women – 4th September 2021 | Answers
Who am i?
TABU
Name the film?
PINK
Who am i?
JACQUELIN
EP94: Sakht banda – 3rd September 2021 | Answers
Who am i?
Jannat
What is this?
Whatsapp
Who am I?
ZakirKhan
EP93: Love Letter Hua Leak – 2nd September 2021 | Answers
What is this
Rice
What is this
Honey
What is this
Broccoli
EP92: Gorgeous Bhoot – 1st September 2021 | Answers
Name the film
RAAZ
Who am i
BIPASHA
What is this
BHANGARH
EP91: Golden Boy NEERAJ – 31st August 2021 | Answers
Who am i
Neeraj
Who am i
Sreejesh
What is this
Swimming
EP90: Bada Khulaasa – 30th August 2021 | Answers
Who am i
TAAPSEE
Who am i
IMTIAZALI
Name the film
KABIRSINGH
EP89: Achaar Aur Vichaar – 29th August 2021 | Answers
What is this?
LION
What is this?
OCTOPUS
What is this?
RHINOCEROS
EP88: New Job Alert! – 28th August 2021 | Answers
What is this?
SURAT
What is this?
QATAR
What is this?
NEWYORK
EP87: Pyaari Aankhein – 27th August 2021 | Answers
Who am i
Rekha
Who m i
Farhan
Name the film
Dilwale
EP86: Aise Rahein Fit – 26th August 2021 | Answers
What is this
Bear
What is this
Sheep
What is this
Leopard
EP85: Police Ka Phone – 25th August 2021 | Answers
What is this?
AGRA
What is this?
AHMEDABAD
What is this?
SRILANKA
EP84: School Friends – 24th August 2021 | Answers
Name the film
Ghajini
Who am i?
Ayushmann
Who am i?
Kiara
EP83: Mall Ki Chahal-Pahal – 23rd August 2021 | Answers
Who am i
Chahal
What is this
Volleyball
Who am i
Sandeep
EP82: Food ya Fitness – 22nd August 2021 | Answers
What is this?
PAPAYA
What is this?
TOMATO
What is this?
Cucumber
EP81: Bahu Ki Saazish – 21st August 2021 | Answers
Who am i?
HIMESH
Who am i?
PANKAJ
Who am i?
SHILPA
EP80: A New Controversy – 20th August 2021 | Answers
What is this?
DEHRADUN
What is this?
NEPAL
What is this?
MOSCOW
EP79: Vichaar Aur Upchaar – 19th August 2021 | Answers
Who am i
Sidharth
Who am i
Maniratnam
Who am i
Juhichawla
EP78: Udhaar Lekar Faraar – 18th August 2021 | Answers
Who am i
Siraj
Who am i
Harbhajan
Who am i
Williamson
EP77: 3 Vaccine Doses? – 17th August 2021 | Answers
What is this
Sugar
What is this
Carrot
What is this
Biscuit
EP76: Chor Aaya Chor! – 16th August 2021 | Answers
Who am i?
KARTIK
Name the film?
SANJU
Who am i?
YAMIGAUTAM
EP75: Meetha Manaa Hai – 15th August 2021 | Answers
What is this
Mathura
What is this
Thailand
What is this
Telangana
EP74: Hottest Man – 14th August 2021 | Answers
Who am i?
KLRAHUL
What is this?
GOLF
Who am i?
BECKHAM
EP73: Haaye Hichki! – 13th August 2021 | Answers
Who am i
PRITAM
Who am i
BOMANIRANI
Who am i
KRITISANON
EP72: Saas Bahu ki Kahaani – 12th August 2021 | Answers
What is this?
LUCKNOW
What is this?
ASSAM
What is this?
MANCHESTER
EP71: Sports Special – 11th August 2021 | Answers
Who am i?
Prithvi
What is this?
Boxing
Who am i?
Tigerwoods
EP70: Khabri Kabootar – 10th August 2021 | Answers
What is this?
Pigeon
What is this?
Dolphin
What is this?
Kangaroo
EP69: Desert Tourism – 9th August 2021 | Answers
What is this?
RAJASTHAN
What is this?
DUBAI
What is this?
CALIFORNIA
EP68: Pammi Di Doctor? – 8th August 2021 | Answers
Who am i?
VARUN
Who am i?
OMPURI
Name the film
KALHONAAHO
EP67: Heritage Hotspots – 7th August 2021 | Answers
What is this?
BHOPAL
What is this?
TOKYO
What is this?
AJMER
EP66: Stars of BTown – 6th August 2021 | Answers
Who am i?
HRITHIK
Who am i?
AISHWARYA
Name the Film?
ANDHADHUN
EP65: Shayrana Andaz – 5th August 2021 | Answers
Who am I?
SONIA
Who am I?
ARRahman
Who am I?
ELONMUSK
EP64: Dhokebaaz Pizza – 4th August 2021 | Answers
What is this?
PANEER
What is this?
PINEAPPLE
What is this?
BAKERY
EP63: English Ki Class – 3rd August 2021 | Answers
What is this?
GHEE
What is this?
TURMERIC
What is this?
JUICE
EP62: Baarish Aur Pakode – 2nd August 2021 | Answers
What is this
ZEBRA
WHAT IS THIS
PENGUIN
WHAT IS THIS
MOSQUITO
EP61: Kahani Jawani Ki – 1st August 2021 | Answers
Who am I?
PVSINDHU
What is this?
Hockey
Who am I?
PTUSHA
EP60: Pammi Ki Rumour – 31st July 2021 | Answers
Who am i?
Dharmendra
Name the film?
SULTAN
Who am i?
SRIDEVI
EP59: Pammi Da Rapper – 30th July 2021 | Answers
What is this?
Hyderabad
What is this?
Gujarat
What is this?
ITALY
EP58: Khatta Aur Kadwa – 29th July 2021 | Answers
What is this?
Sushi
What is this?
Ginger
What is this?
Lemon
EP57: Kahani Film Ki – 28th July 2021 | Answers
Who am I?
Hardik
Who am I?
Maradona
What is this?
Basketball
EP56: Pammi bani Tutor – 27th July 2021 | Answers
Who am I?
Dilipkumar
Name the film?
VickyDonor
Who am I?
Vidyabalan
EP55: Rumified Pammi – 26th July 2021 | Answers
Name the place?
HARIDWAR
Name the place?
KOLKATA
Name the place?
NEWYORK
EP54: American ya Indian Cuisine? – 25th July 2021 | Answers
What is this?
Burger
What is this?
Kiwi
What is this?
Rice
EP53: Dilip saheb ya SRK? – 24th July 2021 | Answers
Who am I?
Shahid Kapoor
Who am I?
Katrina
Name the film?
Devdas
EP52: Pammi Bani Official Host – 23rd July 2021 | Answers
Name the place?
AMRITSAR
Name the place?
INDIAGATE
Name the place?
BHUTAN
EP51: The Green Revolution – 22nd July 2021 | Answers
What is this?
TIGER
What is this?
WHALE
What is this?
COCKROACH
EP50: Problem Solver – 21st July 2021 | Answers
What is this?
Football
Who am I?
Federer
Who am I?
Rohit
EP49: Know Your Personality – 20th July 2021 | Answers
Who Am I?
ANILKAPOOR
Who Am I?
ANUMALIK
Name the film?
BARFI
EP48: Becoming Vegan – 19th July 2021 | Answers
What is this?
BUTTER
What is this?
Watermelon
What is this?
SOUP
EP47: Dating App Hacks – 18th July 2021 | Answers
Who Am I?
SUNNYDEOL
Who Am I?
NORAFATEHI
Name the film
STREE
EP46: Kamaal Ki Kahani – 17th July 2021 | Answers
Who Am I?
MAYAWATI
Who Am I?
BEYONCE
Who Am I?
HITLER
EP45: Aao Gossip Karein – 16th July 2021 | Answers
What is this?
Baseball
Who am i?
Yuvraj
Who am i?
Mithaliraj
EP44: Pareshan Pammi Aunty – 15th July 2021 | Answers
What is this?
Peacock
What is this?
Deer
What is this?
Crow
EP43: Bhavishyavaani! – 14th July 2021 | Answers
What is this?
JAIPUR
What is this?
LONDON
What is this?
ANTARTICA
EP42: Angry Pammi Aunty – 13th July 2021 | Answers
What is this
Ranveer
Name the Film
Raazi
Who am i?
Shreya
EP41: Lessons of Self-Care – 12th July 2021 | Answers
What is this?
WHEAT
What is this?
GRAPES
What is this?
PASTA
EP40: Funniest Yoga – 11th July 2021 | Answers
What is this?
Answer: CHINA
Who am i?
Answer: JEFFBEZOS
What is this?
Answer: OLYMPICS
EP39: A New Host – 10th July 2021 | Answers
Who am I?
Answer: Mamata
Who am I?
Answer: Bhuvanbam
Who am I?
Answer: Mithun
EP38: Love Advice – 9th July 2021 | Answers
What is this?
Answer: Chennai
What is this?
Answer: Parliament
What is this?
Answer: Canada
EP37: The Champion – 8th July 2021 | Answers
Who am I?
Answer: Sehwag
Who am I?
Answer: Mary Kom
Name the Game?
Answer: Tennis
EP36: Mazedaar Paaheliyaan – 7th July 2021 | Answers
What is this?
Answer: Cake
What is this?
Answer: Coffee
What is this?
Answer: Coconut
EP35: Pammi Bani Actor – 6th July 2021 | Answers
Name the film?
Answer: Dangal
Who Am I?
Answer: Anushka
Who Am I?
Answer: Anupam Kher
EP34: Unboxing the Surprise – 5th July 2021 | Answers
Who Am I?
Answer: Indira
Who Am I?
Answer: Arvind
Who Am I?
Answer: Malala
EP33: Tall and Handsome – 4th July 2021 | Answers
What is this?
Answer: Eagle
What is this?
Answer: Tortoise
What is this?
Answer: Giraffe
EP32: India's Summer Capital – 3rd July 2021 | Answers
Name the place?
Answer: Kedarnath
Name the place?
Answer: Shimla
Name the place?
Answer: Maldives
EP31: Pammi Di Paheliyaan – 2nd July 2021 | Answers
Who Am I?
Answer: Govinda
Name the film
Answer: Hera Pheri
Who Am I?
Answer: Kapil
EP30: Lightning Bolt – 1st July 2021 | Answers
Who am I?
Answer: Bumrah
Who am I?
Answer: Usain Bolt
Who am I?
Answer: Badminton
EP29: Prince in The Kitchen – 30th June 2021 | Answers
What is this?
Answer: Onion
What is this?
Answer: Cheese
What is this?
Answer: Strawberry
EP28: Baba in The House – 29th June 2021 | Answers
Who am I?
Answer: Kajol
Who am I?
Answer: Golmaal
Who am I?
Answer: Sanjay Dutt
EP27: Prince ke Inspirations – 28th June 2021 | Answers
Who am I?
Answer: Amitabh
Who am I?
Answer: Ratan Tata
Who am I?
Answer: Steve Jobs
EP26: The Biggest Blockbuster – 27th June 2021 | Answers
Who am I?
Answer: Deepika
Name the film?
Answer: Sholay
Who am I?
Answer: Sonu Nigam
EP25: School Ke Din – 26th June 2021 | Answers
What is this?
Answer: Exam
What is this?
Answer: Library
What is this?
Answer: Chalk
EP24: Chocolate Biryani – 25th June 2021 | Answers
What is this?
Answer: Apple
What is this?
Answer: Biryani
What is this?
Answer: Chocolate
EP23: Mr. President – 24th June 2021 | Answers
Who Am I?
Answer: Mukesh
Who Am I?
Answer: Humayun
Who Am I?
Answer: Obama
EP22: The Romantic Weather – 23rd June 2021 | Answers
What is this?
Answer: Yoga
What is this?
Answer: Instagram
What is this?
Answer: Monsoon
EP21: An Inspiring Story – 22nd June 2021 | Answers
Who am I?
Answer: Sachin
Name the game?
Answer: Chess
Who am I?
Answer: Saina
EP20: Kaafi Khatarnak! – 21st June 2021 | Answers
Who am i?
Answer: Camel
Who am i?
Answer: Parrot
Who am i?
Answer: Corocodile
EP19: The Most Romantic Country – 20th June 2021 | Answers
Name the Place?
Answer: Delhi
Name the Place?
Answer: Red Fort
Name the Place?
Answer: France
EP18: Top Trends of 2020 – 19th June 2021 | Answers
Who am I?
Answer: Kangana
What is this?
Answer: Selfie
What is this?
Answer: Lockdown
EP17: Sallu Bhai Zinda Hai – 18th June 2021 | Answers
Who am I?
Answer: Salman Khan
Name the film
Answer: Lagaan
Who am I?
Answer: Kareena
EP16: Prince bana Foodie – 17th June 2021 | Answers
What is this?
Answer: Banana
What is this?
Answer: Coriander
What is this?
Answer: Popcorn
EP15: Prince hua Deewana – 16th June 2021 | Answers
Who am i?
Answer: Akshay
Name the film?
Answer: Rockstar
Who am i?
Answer: Madhuri
EP14: Prince Ki Shaadi – 15th June 2021 | Answers
Who am I?
Answer: Horse
Who am I?
Answer: Shark
Who am I?
Answer: Elephant
EP13: Most Trending Book – 14th June 2021 | Answers
What is this?
Answer: Facebook
What is this?
Answer: Virus
What is this?
Answer: Snapchat
EP12: Bollywood Ki Baatein – 13th June 2021 | Answers
Name the film?
Answer: Dhoom
Who am I?
Answer: Karan Johar
Who am I?
Answer: Neha Kakkar
EP11: Meet The Stars – 12th June 2021 | Answers
Who am I?
Answer: Virat Kohli
Name the game?
Answer: Kabaddi
Who am I?
Answer: Ronaldo
EP10: Food Festival – 11th June 2021 | Answers
What is this?
Answer: Pizza
What is this?
Answer: Mango
What is this?
Answer: Ice Cream
EP09: Heaven on Earth – 10th June 2021 | Answers
Name the place?
Answer: PUNJAB
What is this?
Answer: YAMUNA
Name the place?
Answer: KASHMIR
EP08: Man of the Moment – 9th June 2021 | Answers
Who am I?
Answer: Gulzar
Who am I?
Answer: Trump
Who am I?
Answer: Sonu Sood
EP07: India's Wonder Woman – 8th June 2021 | Answers
Who am I?
Answer: Messi
Who am I?
Answer: Sania Mirza
Who am I?
Answer: Kapildev
EP06: Singh is King – 7th June 2021 | Answers
Who am I?
Answer: Aamir Khan
Name the film?
Answer: Om Shanti Om
Who am I?
Answer: Mika Singh
EP05: Trending Now – 6th June 2021 | Answers
What is this?
Answer: Twitter
What is this?
Answer: Vaccine
What is this?
Answer: Sanitizer
EP04: The Flying Animal – 5th June 2021 | Answers
Who am I?
Answer: Cheetah
Who am I?
Answer: King Cobra
Who am I?
Answer: Monkey
EP03: Destinations – 4th June 2021 | Answers
Name the place?
Answer: Kerala
Name the monument?
Answer: Taj Mahal
Name the place?
Answer: Everest
EP02: Helicopter Man – 3rd June 2021 | Answers
Who am I?
Answer: MS Dhoni
Who am I?
Answer: Bill Gates
Who am I?
Answer: Akbar
EP01: Bollywood Dhamaka – 2nd June 2021 | Answers
Name the star?
Answer: Ranbir
Name the film?
Answer: Gullyboy
Name the star?
Answer: Priyanka