Karnataka Shakti Scheme: The Government of Karnataka has launched a bunch of Schemes in the benefit of the Women's in the State. All these recently launched Schemes aims at Women Empowerment. And Karnataka Shakti Scheme is another step towards Women Empowerment which provides free transportation facility through the Bus.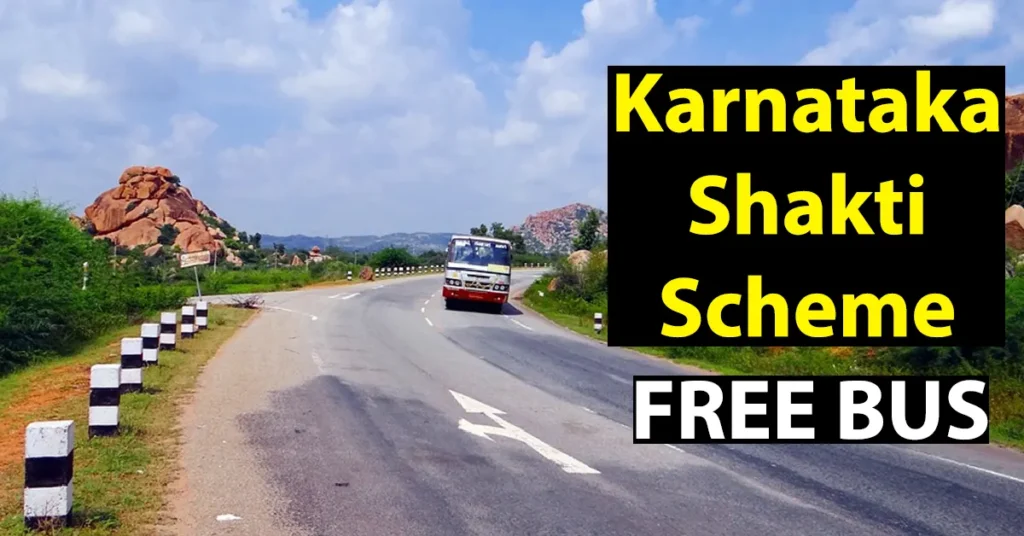 Yes, you read it correctly, for all Womens in Karnataka there won't be any bus fare collected. But there is catch, the free service will only be limited inside the State of Karnataka. Karnataka Shakti Yojana is gone live since 11th June 2023.
| | |
| --- | --- |
| Scheme Name | Karnataka Shakti Scheme |
| Launched by | Indian National Congress |
| Benefit | Free Bus Service |
| Applicable in State | Karnataka |
| Beneficiary | Women |
| Application Modes | Shakti Smart Card, Temporarily can be availed with Identity Proof Document |
| Age Limit | All age groups |
Benefits of Karnataka Shakti Scheme
Free Bus Service throughout Karnataka
Applicable for all Womens of Karnataka
Eligible for Shakti Smart Card
No Per Day or Per Month Limits, Travel Unlimited Free
The Free Bus Service under the Karnataka Shakti Yojana will benefit the working women's in commuting to the workplace, school going girls, to reach market/ hospital, or any other purpose. This scheme drops the financial burden which would otherwise have gone spent on buying the bus ticket. The cost saved on bus ticket could be used for betterment of the family or savings.
Karnataka Government Offers ₹24,000 per year to Womens, through Gruha Lakshmi Scheme.
Karnataka Shakti Scheme Free Buses
Free Travel for Ladies in Karnataka under the Karnataka Shakti Yojana is applicable only on Government operated buses, below is the list of buses which can be used to avail the benefits of Shakti Yojana Bus Pass.
| | |
| --- | --- |
| Karnataka State Road Transport Corporation (KSRTC) | Bangalore Metropolitan Transport Corporation (BMTC) |
| North West Karnataka Road Transport Corporation (NWKRTC) | Kalyana Karnataka Road Transport Corporation (KKRTC) |
Karnataka Shakti Scheme won't be applicable for traveling on Private Buses like Vijayanand, Airawat, Rajahamsa, Vajra, Airavat, Ambari, EV Power Plus, Volvo Buses, etc.
Document Required to Avail Karnataka Shakti Scheme
To avail free bus service by ladies in Karnataka, it is mandatory to hold a Shakti Smart Card. On temporary basis the scheme can be availed by using any Government Identity Proof Document like Aadhaar Card, Driving License, Voter ID, etc. The Shakti Smart Card will act as Free Bus Pass in Karnataka for Womens, Ladies and Girls.
How to Apply Shakti Yojana Karnataka Shakti Smart Card
To take the benefit of Free bus for ladies in Karnataka an online application needs to be made by applying for the Shakti Smart Card.
To apply visit the official website of Free Bus for Ladies in Karnataka Application Online by accessing link karnataka.gov.in
If you haven't registered on this portal then register an account using your mobile number and email
Once the account is created, you can proceed with the online application of Shakti Smart Card by clicking on the shakti smart card application link
Upload the required documents and complete the process
Once submitting the application, the Shakti Smart Card would be dispatched to your address in 1 – 2 weeks of time.
Do I need to pay any fee to apply for Shakti Scheme Smart Card?
Shakti Scheme Smart Card can be applied free of cost.
Can I travel outside Karnataka for Free in Karnataka Government Bus under this scheme?
Free Bus Service for Ladies under Karnataka Shakti Scheme can be availed to travel within Karnataka.
Do I need to apply for any Bus Pass to travel free?
You need to hold Shakti Scheme Smart Card, which acts as a pass.
Do I need to book my seat first in order to avail Free Bus in Karnataka under Karnataka Shakti Scheme?
No, there isn't any booking system.
Is there any per day or per month limits for Free Bus for Women?
No, there isn't any limits set for Free Bus Ticket for Women in Karnataka.
Can Women's from Other States travel free on Karnataka Bus?
No, Only Women's of Karnataka are eligible for Free Bus.
How to get Shakti Smart Card online?
To get Shakti Smart Card online, the applicant need to register online and furnish necessary documents in order to obtain the card and avail the benefits.