Jiofi 4 Wifi router has a very common problem in its device, where after using the device for a while it doesn't even turn on. Instead, when you try to turn it ON, the Jiofi 4 Wifi Router blinks all four lights such as blue, red, green, and the loop continues.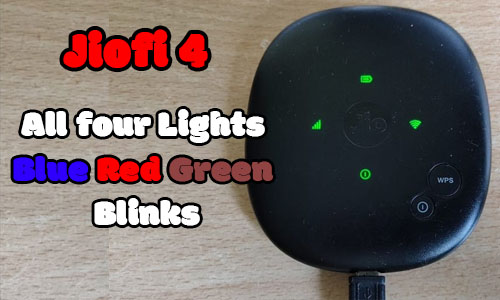 Most of the JioFi 4 users are facing this issue, and on the various online platform, this issue has been reported about this device. So if you are planning to buy a JioFi device then you should consider buying any other models of JioFi excluding JioFi 4 WIFI Router.
And if you are one who already owns this device and has kept your device aside unused due to this issue, then we have the solution or the fix for this problem.
Jiofi 4 All Lights Blinking Issue
Blinking all four lights of JioFi 4 doesn't mean, your device is totally gone bad or faulty. Instead, it's a common software issue in the JioFi 4 device, which gets bugged after a while. After getting the software bugged, your device would not turn on the hotspot and it will keep on restarting blinking all four lights.
The process will continue until your battery of your device gets drained and if your have plugged in the charge then also the lights will keep on blinking and the WiFi hotpot won't turn ON.
Solution for Jio Dongle All four Lights Blue Red Green Blinks
The issue of blinking all four lights in JioFi 4 WiFi router can be fixed by flashing the device or updating the software. But unfortunately, there aren't any flashing files available online for this specific device. Nor this issue gets fixed by resetting the device by pressing reset function.
To get your JioFi 4 WiFi router in a working condition, you will need to visit the Jio Service Center. The Jio Service Center engineers will flash your device and give it back to you. You can avail this service even if your device is not under warranty.
I have personally visited the Jio Service Center located in Goa and got my JioFi 4 WiFi router fixed from this problem. They updated the software of the device and returned it back to me same time. Even though my JioFi router was not under warranty, i was not charged any service charge from them.
Till now i have availed the service twice, and both times free of cost. Your device may get affected again with same problem after few months, so you will need to follow the same process to get it fixed.
If i come across the flash file of JioFi 4 router, then i will update the same in this post.
Can i fix this issue at home by flashing the software?
Yes, but as of now there aren't any software flash file available of JioFi 4 device.
Do i need to pay at Jio Service Center?
In my case, i was not charged any fee or charges for the software update or flashing done for JioFi 4 device, instead my device was out of warranty.