In a world where digital connectivity is paramount, Reliance Industries Limited, under the dynamic leadership of Mukesh Ambani, continues to spearhead innovation in the telecommunications sector. The latest testament to their commitment to cutting-edge technology is the highly anticipated Jio AirFiber 5G. This revolutionary wireless 5G Wi-Fi fiber promises to redefine how we experience the internet. In this comprehensive article, we will delve into all aspects of Jio AirFiber, including its key features, pricing plans, and the impact it is poised to have on India's rapidly evolving digital landscape.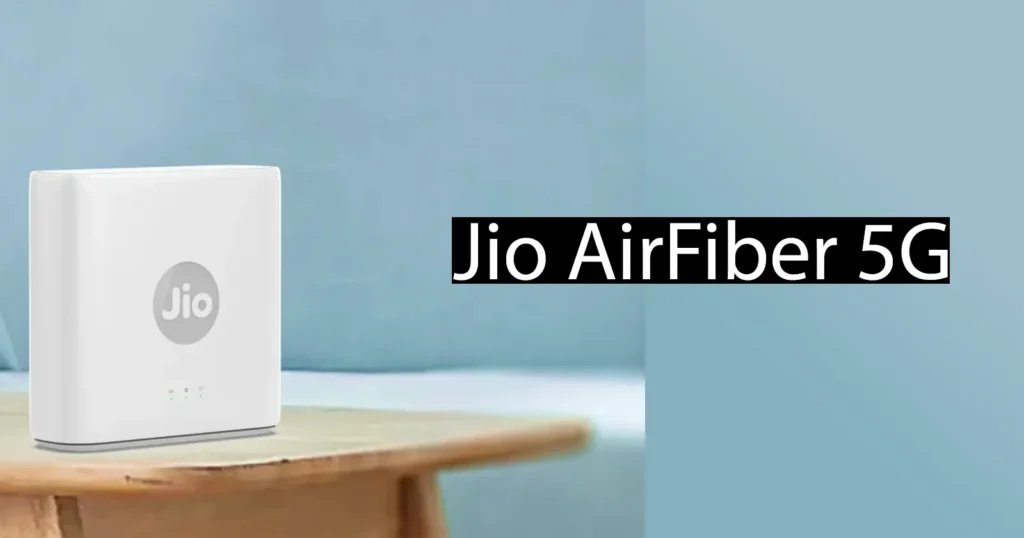 Unveiling Jio AirFiber 5G: A Game-Changer in Connectivity
Jio AirFiber Max, Jio AirFiber, Jio Air Fiber, Jio Air Fiber 5G, Jio AirFiber 5G – these terms have been buzzing in the tech world ever since Reliance's Chairman, Mukesh Ambani, officially announced this groundbreaking technology during the 46th Annual General Meeting (AGM). Jio AirFiber 5G is now officially available, and it is poised to take the world of connectivity by storm.
Jio AirFiber Launch Date and Availability
Initially, Jio AirFiber has rolled out in major metropolitan cities: Mumbai, Pune, Ahmedabad, Bengaluru, Chennai, Delhi, Hyderabad, and Kolkata. However, given Reliance's track record of gradual expansion, it won't be long before Jio AirFiber reaches other states and cities, ensuring widespread access to its high-speed 5G connectivity.
Features of Jio AirFiber
Mobile App Control: A user-friendly Jio AirFiber device can be managed effortlessly through a mobile app, putting control at your fingertips.
Blazing Fast Speeds: Jio AirFiber 5G boasts speeds of up to 1 Gbps, making it ideal for high-definition streaming, online gaming, and seamless video conferencing.
Wireless Connectivity: Bid farewell to the hassles of traditional wired setups, as Jio AirFiber offers wireless connectivity that simplifies installation and reduces clutter.
Digital Entertainment: Access to 550+ leading digital TV channels, Catch-up TV feature for missed episodes, Subscriptions to 16+ popular OTT apps.
Broadband Connection: High-speed internet with Wi-Fi connectivity, Consistent strong signal throughout your home.
Smart Home Services: Powers surveillance, healthcare, IoT, gaming, and networking, Enables Cloud PC for education and remote work.
Home Devices Included: Latest Wi-Fi router for complete home coverage, 4K smart set-top box and voice-activated remote at no extra cost.
Jio AirFiber 5G Plans and Pricing
Jio AirFiber plans starts at ₹599 and the AirFiber Max starts at ₹1499. Airtel recently introduced its 5G AirFiber plans at a competitive ₹799 per month, setting the stage for an intense pricing rivalry.
AirFiber Plans
| Pricing | Benefits |
| --- | --- |
| ₹599+GST | Unlimited Data @ up to 30 Mbps |
| ₹899+GST | Unlimited Data @ up to100 Mbps |
| ₹1199+GST | Unlimited Data @ up to100 Mbps |
AirFiber Max Plans
| Pricing | Benefits |
| --- | --- |
| ₹1499+GST | Unlimited Data @ up to 300 Mbps |
| ₹2499+GST | Unlimited Data @ upto 500 Mbps |
| ₹3999+GST | Unlimited Data @ up to 1 Gbps |
How to Get Jio Airfiber
You have three convenient options to get started:
Reserve your Jio AirFiber connection effortlessly by giving a Missed Call by Dialing 60008-60008 to book via WhatsApp.
For Online Booking Visit website.
Head to your nearest Jio Store
Register for Jio AirFiber services, either online or offline, in just a few simple steps.
Expect prompt response. Your home will be connected with Jio AirFiber on priority as soon as services are accessible in your area. Secure your Jio AirFiber connection now for a seamless experience.
The Potential Impact of Jio AirFiber
The introduction of Jio AirFiber is poised to significantly impact the telecommunications landscape in India.
Increased Competition: With Airtel already in the 5G AirFiber game, the entry of Jio AirFiber will intensify competition, leading to better deals, improved services, and potentially more affordable pricing for consumers.
Wider Accessibility: As Jio AirFiber expands its coverage, more households and businesses will gain access to high-speed 5G internet, potentially bridging the digital divide and promoting digital inclusion.
Technological Advancement: The adoption of 5G technology through Jio AirFiber will drive innovation, giving rise to new applications and services that harness the capabilities of high-speed internet.
Streamlined Connectivity: The wireless nature of Jio AirFiber simplifies setup, reducing installation time and enhancing the user experience.
The impending launch of Jio AirFiber 5G represents another milestone in Reliance's ongoing mission to redefine India's digital landscape. With blazing-fast 5G speeds, wireless convenience, competitive pricing, and widespread accessibility on the horizon, Jio AirFiber is set to revolutionize how Indians connect to the digital world.
With the official announcement of Jio AirFiber Max and Jio AirFiber plans and pricing, it is clear that this development is usher in a new era of connectivity in India, one that is faster, more accessible, and aligned with the nation's digital aspirations. The future of internet connectivity in India is undeniably exciting, thanks to the relentless innovation and commitment of companies like Reliance Jio.