The Credit Limit on a Credit Card plays a very vital role when it comes to shop or transact. For e.g. if you want to shop for an item worth 1 lac and if your credit card limit is just ₹65000, then it won't be possible for you to place an order using your credit.
And still, without having a sufficient limit if you proceed with the order then the bank will charge you an over-limit fee. To place an order or shop you need to have a credit limit equal to or more than the transaction value, and this can be achieved by upgrading your credit card's credit limit. So during such situation a query comes in your mind how increase SBI Credit Card Limit (sbi credit card ki limit kaise badhaye).
Each and every bank provides an option of credit limit enhancement through which the credit card holder can easily increase the credit limit of their credit card.
Benefits of Increasing Credit Limit
Shop with a higher credit limit
No requirement to hold multiple credit cards, as one card with a high limit fulfills your needs
A higher Credit limit will improve your credit score due to lower credit utilization
Get easy access to loans in the future, due to maintaining of good credit history with higher limits
Higher limits of credit can come handy during the emergencies
Having a higher credit limit will encourage you to shop with one card and which will lead to earning better rewards
And SBI Bank also provides the Credit Limit Increase (CLI) feature. SBI offers to enhance credit card limits in two different modes:
Pre-approved SBI Card Limit Increase Offer
You can upgrade your SBI Card limit instantly if you have a Pre-approved Credit Limit Offer. The Pre-approved Credit limit offers don't require any documents. However, these offers are limited to those customers who regularly use their credit card, pay their due on time and also there are other internal risk factors considered by SBI before issuing these pre-approved sbi card limit increase offers.
To increase SBI Credit Card Online visit https://www.sbicard.com/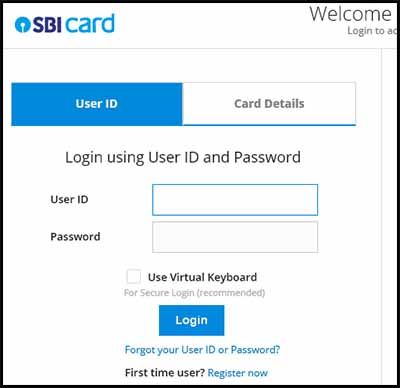 Login with your credentials, if you still don't hold an account then you need to register using your card details and then log in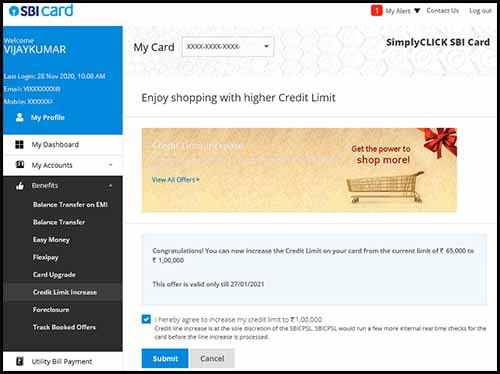 Once you are logged in, just click on My Accounts > Credit Limit Increase
On the credit limit increase page, if you are eligible for a pre-approved limit offer then a message will be displayed on the page stating "Congratulations! You can now increase the Credit Limit on your card from the current limit". It will also mention the new limit which you be getting after the upgrade.
If you are getting to see such credit limit enhancement in your account then, you are eligible for the credit increase offer
By default the terms and conditions will be tick marked, you need to just click on the submit button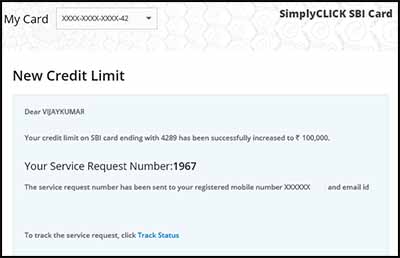 Your request for credit limit enhancement will be submitted and on the next page you will be able to see your service request number along with a SMS or message stating "Your credit limit on SBI Card has been successfully increased"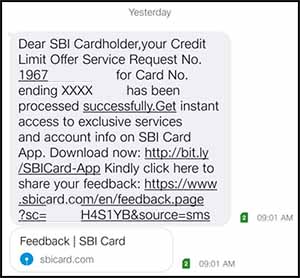 Your SBI Credit Card limit will be instantly revised to the new limit, and you can check the new limit of your credit card by clicking on the dashboard
In case if you don't have a pre-approved sbi credit limit increase offer on your account or if you wish to increase the limit beyond the eligible Limit offered by SBI Card then you can increase the credit limit by furnishing the document. And below is the complete steps to do it.
SBI Card Credit Limit Increase through app
To increase Credit limit on your SBI Credit Card through SBI Card app, follow the below instructions.
Install the SBI Card app on your smartphone and login in to your account using your credentials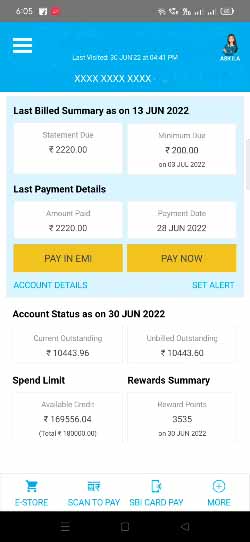 Once logged in to SBI Card app, from the home screen page just tap on more option which you can find at the bottom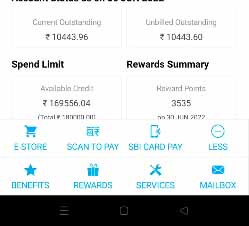 On tapping more, few more option will get expanded
From the available options just tap on the Benefits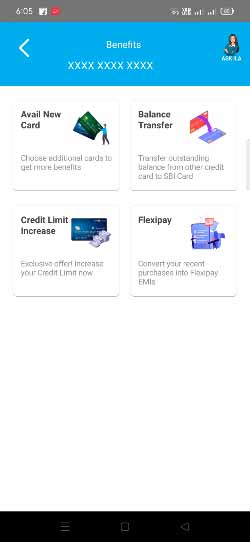 The benefits page will list four options
From these four option you need to tap on the Credit Limit Increase option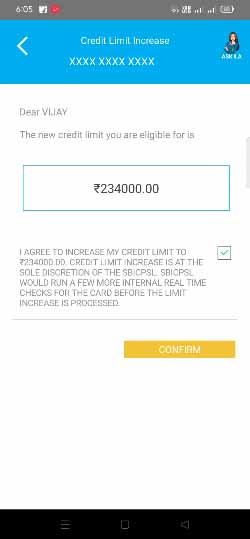 On the next screen you will be able to view the eligible new credit limit issued to you
Here you need to tap on confirm button to confirm the upgrade credit limit request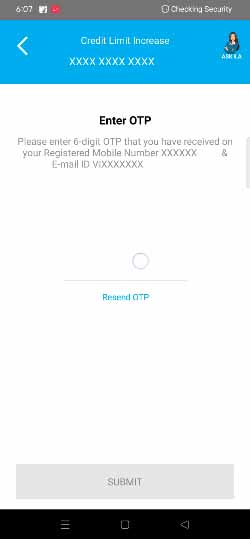 On the next screen you will be asked to enter the OTP sent on your registered mobile number and email address
Enter the OTP and click on the submit button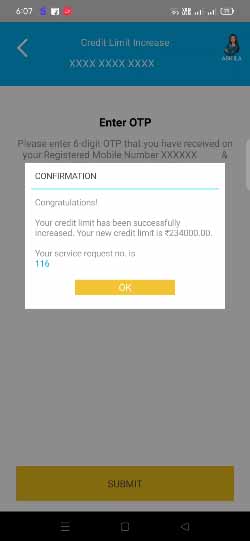 A message will pop-up stating "Congratulations! Your credit limit has been successfully increased. Your new credit limit is ₹XXXXXXX" It will also mention the service request number
Just tap on OK button and you may check your new credit limit on your card by visiting the SBI Card app homepage.
Credit Limit Increase with Income documentation
To increase credit limit on your card visit https://www.sbicard.com/
Login with your account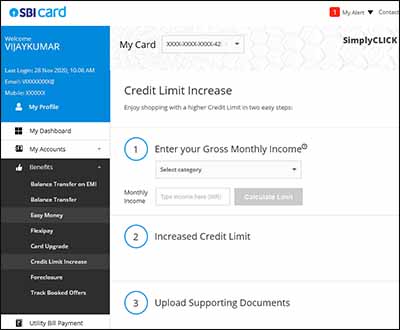 Once logged in, just click on My Accounts > Credit Limit Increase
Enter your gross monthly income, increased credit limit and upload the supporting documents which includes (Form 16, ITR VI, Last 2 months and salary slip)
Once you submit these details, your request will be reviewed by SBI Credit Card department and new credit will be issued on your card if you are eligible.
How to get pre-approved Credit Limit Increase (CLI) offer?
SBI Card regularly identifies select cardholders for a Pre-approved Credit Limit Increase offer on the basis of internal risk policy. So to be eligible you need to regularly use your card, make due payments on time, and try to maintain high CIBIL Score.
Do I need to submit any income documents for online request of SBI credit card limit increase?
With a Pre-approved credit limit increase offer you can revise your credit card limit without any requirement of additional documentation.
Will my SBI Credit Card Limit Instantly Increased?
If you are getting a pre-approved credit limit increase offer then your credit limit will be increased instantly after placing the request.
What is the maximum limit issued on SBI Credit Card?
There is no as such maximum limit when it comes to Credit Card's. The bank will approve the maximum credit limit taking risk factor into the consideration and other income calculations.
Can I decrease SBI credit card limit?
No, SBI doesn't offers an option to decrease the limit of a Credit Card. However, if you think the limit on your SBI Credit Card is very high then use the credit card as per your need. A low usage on high limit credit card will contribute towards good credit score and will treat you as a responsible borrower.
Are there any other modes to check the Pre-approved Credit increase offer?
Other than the SBI Card website, you can check your eligibility for a Pre-approved Credit increase offer on your account by sending SMS 'INCR XXXX' (last 4 digits of your card number) to 5676791 from your registered mobile number.
OR
You can write to SBI Customer Care or Call on their helpline number
Are there any charges applicable by bank to increase SBI Credit Card limit?
No, there won't be any charges or fee recovered from customer by the bank if they increase their credit limit of SBI Credit Card. This service is provided free of cost by the bank and almost all banks offers it free of cost without any charge.