What is Alexa?
Alexa is an Amazon Company and a website that helps you to measure the matrices of any website or blog with the help of your browser free of cost. Alexa was founded in the year 1996, and now it is one of the most useful tools in the SEO industry which provides you deep analytic insights to compete and improve online web business or presence.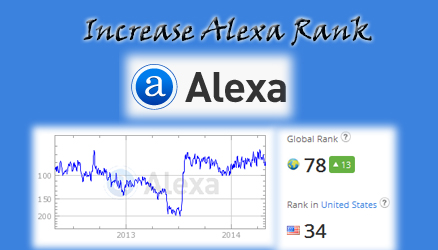 With the help of Alexa, you can know a website's traffic rank and also from which countries do the website gets visitors. You will also get to know for which keyword the website appears in search engines and also its backlinks. So in total Alexa is a must tool that can be used to know the popularity of the website.
How does Alexa Ranking work?
Alexa calculates the global ranking of a website by counting the estimated average daily unique visitors and the number of pageviews.
Does Alexa Ranking matters to rank on Google
Alexa Ranking has nothing to do with the improvement of your Google Ranking. Instead, if your website is ranked on Google for several keywords then with an increase in traffic the Alexa Ranking of your website or blog will increase.
However, if you have a better Alexa ranking, then you would get proposals of advertisements and sponsorship from marketers.
The lower the Alexa Rank, the more it would be beneficial for your website as compared to sites with higher Alexa rank.
Quick effective ways to Increase Alexa Ranking in 2022 of your website
Below are some of the tips and tricks with which you could experience an increase in your Alexa Ranking.
Claim your website on Alexa
Go to Alexa.com register an account, and claim your site. Previously Alexa was offering basic plans for free to claim websites, but recently they have changed their plans and now the basic plan is only free for the first month and from the second month onwards you will have to pay. There are two more plans with higher prices and more features named as insight and advanced. If you want to know how to submit website to Alexa for free you can read our tutorial How to claim or submit website to Alexa for free?
Alexa Toolbar
Request your regular website visitors to Install Alexa Toolbar.
Alexa Reviews
Write some posts about Alexa or some reviews about Alexa and also link back Alexa on your post.
Backlinks
Try to get some High PR or Quality Backlinks which are related to your blog niche. Don't forget to share your every post on social networking sites like Twitter, Facebook, and Mix.com (Stumbleupon), etc.
Be Regular
Post original content regularly on your website. Make sure the content is useful for your visitors, by this was you will gain trust.
Site visibility in search engines
Make sure that you get enough targeted traffic through search engines. If your website is not indexed in the popular search engines like Google, Yahoo, Bing, etc. Then do submit the sitemap of your website or blog to the several search engines available.
If you carefully follow all these above steps, you can easily Increase Alexa Ranking in 2022 of your website within few weeks with these quick Increase Alexa Rank Tips you will be easily able to Increase Alexa Ranking in 2022 of your website.