Like Paytm, MobiKwik have taken a step ahead which allows its users to upgrade their wallet. By Upgrading MobiKwik Wallet the user will get to use new limit i.e. Rs.1,00,000/- per month from Rs.10,000/- per month, and the user can also make single transaction of more that Rs.50,000/- (if PAN Card has been submitted as ID Proof).
Benefits of Upgrading Your MobiKwik Wallet
Increase your monthly limit by Rs.1,00,000/-
Allows to Make a single transaction of more than Rs.50,000/- (Only If PAN Card is submitted)
Exclusive offers in store for users who upgrade their wallets.
So what are the steps which you will have to follow to Upgrade Your MobiKwik Wallet? You will know it by following below step by step guide on How to Upgrade Your MobiKwik Wallet for Rs.1,00,000/- Monthly Limit.
Step by Step Guide to Upgrade Your MobiKwik Wallet
Just login to your MobiKwik Wallet and navigate to MobiKwik Wallet Upgrade Page by clicking here.
Once you are on Upgrade Your MobiKwik Wallet Page, your name, mobile number and email id will be loaded automatically as per you have given while registering your MobiKwik Account. And if you want to make any changes you can do it and if you are ok with it you can proceed further to uploading process of ID Proof and Address proof.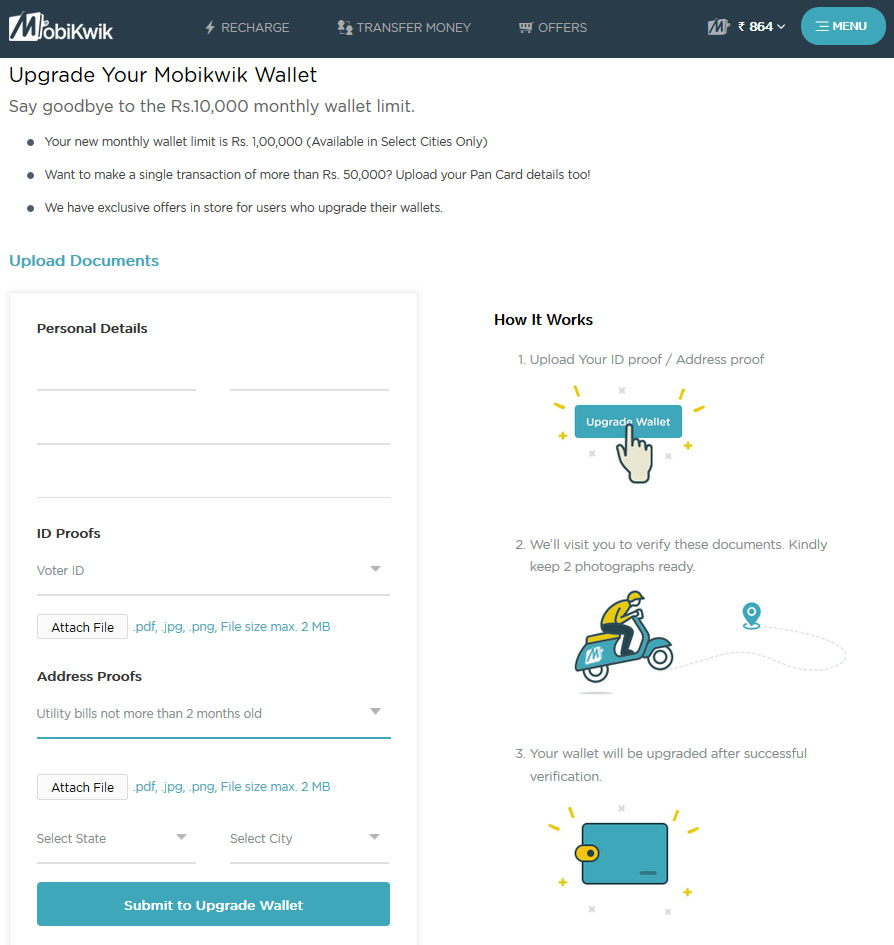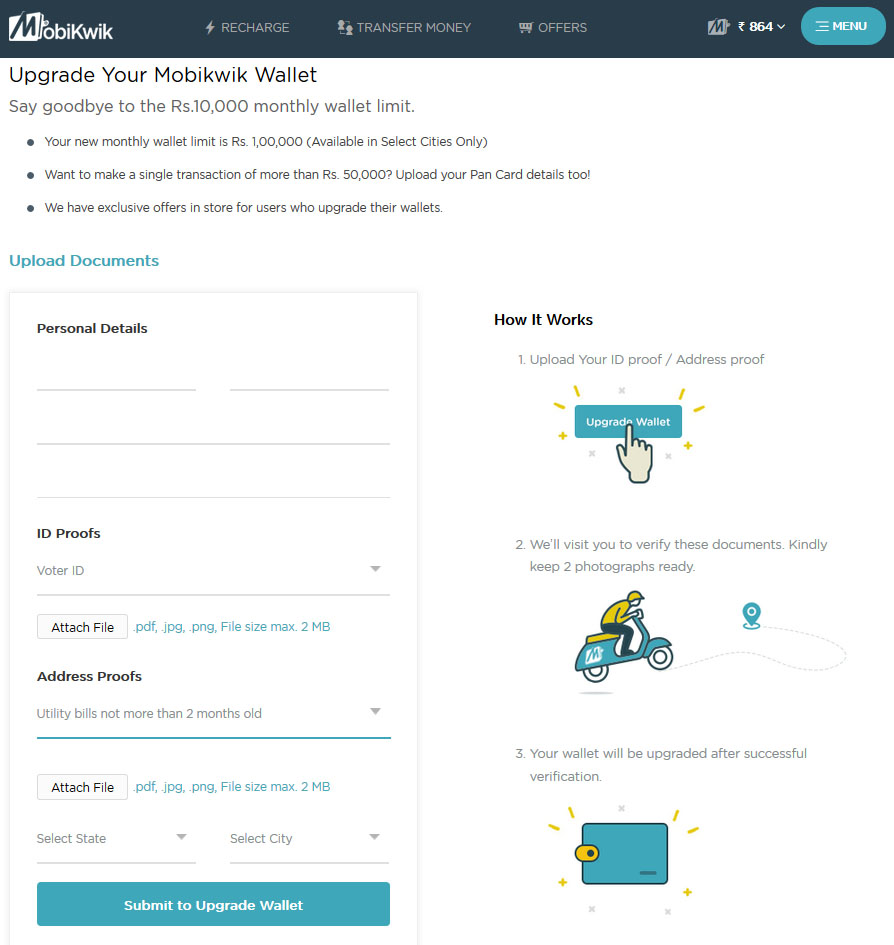 Attach any one ID Proof from the list like Aadhaar Card, PAN Card with Photograph, Driving License, Govt. Issued Photo Identity Card, NREGA Job Card with Photo, Passport and Voters ID.
Next you will have to Attach any one Address Proof from the list like Aadhaar Card, Bank Account or Post Office Savings Account Statement, Diving License, NREGA Job Card, Passport, Pension payment order (PPOs) containing address, Property or municipal tax receipt, utility bills not more than 2 months, and Voters ID.
Once you attach these documents just click on Submit to Upgrade Wallet.
MobiKwik Wallet Officials will visit your address to verify these documents, you will have to keep 2 photographs ready.
Your wallet will be upgraded after successful verification.
That's it this is how you can Upgrade Your MobiKwik Wallet to Increase your Wallet Limit