Reliance has already shut down its CDMA services as on 31st May 2016, and from now you will not get any signals on your CDMA Mobile anymore. So to get signals or use existing CDMA mobile number you will have to upgrade your reliance CDMA connection to 4G LTE. So how to upgrade Reliance CDMA Mobile to 4G LTE let's get to know by following below steps.
Steps on How to Upgrade Reliance CDMA Mobile to 4G LTE
Get Reliance 4G SIM from nearest Reliance Store Free of cost.
Once you are with Reliance 4G SIM, open your favorite web browser and visit 4G LTE Migration by clicking here.

Once you are on the Reliance CDMA Mobile to 4G LTE Migration page, just fill the form asked like:
Your Mobile Number (Existing CDMA Mobile Number)
Confirm Mobile Number (By entering same CDMA Mobile number to confirm)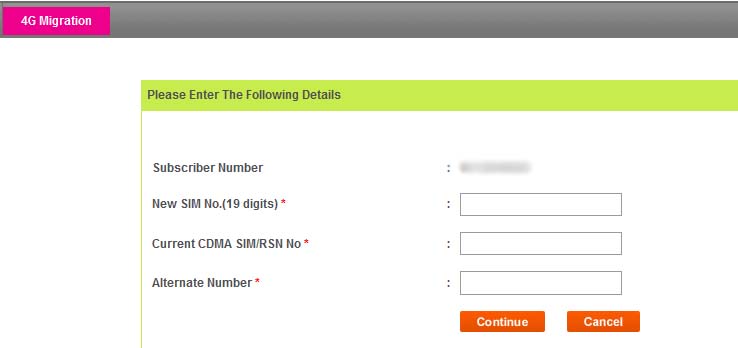 And then click on continue, in next page you will have to enter details like:
New SIM No. (19 digits) (You will get this SIM Number on 4G LTE SIM Pack)
Current CDMA SIM/RSN No (Enter your current CDMA SIM Number)
Alternate Number (Alternate Number to Contact or OTP Purpose)
And then click on Continue Button.
That's it follow the next process and you will get message saying "Your 4G Upgrade Request is Successfully Submitted. Your Upgrade confirmation will be notified by SMS."
That's it once your Reliance CDMA Mobile to 4G LTE gets migrated and gets active you can start using it.