IMPS denotes Immediate Payment Service, through which you can transfer money instantly to any bank account. You can use this IMPS through various channels like Internet Banking, ATM, and Mobile etc. But today in this article i will show how you can Transfer Money through IMPS from Online SBI Internet Banking.
IMPS facility is available to all Online SBI Internet Banking Registered users having transaction rights. So now let's get started with step by step procedure on How to Transfer Money through IMPS from Online SBI Internet Banking.
Step By Step Process on How to Transfer Money through IMPS from Online SBI Internet Banking
Once you are logged in into your Online SBI Internet Banking, from homepage or dashboard just click on "Profile".
In Profile section just click on Manage Beneficiary, next you will be prompted to enter your Profile Password.
Just enter the profile password and click on submit button, you will get navigated to manage beneficiary page.
Under Manage Beneficiary just click on IMPS Beneficiary.
Add details of the Beneficiary details like Beneficiary name, Beneficiary MMID (MMID is a seven digit number of which the first four digits are the unique identification number of the bank offering IMPS), Country, Mobile Number Fund Transfer limit through IMPS and submit the details. Next you will have to approve the beneficiary details added using OTP received on your registered mobile number. If you have only Beneficiary Bank Account details and no other details like MMID etc., then you can add beneficiary details by IMPS remittance from Person to Account using Profile > Manage Beneficiary > Intra-Bank Beneficiary or Inter-Bank Beneficiary for this you will need beneficiary details like name, bank account number, and IFSC Code. You can add and approve only one beneficiary in a calendar day, which will be activated by the internet banking system within 4 hours, if approved by you during the period from 6.00 AM to 8.00 PM (IST). Beneficiary approved after 8.00 PM will be activated on the next day after 8.00 AM (IST). You can commence funds transfer to the new beneficiary only after its activation. During the first 4 days after activation, you can transfer a total sum of Rs. 1,00,000/- to a new beneficiary if activated by the system.
Once you successfully add Beneficiary and it gets activated, just click on Payments/Transfers > IMPS Fund Transfer.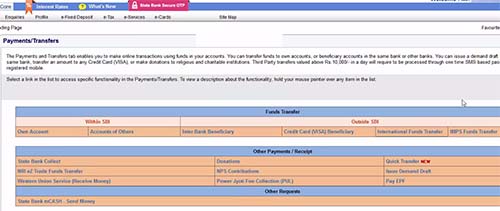 From Transaction Type Select Person to Account (using IFS code) or Person to Person (using MMID) and click on proceed button.

On next screen you will be able to see your account details and from below list you will have to select the beneficiary you added to whom you want to transfer the amount through IMPS, enter the amount which you want to transfer to beneficiary and click on submit button.

On next page you will get to review your transfer to proceed just click on confirm button.

Next page you will get message saying your IMPS fund transfer request posted successfully. Rs.5/- + Service Tax per transaction amount upto Rs.1 lakh and Rs.15/- + Service Tax per transaction if amount exceeds Rs.1 lakh.
That's it you have successfully transferred funds to beneficiary bank account through IMPS using Online SBI Internet Banking.