In our previous published article we discussed on how to Transfer Money from Paytm Wallet to friends or others Paytm Wallet using an App called Paytm Wallet. But this time we will reveal a new method to Send Money from Paytm Wallet on PC i.e. by using Paytm desktop website.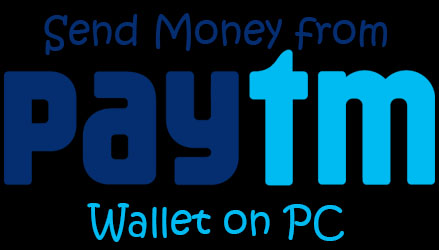 This method will allow you to transfer Paytm Wallet Cash to others Paytm Wallet by accessing the Paytm desktop website, so how this process works on to Send Money from Paytm Wallet on PC you will know by following below step by step guide.
How to Send Money from Paytm Wallet by accessing Paytm Desktop Website on PC
Go to Paytm.com by using your favorite web browser, and login into your Paytm account by entering your credentials.

Once you are logged in just navigate to Paytm Wallet.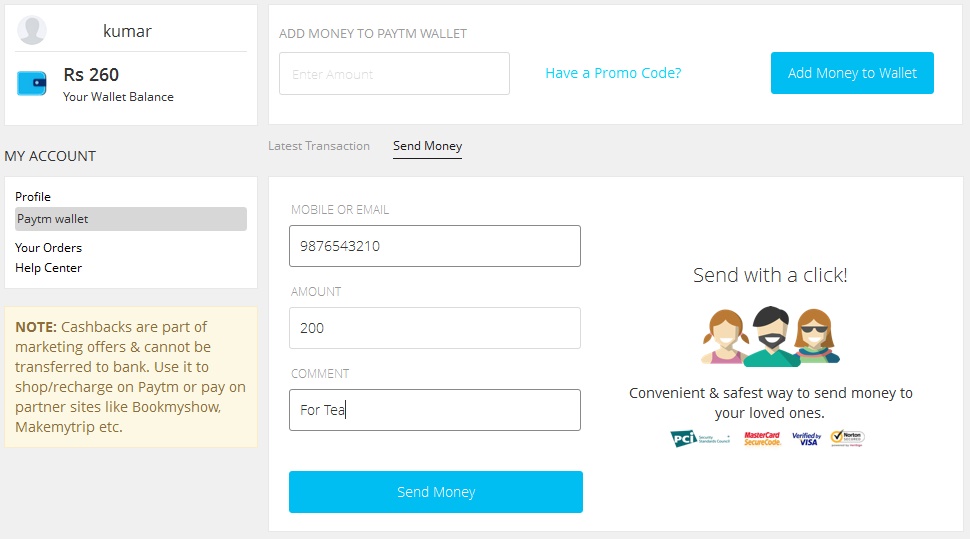 On Paytm Wallet page you will find Send Money option, just enter the payee registered Paytm mobile number or email id (but remember the payee should have verified mobile number and email id and if his Paytm registered mobile number and email id is not verified than he should verify it).
In the next text box you will have to enter the amount which you want to send it to Payee, and below there will be an optional comment box which you can fill or leave it blank (if the comment box is filled it will appear in the payee Paytm Wallet Transaction Statement).
The Last step will be to click on Send Money button to transfer the money from your Paytm Wallet to Payee Paytm Wallet. The Payee will instantly receive the Paytm Cash as soon as you have transferred it as well as he will be intimated through registered mobile as well as email id by a message saying "You have received Rs.XXX.0 in your Paytm Wallet from the Sender". The Payee can't withdraw the received Paytm Cash Balance into his or her bank account but he or she can use the Paytm Wallet balance to recharge, pay bills or shop online.

This is how you can easily send money from your Paytm Wallet to others Paytm Wallet, it is one of the safest and convenient way to send money to your loved ones.
Note: To be able to send money from Paytm Wallet you should have Paytm balance in your wallet, and if you don't have Paytm balance in your wallet you can add money to Paytm Wallet by using Add Money to Wallet Options through Debit Card/ Credit Card/ Net Banking or IMPS.