Microsoft Windows always tries to implement new features in their every OS and in Windows 10 some of the features have been slightly changed as compared to Windows 8. Previously in Windows 8 many of the users faced difficulty in carrying out tasks like Shutdown, Restart and Sleep due to its start screen, But in Windows 10 the start menu have been re-designed in a manner that it suits both type of the users i.e. the users who liked the start screen of Windows 8 as well as who are not at all fan of the new start screen in Windows 8.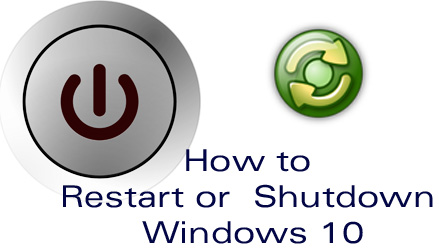 In Windows 10 the user can enable start screen by clicking on Expand Start button and can be easily disabled by again clicking on restore start menu so here you have a choice to enable or disable start screen. So now let's move on to find How to restart or Shutdown Windows 10 PC.
Tricks to Restart or Shutdown Windows 10
There are several ways or tricks to restart, sleep, or shutdown Windows 10. And below are the various ways with which you could easily restart, sleep or shutdown Windows 10.
Traditional way to restart, sleep or shutdown Windows 10 is just click on start menu button and from the start menu by clicking on power button you can perform various activity like restart, shutdown (turn off) or sleep (hibernate).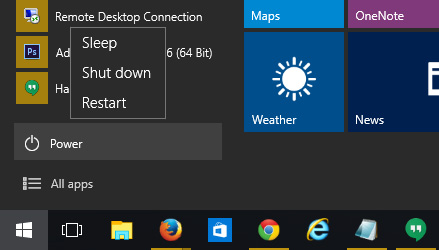 Secondly you can also restart, shutdown, sleep (hibernate) or sign out by just right clicking on start menu button and you will get several options under Shutdown or Sign out such as sign out, sleep, shutdown, and restart.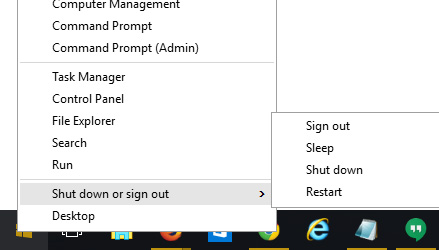 You can restart, sleep (hibernate) or shutdown (turn off) Windows 10 by keyboard shortcuts or hotkeys, make sure you are one desktop you can arrive on desktop by pressing Start+D or Ctrl+D and then to shutdown (turn off), restart, sleep (hibernate) just press Alt+F4 and you will get a prompt option to switch user, sign out, restart, sleep and shutdown Windows 10.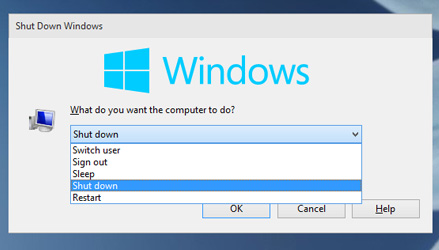 Lastly by using command prompt (CMD) you can shutdown, restart, sign out, sleep or hibernate your Windows 10 PC. Below are the commands which you will have to type in CMD and press enter to perform the preferred tasks.
To Shutdown Windows 10 you will have to type in CMD (Command Prompt) shutdown – s
To Restart Windows 10 you will have to type in CMD (Command Prompt) shutdown – r
To hibernate or Sleep Windows 10 you will have to type in CMD (Command Prompt) shutdown – h
To log off or sign out Windows 10 you will have to type in CMD (Command Prompt) shutdown – l
To abort or cancel from performing any of these tasks after executing in Windows 10 you will have to type in CMD (Command Prompt) shutdown – a