Now you can register for e-Statement or Email Statement for your SBI Bank Account via Online SBI Internet Banking. Email Statements are free and environment friendly, you can receive monthly e-Statements instead of printed statement to track your transactions in a batter manner. Your e-Statement is your confidential data so these statements will be protected by password.
So today in this article i will show you How to Register for Email Statement in Online SBI Internet Banking.
Steps on How to Register for Email Statement in Online SBI
Just login into your Online SBI Internet Banking Account by clicking here.
Once you are logged in into your SBI Internet Banking Account entering your Username and Password, from home screen left hand side option click on e-Statement.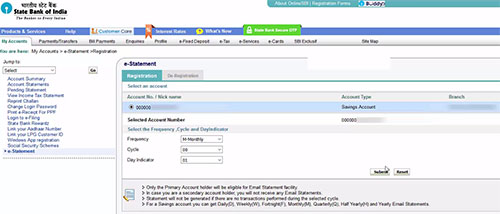 On next page you will get e-Statement Registration, to register for e-Statement just select an account number and from below frequency select how frequently you want to receive your email-statement from daily, weekly, fortnightly, monthly, quarterly, yearly or half yearly and then after selecting frequency from day indicator select on which day of the month you want to receive the statement and click on submit button.

On clicking submit button on next screen it will ask you to please verify details of your request so to confirm the request just click on confirm button.

Next you will be asked to enter high security password which you will receive on your registered mobile number, once entering the High Security Password just click on confirm button.

On next screen you will get your request for e-statement is received and it will be sent to email address as per the chosen frequency.
This is how easily you can register for Email Statement in Online SBI Internet Banking. The Statement will not be generated if there are no transactions performed during the selected cycle.