PhonePe is UPI App which provides cashless and a seamless payment experience.
Features of PhonePe
Transfer money instantly from your bank account.
No OTP required, just enter your bank MPIN.
All transactions done over NPCI's secured network.
Person to Person Money Transfer Options
Bank to bank transfer allowed.
Wallet to wallet transfer allowed.
No Transfer from your bank accounts to other's wallets or vice-versa.
How Wallet works
Top up with cashback & refunds.
No Top Up using NetBanking/Cards.
Withdraw wallet balance to your own bank account for free.
So today in this article we will make you familiar with PhonePe Registration process and how to link your bank account with PhonePe App and make hassle free, secure payments directly from your bank account 24/7 without topping up your digital wallet again.
Steps on How to Register at PhonePe Wallet and Link your Bank Account
On your Smartphone open PlayStore or App Store, search for PhonePe and just install the app PhonePe on your smartphone.
Once the PhonePe App gets installed on your phone, just tap on the PhonePe App to open it.
Once the PhonePe App gets open it will prompt you to select the language from English or Hindi, so select your preferable language and tap on continue button.
Next a welcome message will come saying Welcome to PhonePe so to proceed just tap on next button, also on tapping next button it will show how to get started, so how to proceed with registration you will have to keep on tapping next button until the getting started tutorial ends.
On registration getting started page you will be asked to permit them SMS to safely verify your mobile number, device ID and Phone Calls to detect dual SIM devices, Contacts to make money transfer easy and location to offer best deals around you. So to get started just tap on let get started.
On tapping let's get started you will be prompted to allow PhonePe to access your contacts, allow PhonePe to send and view SMS messages, allow PhonePe to access this device's location, allow PhonePe to make and manage phone calls. After allowing all these four things next you will get navigated to verify mobile number so to securely confirm your mobile number the app will need to send as SMS from your phone for which if you have dual SIM phone you will have to choose your SIM and click on Send SMS (for sending this SMS regular SMS charges will be applicable).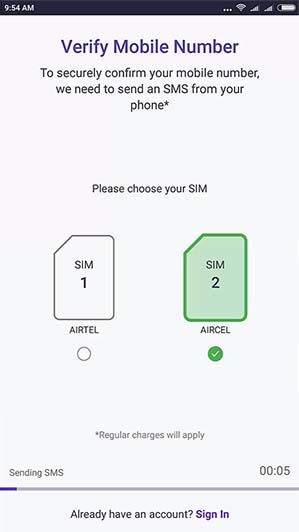 Once you chose the SIM just tap on Send SMS and SMS will be instantly Send from that number and your mobile number will get verified.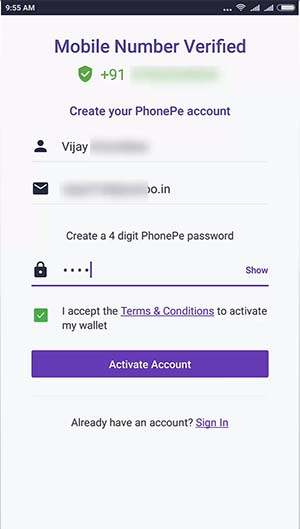 On next page to create your PhonePe Account you will be asked to enter your full name, email id, set password, and accept the terms and conditions to activate the wallet and tap on activate account.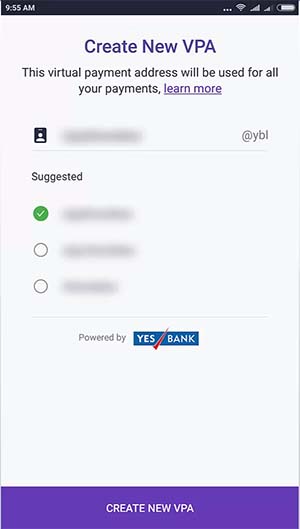 That's it you have successfully created your account on PhonePe, on next page you will be prompted to Create New VPA the virtual payment address will be used for all your payments. Just enter the address which you want to create or set as your virtual payment address and tap on Create New VPA.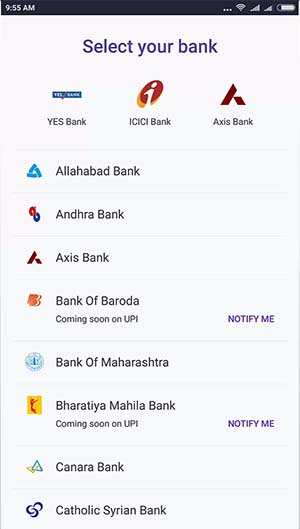 Next you will have to link your bank account, from the select your bank list you will have to just select your bank and it will instantly fetch your bank account details by securely sending your registered mobile number to it.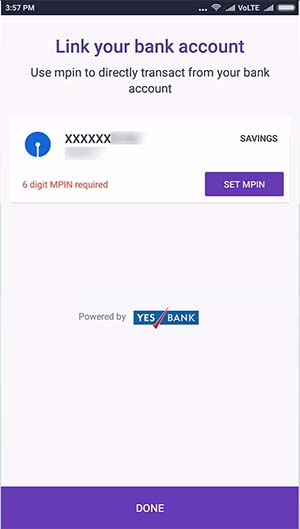 Once selecting the bank from the list it will fetch the details and show you bank account details, next you will have to set MPIN and tap on done.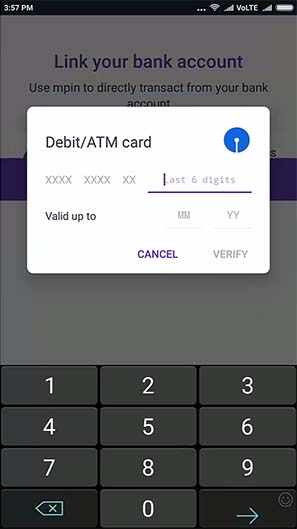 To set MPIN it will ask your Debit/ATM Card Details to verify your ownership and once you enter it just tap on verify button, on next screen just enter 6 digits MPIN which you want to set and below enter the OTP received on your registered mobile number and tap on submit button.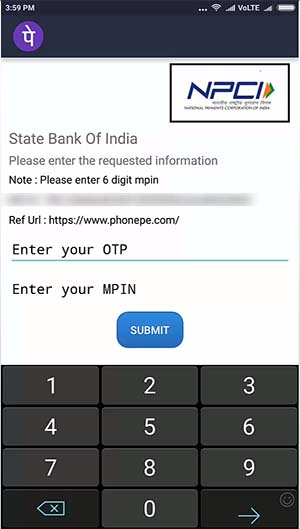 Once you have sucessfuly finished setting MPIN, you can done with registration and linking bank account with PhonePe.
Now you can start transacting with PhonePe.