If you are planning to create an online community, then XenForo Forum Software can be one of the best option. XenForo has very appealing look as well as quite responsive with all features which every forum community should have.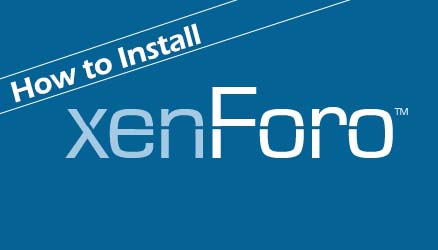 Do you want to get started with building your online community with XenForo Forum Software, but your Plesk Panel doesn't have XenForo Forum Software Preinstalled? Then here we will help you on how to install XenForo Forum on Plesk. Below is the complete tutorial which would help you to learn on how to Install XenForo Forum Software on Plesk.
Setup on How to Install XenForo Forum on Plesk
XenForo is not a free forum software, but you will have to buy the license from its official website.
Once you buy XenForo License, just login into XenForo customer area and download the zip file that contains XenForo.
Now next step would be to upload the downloaded zip file onto your domain, via file manager.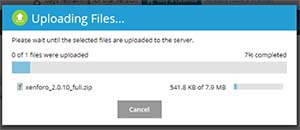 Once uploading the zip file, just extract it.
Once successfully exacting the zip file, just open upload folder and move all the contents from it into the root folder that is on location where your site is present, for e.g. www.example.com
Next step would be creating MySQL database, just navigate to domains from Plesk Panel > select the domain on which you are installing the forum > and click on databases.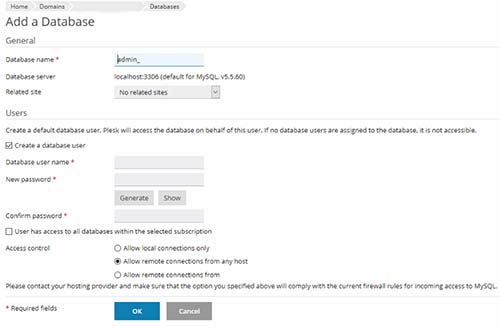 Create a new database by clicking on add database option.
On next page you will have to enter details to create a new database:
Set database name
Select the related site which should be linked with the database that is on which you would be installing the forum software
Enter database username, and set a password by entering it in new password field and confirm password field.
Leave all fields intact and click on ok button to create the database.
Make sure you have noted down all the details which you have set for database as it would be needed while installing XenForo.
The database will be created and you will get prompt saying the database has been created.
Now to install the XenForo Forum, you will have access the URL yoursite.com/install/index.php
XenForo Welcome page will open showing Your server meets all of XenForo requirements and you're now ready to being installation. So to being with the process, just click on being installation.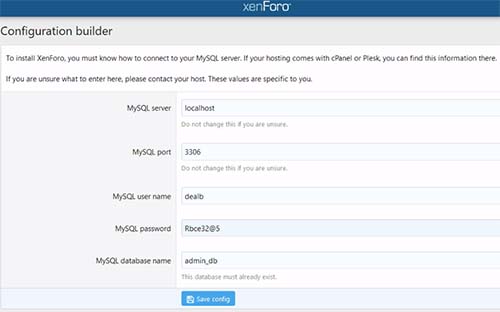 On next page you would be able to see configuration builder page, where you will have to enter created database values like MySQL username, MySQL Password and MySQL database name.
Once entering those values correctly just click on save config button.

If entered MySQL values are correct, then on next age you will be able to see message "The configuration information you entered is valid and has been written out to /var/www/vhosts/vps/yoursite.com/src/config.php", so to proceed further just click on begin installation button.
Next screen would display verify configuration saying "your configuration has been verified. You are now ready to begin with installation", so to start installation just click on being installation button.

XenForo Forum Software will start installation and it would take few minutes, while installation the page would be refreshed every now and then showing installation process in real time.

Once installation is completed, you would be moved to Setup Administrator page where you will have to create administrator account by setting username, password and email.

Once you have entered details to create administrator account, just click on create administrator button.
Your account will get created and on next page you will get setup options like Board Title, URL, contact email, homepage url to set and click on setup options button.

On next page a message will get displayed saying XenForo has been installed successfully.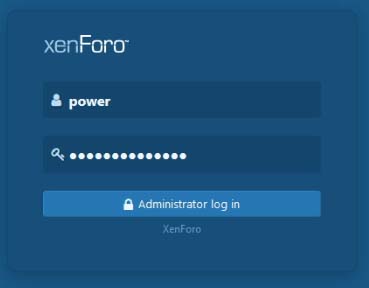 You can then click on enter your control panel button and login into your administrator account and start up setting your Forum or Community.
That's it, this is how one can easily Install XenForo Forum on Plesk.
The process of installing XenForo Forum is almost same in all other platform like Cpanel etc.