In our earlier article, we showed how you can apply for labour and employment card online in Goa. But the whole process doesn't end only by applying for employment and labour card online, instead, once the submission of your application your request gets screened by the department and then only labour and employment card is issued. So this whole process takes almost very long, and today in this post I will be guiding you out on how to download labour and employment card once your application gets approved.
In my case I had submitted the application to apply for labor and employment card online on 29th May 2019, and my application was verified by the department on 20th July 2019, and finally, on 12th September 2019 my application was approved and certificate was issued by the department. So in total, the whole process took almost 5 months to get me issued with the labor or employment card. 5 months of time is not justified to get an employment card issued, however as this online system is newly launched so it may be possible that it took a longer time than usual.
Once your application gets approved, you will receive an SMS on your registered mobile as well as email id stating:
Your Labour and Employment Card Application with Ref. No. is LEMXXXXXXXXX has been approved. You will receive SMS shortly once certificate is ready.

Your Labour and Employment Card Application with Ref. No. is LEMXXXXXXXXX is ready. You may download your certificate from Goa Online Portal using your login or collect the same from concerned office.
So these SMS's and email states that your labor and employment card have been issued by the department and you can download the same from Goa Online Portal or else collect it physically from the Employment Exchange Office.
Both the documents that are downloaded employment or labor card and physical card carries equal value and are acceptable. However, the employment card download copy will be digitally signed and there will be no requirement of any physical signature or stamp on it.
So now let's find out the complete procedure on how to download labour or employment card online in Goa when your application gets approved.
Process to Download Employment Card Online in Goa
To download your labour or employment card online, you will need to visit goaonline.gov.in official website.
Just login to your account using your username/ mobile/ email and password. Note down that this is the same account from which you had submitted the employment card application.
Once you are logged into your account, you will see your labour and employment card submitted an application that will show the latest status as certificate/ order is issued by the department and a red-colored download button will be visible.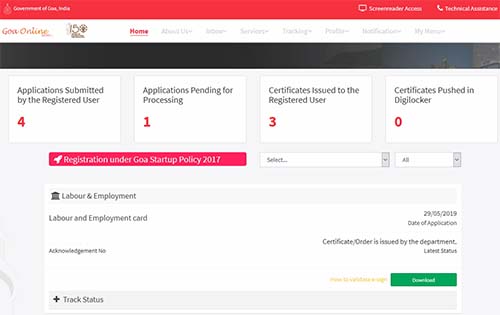 For employment card download, just click on that red-colored download button and your employment or labour card pdf will commence downloading.
Once the PDF file of labour or employment certificate gets downloaded, just open the file with PDF reader software.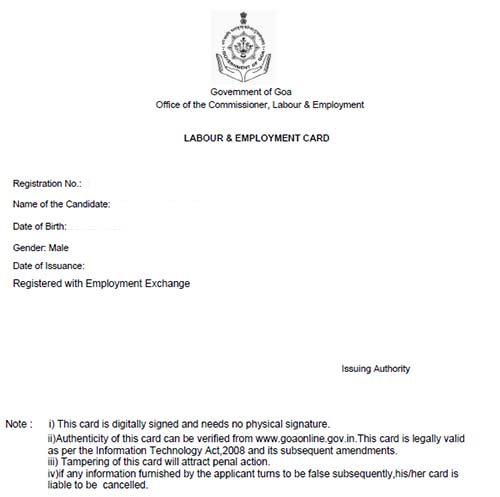 You will be able to see your employment card which will contain your employment card or labour card registration number, your passport size picture, full name, date of birth, gender, and date of issuance.
Now you can take a printout of this labour employment card downloaded copy and use it for any purpose where required.
That's it, this is how you can easily download employment card online in Goa.