Realme Smartphone users might think that Realme has no preinstalled app which allows them to record screen. But you are absolutely wrong, Realme Smartphones do have a pre-installed screen recording app. This realme screen recorder allows you to record the screen activity whenever you need to do so, that too with audio recording. Nowadays every smartphone brand gives this feature of screen recording which comes pre-installed on the phone.
But some people may experience that there is no screen recording app present in the app drawer of their Realme Smartphone. So in this tutorial, we will guide you on how to do screen recording in Realme Smartphones without installing any third-party screen recording app from Google Play Store or any other Store.
Process to Do Screen Recording in Realme Smartphones
Swipe down the notification bar from the top of the screen.
You will be able to see various shortcut controls like Wifi, Cellular Data, and Mute, etc.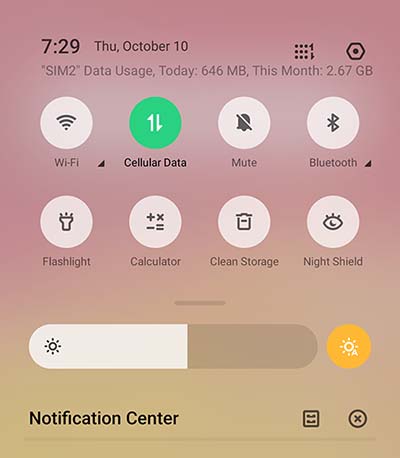 If here you are not able to see screen recording option then just tap on the edit icon displayed at top right corner.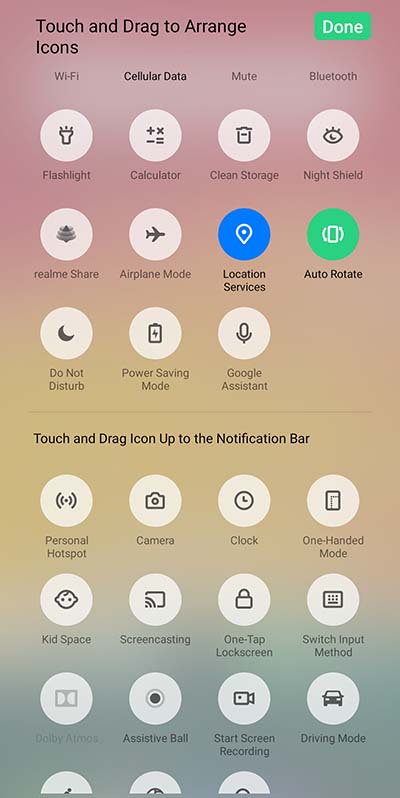 This will expand the menu with other options, here you will find Start Screen Recording Option. (if you want quick access of Start Screen recording option under control center just drag the Start Screen Recording icon to the main control center)
So you can just tap on the Start Screen recording option and then your screen recording will start after 3 seconds of countdown.
To stop the recording of the screen just tap on the red circle which is displayed, your recorded file will be stored in folder DCIM > Screenshots.
This process of recording screen is same in all Realme Smartphones models like Realme 1, Realme 2, Realme 2 Pro, Realme C1, Realme U1, Realme 3, Realme 3 Pro, Realme C2, Realme X, Realme XT Pro, Realme 3i, Realme 5, Realme 5 Pro, Realme XT, Realme X Master Edition, and all other realme models.
Screen recording will automatically end when the maximum size of 5GB is reached, and the recording will be saved. The screen recording process will end and the recording will be saved when you turn off the screen, make a call, power off the phone or perform other actions.
If you want to change the recording video resolution then it can be done by navigating to settings > System Apps > Screen Recording > Video Resolution > select High 720P or Low 480P as per your requirement.
Record Screen with Sound in Realme Device
By default Screen Recording App in Realme Device don't record sound, but if you want the sound to be recorded as well then just go to Settings > Convenience tools > Screen recording > and enable Record Microphone Sound to record sound from if you wish to record the system sound as well then also enable the Record system sound option.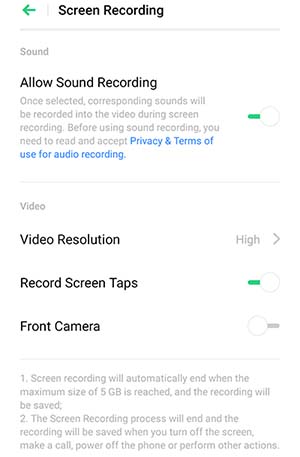 So now from next time when you start recording the screen, the sound will be recorded.
Screen Recording with Front Camera Enabled in Realme Smartphones
If you want to record your phone screen along with front camera then Realme Screen Recording App has that function. But this function is not enabled by default, you can enable this function if you need it through settings.
To record screen and webcam simultaneously in your Realme Phone, just go to settings > System Apps > Screen Recording > and enable front camera option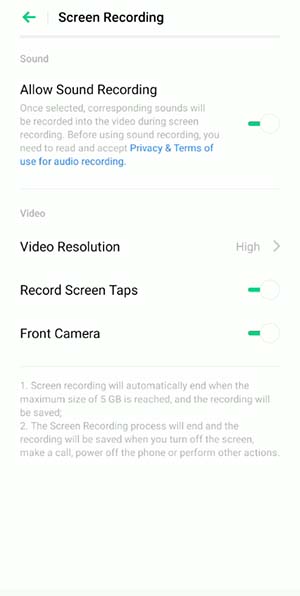 Now when you start a screen recording app, your screen will be recorded as well as front camera video will be displayed in a small circle on the same screen.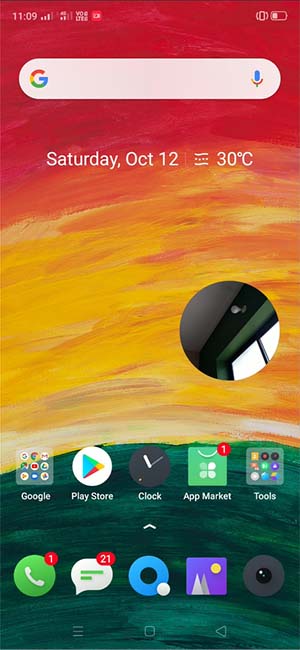 You can align the front camera video which is displaying while screen recording on any corner of the screen.