eKart is a trusted logistics service from Flipkart, where Flipkart delivers its products through this Courier Service called eKart to all major locations across India.
The main reason behind starting the eKart Logistics service by Flipkart is to deliver the products securely and quickly to its consumers rather than depending on third-party courier service providers which used to cause unnecessary delays in delivery of the items as well as the item would reach to customers in damaged condition. So the main aim of the eKart Logistics service is to deliver the items quickly in undamaged condition to its buyers.
eKart Logistics service who used to ship only products of Flipkart has now started accepting orders to ship items from several other eCommerce websites.
How is eKart Logistics different from other Logistics Services?
eKart Logistics Service delivers to all major locations across India.
eKart Logistics delivers the items on Sundays as well as on public holidays (but it depends on the availability of agents in your area).
You can get 24×7 Customer Care Support by simply calling on Flipkart's Toll-Free Customer Care Numbers, the Flipkart customer care can help you regarding any query regarding eKart Logistics Tracking or its service. Below is the toll-free number Flipkart Customer Care.
Toll-free number: 1800 208 9898
You can even get in touch with Customer Care by reporting the issue and writing them by visiting their Get in Touch page.
Today we will guide you on how to check eKart Logistics Tracking Online.
Check eKart Logistics Tracking of Flipkart Order
If you have ordered a product from Flipkart and if it is shipped by eKart Logistics then you will need to follow the below process to track the status of your Flipkart Order.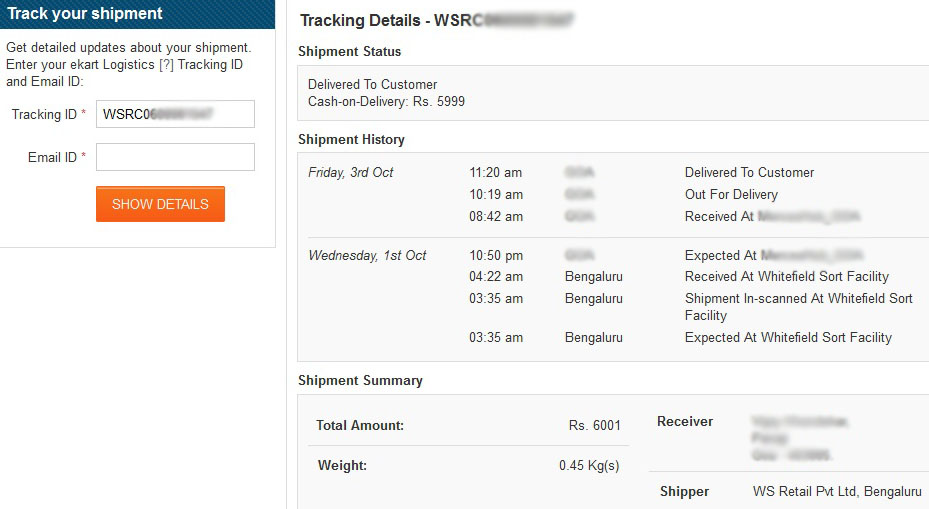 Once you are there on the page of Flipkart Track your Shipment, just enter the Tracking ID followed by your email id and click on show details. On clicking Show Details it will display the entire Shipment Status.
If you have purchased a product from an eCommerce website and if the item is shipped through eKart Logistics you can track the status of the order by following the below steps.
Check Status of order shipped with eKart Logistics
This method can be used to track the status of products dispatched from Flipkart as well as other eCommerce sites. With the previous method, you can only track the status of your Flipkart order, but this method works to track the status of all packages which are shipped with eKart Logistics.
To track the status of your order shipped with Ekart logistics visit official ekart tracking page https://ekartlogistics.com/
On the homepage of ekart you will find an option to track the status of your package
Enter the tracking id which you have received by SMS or email and click on the search button
In the next page, you will get to see the current status of your package which is shipped with eKart Logistics
FAQ's on Ekart Logistics
Does Flipkart deliver on national holidays/ public holidays?
Yes, orders dispatched by Ekart Logistics does deliver packages on national and public holidays.
Does ekart deliver on Sunday?
Yes, Ekart Logistics does delivery on Sundays.
Does ekart deliver on public holidays or national holidays?
Yes, ekart does delivery on public or national holidays.