If you have Fixed Deposits in Karnataka Bank and want to break one without taking hassle of visiting branch than you can do it online via Internet Banking. The only requirement to break Fixed Deposit Online in your Karnataka Bank Account will be Internet Banking Service, if you have KBL Internet Banking Service enabled then you can break or close any of your fixed deposit online without visiting the branch.
So below is the detailed step by step process which will explain to you on how to break Karnataka Bank Fixed Deposit Online via Internet Banking.
Step by Step Process on How to Break Karnataka Bank Fixed Deposit Online via Internet Banking
To break your fixed deposit in Karnataka Bank Online you will have to visit Internet Banking website by clicking here.
Once you are there on the KBL IB page just click on continue to login button.
Next you will have to enter your KBL IB User ID, Password and login into your Karnataka Bank Internet Banking Account.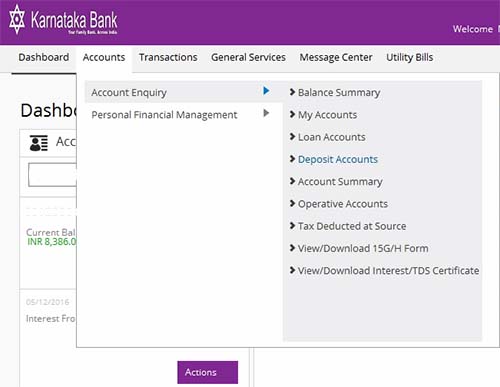 Once you are logged in into your account just go to Accounts > Account Enquiry > Deposit Accounts.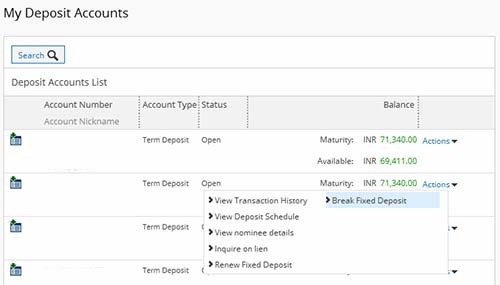 All your fixed deposit accounts will be displayed there, select any of the fixed deposit which you want to break and on right hand corner just click on Actions > Break Fixed Deposit.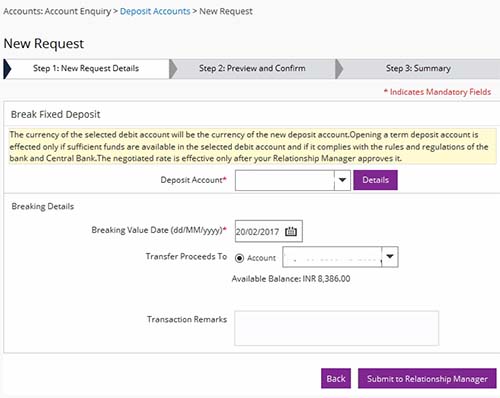 On next page you will have to select breaking details like Breaking Value Date on which day you want to break your FD, than select account transfer proceeds to from drop down list and select your SB Account.
And click on Submit to Relationship Manager, on next page you will be asked to enter your transaction password. Just enter the transaction password to proceed breaking FD and click on submit button.
On next page you will get message saying your request with reference number is pending for bank approval.
Once the bank approves your request your funds will get credited into your bank account.
This is how easily you can Break Karnataka Bank Fixed Deposit Online via Internet Banking.