There are various benefits of having Pockets Physical Card and some of them are, you can shop with your Pocket Physical Card wherever you go like shop at local stores or hang out at your favorite restaurants to pay just you need to swipe the card, you don't need a PIN. This is how you can enjoy cashless shopping at all VISA enabled stores across India with your Pockets Physical Visa Card.
So today will guide you throughout the process on how to apply for pockets physical card.
Steps on How to Apply for Pockets Physical Card
Just login to your Pockets Account by launching the Pockets App from your smartphone device.
Once you are logged in into your Pockets Account, just tap on your wallet number in your Pockets app or go to 'Settings'.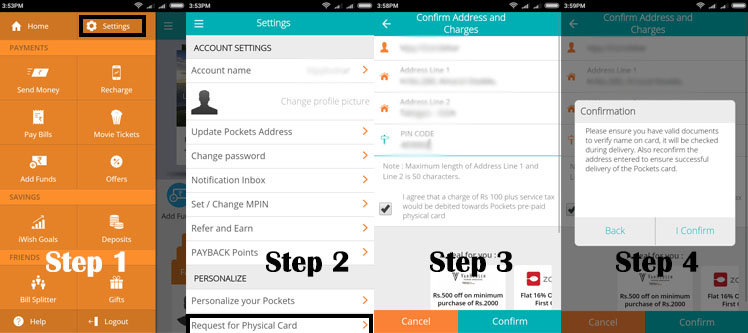 Select "Request for Physical Card" or "Apply for Physical Card" and enter your name, address, pin code and confirm it.
Once you confirm it will say request has been placed for Pockets Wallet Card.
And a charge of Rs.100/- plus service tax will be debited towards Pocket Prepaid Physical Card from your wallet.
That's it you are done applying for your Pockets Physical Card, Your Pockets Physical Card will be dispatched within 7 working days from the date of request placed for the card.
Further, you may track the status of your physical card by logging in with your user ID and password and navigate to options > Help > Track Deliverables.