Having Employment Card is very essential when you want to apply for any Government Job. So if you are planning to apply for any Government Job then the first step is to get registered with State Employment Exchange.
If you are already holding Employment Card then you must also be aware that once registration is done it has validity of 3 Years, and after that period your registration gets expired. So once your card validity gets expired you must renew it within a month or else your registration gets lapsed.
So this article will help both who are registering for employment card for first time as well as those who wants to renew their employment card.
The process of applying or registering for employment card has been made solely online, and no offline applications are been taken by State Employment Exchange Department whether it may be new registration or renewal. So this guide will help you out on how you can apply for Employment Card online in Goa.
Before we proceed with the process on registration with State Employment Exchange Online in Goa, let me introduce you to few important things which you will need before proceeding with the application.
Eligibility to Apply for Employment Card
The applicant should complete 14 Years of age.
Maximum age for registration has not been prescribed yet by the department.
Applicant can only register with Employment Exchange under the jurisdiction of which he or she normally resides.
Documents Required for Registration of Employment Card Online in Goa
Mandatory documents which are required while registration for employment card online are:
Aadhaar Card
Residential certificate of 15 years
Educational Certificate
Experience Certificate (only incase if experience has been filled in application)
Passport Size Photo
All these above documents are mandatory and it should be scanned and kept on the device from which you will be submitting the online application. Passport size photo size should not exceed 80 KB and should be in JPEG or PNG file format. All the scanned documents should be in JPEG, PNG or PDF File format.
In case if you don't have your residence certificate or if your residence certificate is expired then you can apply residence certificate online by following our last post on how to apply for residence certificate online in Goa.
If you are ready with the above mentioned documents then you can proceed with the registration process.
Process on How to Apply for Employment Card Online in Goa
To apply for employment card online in Goa, just visit https://goaonline.gov.in
Register on the website using your email and mobile number, if already registered then you can login into your account using existing credentials.
Once logged in just navigate to Services > All Services
On next page all the services from various departments would be displayed.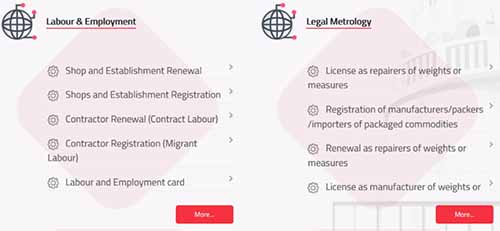 You will need to search for employment card registration and you will find Labour and Employment Card under category Labour & Employment.
Just click on Labour and Employment Card, and it will take you to a new page which will display quick tip on procedure to register.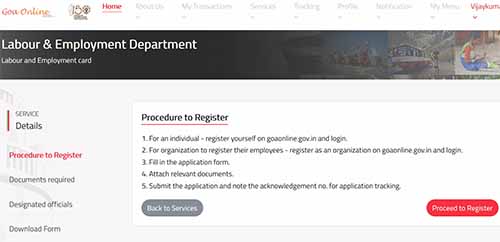 Now just click on proceed to register button and it will open an online application form.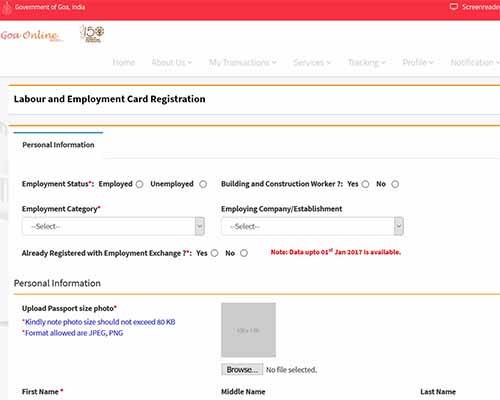 In Labour and Employment Card Registration Online Form you will need to enter all your personal details like your employment status, if already registered with employment exchange then you need to mention your old registration number, upload passport size photo, full name, date of birth, email, mobile number, marital status, fathers name, mothers name, religion, caste, Aadhaar Number, Name as on Aadhaar, Current Address, Permanent Address, Bank Account Details like Bank Account Number, Bank Name, IFSC Code, Physical attributes like weight, height, chest size, blood group, eye sight health, mother tongue, annual family income, etc.
Once all these details are filled, just click on next button.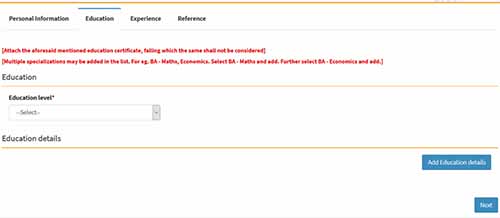 On next page you will need to mention all your educational details, make sure you correctly enter those details as you will also need to enclose those educational qualification documents, failing which the same shall not be considered.
Once entering educational details just click on next button, and on next page you will have to add experience details if any. If you are mentioning the experience details, remember that you will also need to attach experience documents and failing which the same shall not be considered.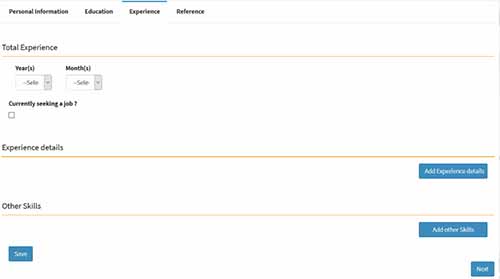 One experience details are completed, just click on next button to proceed.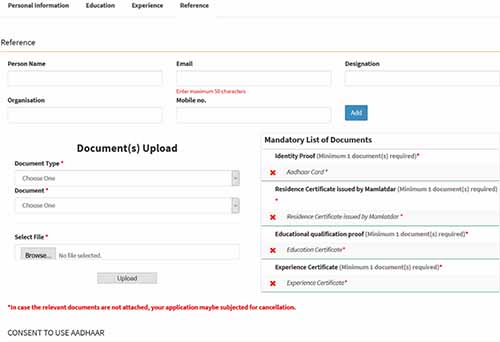 Reference page will be final page where you will need to enter any reference if present and upload all your documents like Identity Proof like Aadhaar, Residence Certificate issued by Mamlatdar, Educational qualification proof, and experience certificate.
Once uploading all these mandatory documents, you will need to give consent to use Aadhaar by accepting the undertaking and click on submit button.
In case the relevant documents are not attached, your application may be subjected for cancellation.

On next page a message will be displayed your application has been successfully submitted "The acknowledgement no. for your application is LEMXXXXXXXXX. Kindly use this acknowledgement no. To track he status of your application. Your application has been marked to Lower Division Clerk at the office of commissioner. Labour and Employment, Panaji.", and it will also contain acknowledgement number which you can use to track your application.
Now you will have to wait for the further status updates.
That's it this is how one can easily renew or apply for Employment Card Online in Goa.