You might be aware that Alexa.com global ranking website have recently upgraded their website with new features as well as they have discontinued their few old features which was present in older version of Alexa.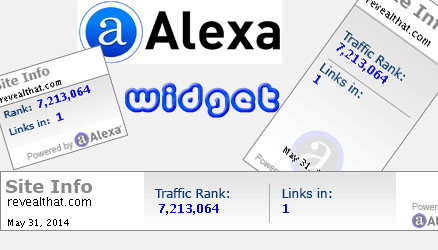 With older version of Alexa we were able to generate Alexa Widget for our website but now in the newer version of Alexa the option to generate the Alexa Widget for site owners is discontinued.
So now we will show you how you can generate or create an Alexa Widget for your website which will also help to boost your website ranking in Alexa.
Below are the codes of Alexa Widget according to sizes which you can place on your website to show your Alexa Rankings as well as to Increase Alexa Rank, just replace the URL https://revealthat.com/ with your website URL.
---
120 x 95
  <a href="https://www.alexa.com/siteinfo/https://revealthat.com/"><script type='text/javascript' src='https://xslt.alexa.com/site_stats/js/s/a?url=https://revealthat.com/'></script></a> 
---
120 x 240  
<a href="https://www.alexa.com/siteinfo/https://revealthat.com/"><script type='text/javascript' src='https://xslt.alexa.com/site_stats/js/s/b?url=https://revealthat.com/'></script></a>
---
468 x 60
<a href="https://www.alexa.com/siteinfo/https://revealthat.com/"><script type='text/javascript' src='https://xslt.alexa.com/site_stats/js/s/c?url=https://revealthat.com/'></script></a>
---
How to Add Alexa Widget in WordPress blog?
Log in to your site wordpress dashboard, go to Appearance > Widgets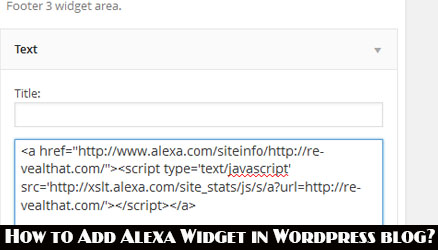 From the Available Widgets select 'Text' and drag it to right side, we have added the text widget to the Footer you can place it anywhere as you want and just paste the Alexa Widget code of into the text widget and click on save.
Visit your website and check, the Alexa Widget will be visible on your blog.
How to Add Alexa Widget in Blogger Blog?
Log in to your Blogger Account, Go to Layout and click on Add a Gadget where you want to place your Alexa Widget, from the Add Widget options select HTML/JavaScript Add and place the Alexa Widget code into the content filed and click on save.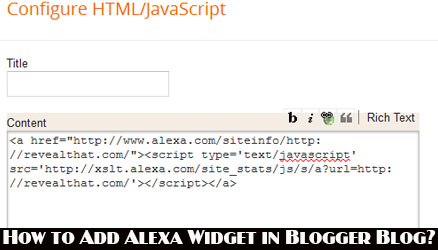 Visit your website and you will be now able to see your Alexa Widget on your blog.