Are you are existing SBI Customer holding Savings Account, who wants to use YONO SBI APP? If yes then this post will definitely solve your query on how can existing SBI Customers Signup on YONO SBI App.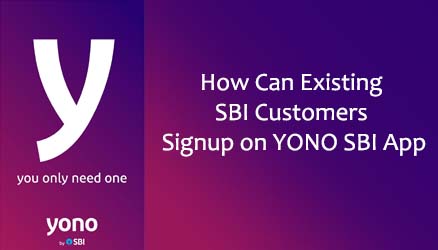 It's not like that only new customers can use SBI new app called YONO SBI, but SBI's existing customers can also register for YONO SBI App and avail various services available. So today in this post I will be guiding you out on how can existing SBI Customers Signup on YONO SBI App.
But before we proceed with the process on how to sign up on YONO SBI App, let's find out YONO SBI App's Features and Benefits.
More about YONO SBI App
With YONO SBI App one can use the app like any mobile banking app, but what makes SBI YONO App different is that it's loaded with lots of features which you will not find in any mobile banking app till date.
In one tap you can view your all SBI Bank Account Balance, Including Savings, Deposits, Loans, Investment etc.
If you are holding Credit Card with SBI, then you can link your SBI Credit Card in YONO App and start managing it from App itself.
From SBI YONO App itself you can shop on various shopping portals without even letting respective app installed on your device.
From YONO App you can book train tickets, do bill payments, recharge your mobile number etc.
YONO also allows you to check your reward points from the app itself.
With YONO Cash option in the app you can instantly withdraw cash from your account using YONO Cash Transaction Number and PIN at the nearest card less transaction enabled SBI ATM/ Recycler without your debit card.
The list of features of YONO App doesn't ends here, but there are several more useful features in the app, and SBI is working more to get more and more options available as per customer's needs.
Process on How Can Existing SBI Customers Signup on YONO SBI App
If you are using Android Device just open Google Play App Store and search for YONO SBI App, if using Apple device then search in App Store.
Just Install the app YONO SBI App.
Once the app gets installed on your device, just tap on the app to launch it.
Once the app gets launched, it will ask several permissions so just allow access to make it work.
As you already hold account with SBI, just tap on existing customer button.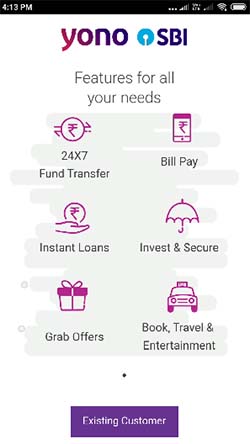 Next a prompt will appear saying do you have SBI Internet banking ID, if yes just tap on yes or if no then just tap on no.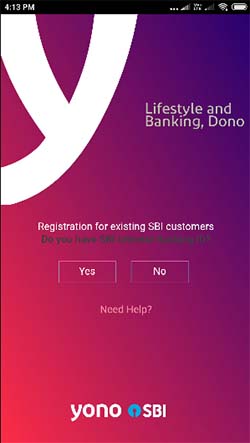 Here we are explaining how can existing SBI Customers having SBI Net banking ID can register on YONO SBI App, so we have tapped on yes button.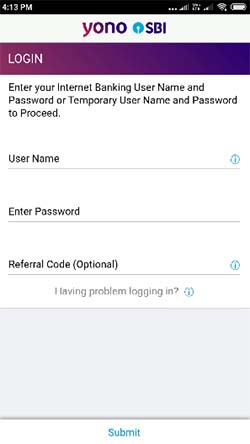 So on next page you will need to enter your internet banking username and password, and tap on submit button.
Next a consent will open stating consent to use mPIN, just acknowledge it and tap on next button.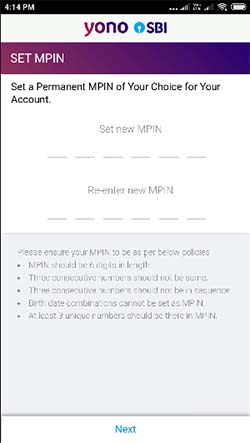 On next screen you will have to set MPIN, the MPIN should be strictly 6 digits in length. This would be act as password when you want to login into app or do any transactions so set it wisely.
One setting the PIN, just tap on next button.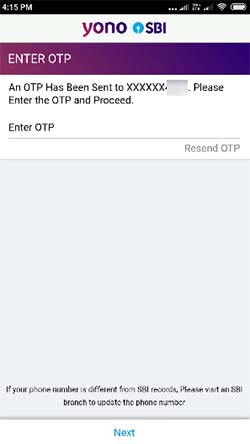 Next you will receive one time password on your registered mobile number.
Enter the received otp in enter otp field and click on next button.
A message will be prompted saying congratulations you have successfully registered. So this means you have successfully done with registration on SBI YONO App.
Now you will be able to login into the SBI YONO App by entering your MPIN which you have set.
Once logging in, you can start using all services and features available in YONO App as per your preference.
That's it this is how existing SBI Customers can register on SBI YONO App.