The Savings Max is a premium type of account from HDFC Bank that comes with loads of benefits. With benefits, the Savings Max Account also comes with several conditions which an account holder needs to fulfill in order to maintain this type of account.
Anyone can open the Savings Max account online or by directly visiting the branch. And in case if you are an existing HDFC Bank Customer holding a regular type of Savings Account or any type of Savings Account, then HDFC Bank also offers you an option to upgrade to Savings Max without closing your existing one or without opening a new one.
Before we begin with the upgrading process, let's get familiar with the benefits and eligibility of the HDFC Bank Savings Max Account.
Benefits of HDFC Bank Savings Max Account
Free lifetime Platinum Debit Card for the primary account holder with a daily cash withdrawal limit of ₹1,00,000 and shopping limit of ₹5,00,000
Unlimited ATM Transactions (HDFC and Non-HDFC bank ATMs with the Platinum Debit Card)
Free Insta Alerts
UPI, NEFT & RTGS transactions without any charges
Free Demand Drafts at HDFC Bank locations, up to ₹1 lakh per day
Personal Banker
Zero Liability Cover, Insurance on Loss of checked-in baggage
Earn higher interest with the MoneyMaximizer feature on idle money in your account by requesting for automatic sweep out facility where surplus funds are automatically put in a fixed deposit
If at any time your savings account starts to run low on funds, the Fixed Deposit will be automatically dissolved to meet the shortfall with Sweep-In facility
Eligibility for Savings Max Account
Resident Individuals (sole or joint account)
Hindu Undivided Families
Foreign Nationals Residing in India*
Minor above the age of 10 years are eligible to open self-operated minor account and an ATM/Debit card can be issued to the Minor
Minimum Balance requirements for Savings Max
The Average Monthly Balance (AMB) in the SavingsMax Account should be > or = ₹25,000 or maintain requisite FD Relationship as per branch location
Upgrade HDFC Savings Account to Savings Max
You can upgrade to Savings Max Account from any type of Savings Account, but to upgrade you need to fulfill the main criteria which is the minimum balance requirement. And if you fulfill that main requirement then you can get your Savings Account converted to Savings Max.
To convert your HDFC Savings Account into Savings Max, you need to compulsorily visit the branch. As there isn't any option available in HDFC Bank NetBanking or Mobile Banking app which offers to raise an upgrade request online.
But before you visit the branch, you need to carry the following documents with you:
Identity Proof Document
Proof of Address Document
PAN Card
and your bank account number
Once you visit the branch, request the staff that you need to upgrade or convert your existing Savings account into Savings Max Account.
The Staff will give you an upgrade form, which you need to fill completely. If you are having difficulty in filling the form, you can even ask the staff to fill it on behalf of you.
You will be asked whether you want to maintain the Savings Max on the basis of Savings Balance or Fixed Deposit
If you select Savings balance then you need to maintain ₹25000 without any shortfall in your Savings Account, and if you select Fixed Deposit you need to maintain the Fixed Deposit amount as mentioned by your branch
In case if you are already holding a fixed deposit with HDFC Bank and if it is as per the requirement then you can even ask the bank that you want to upgrade on the basis of your existing fixed deposit
And if you don't have a fixed deposit then you can open one especially to fulfill the requirement or maintain ₹25000 in Savings Account. I personally would suggest you to upgrade to Savings Max on the basis of Fixed Deposit as you will earn higher interest as compared to maintaining ₹25000 in a savings account
Once you choose the balance requirement criteria, You will be asked to sign on the form, before signing you need to verify if the form has been filled properly
Along with the form, you need to provide your identity proof, proof of address and PAN copy
Once you submit these documents along with the form, your task of submitting the request for the account upgrade has been successfully completed
Your request will be processed by the bank in 3 working days
The Bank staff will tell you that once your account gets upgraded you will be getting an SMS and email. But in my case, I never received such messages in SMS or email format
If you want to verify or cross-check whether your account has been upgraded to Savings Max or not then you can follow the below process.
Verify if the account is upgraded to Savings Max Account
If you are keen to know whether your Savings account has been converted into Savings Max or not then there are three ways to find it out.
Call HDFC Bank Customer Care and ask them to check your account type, if they say your account is Savings Max then your account has been upgraded successfully.
OR
Visit the branch and inquire about your Savings Max Upgrade request
OR
Open your monthly account statement email (check the latest statement which was sent to you after placing an upgrade request)

Click on the View your SmartStatement

Enter your password to view your statement which will be your customer id and click on the OK button

Click on the Account Statement tab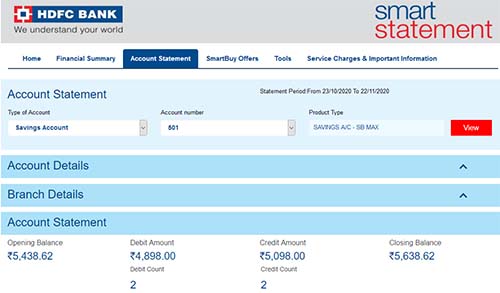 On the Account Statement page, under product type, if you can see Savings A/C – SB MAX then it means your account has been upgraded to Savings Max
Upgrade Debit Card to EasyShop Platinum
As you are aware that with the HDFC Savings Max account you get a free lifetime EasyShop Platinum Debit Card. So if you have opened a new Savings Max account then in that case you will automatically get the EasyShop Platinum Debit Card. But in case if you have upgraded your existing Savings to Savings Max then you won't be getting the EasyShop Platinum Card automatically.
Once your HDFC account gets upgraded to Savings Max account, you need to manually place an upgrade request for EasyShop Platinum Debit Card which can be done through NetBanking or by visiting the branch.
Even after your account gets upgraded to Savings Max if you don't upgrade your Debit Card to EasyShop Platinum and you use your existing variant of debit card which you were holding previously then you will be charged an annual charge as per the card type which you are holding. So to enjoy the free debit card benefits of Savings Max you need to upgrade your existing card to EasyShop Platinum Debit Card.
Before upgrading your Debit Card, make sure that your account has been converted to Savings Max, or else you will be charged an annual fee for the card as per the applicable rate.
Conclusion: HDFC Savings Max account is a very worthy account for those who want a free debit card without any annual fee, unlimited ATM transactions in HDFC and Non-HDFC ATMs, free SMS alerts, and many more benefits. The best part with Savings Max is that now you can maintain this account on the basis of Fixed Deposit, so there is no more requirement to maintain AMB above 25K. If you hold a fixed deposit in HDFC bank which fulfills the requirement of SavingsMax then you should definitely upgrade and enjoy various benefits.
Can I upgrade my HDFC account to SavingsMax account online?
No, you cannot upgrade your HDFC account to SavingsMax account online. To upgrade you need to visit the branch. However if you want to open new SavingsMax account then you can open it online.
Can I downgrade from HDFC SavingsMax account?
Yes, if you want to downgrade from SavingsMax to any type of Savings account then you can do it anytime. To downgrade you need to visit the HDFC branch with your documents.
Will my SavingsMax account downgraded if I don't maintain balance or FD as requirement?
If you don't maintain the balance or FD as per the requirement of SavingsMax account type then your account won't be downgraded. However Service/Transaction charges will be applied in the current month based on the AMB maintained in the account in the previous month.