Registering your HDFC Credit Card in netbanking allows you to have quick access to your statements, redeem reward points, upgrade your card, apply for insta loan or insta jumbo loan, balance transfer on EMI, request add-on card, generate a PIN, and can do many more things.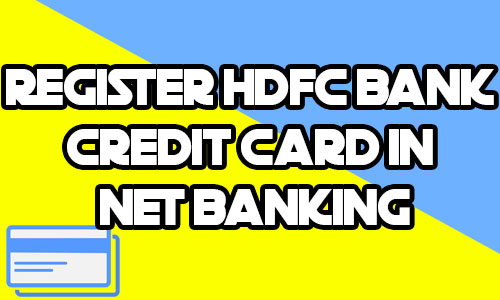 So today in this article we will guide you out on how to register your new HDFC Bank Credit Card in net banking.
There are two ways of registering your HDFC Bank Credit Card in netbanking:
Existing HDFC Savings or Current Account Holder
If you are holding savings or current accounts in HDFC Bank then you can log in to your existing internet banking account and link your HDFC Credit Card without registering for any additional net banking account.
HDFC Credit Card Holder without Savings Account
If you don't have any existing relationship with HDFC Bank like a savings or current account, then you can register your Credit Card Online for net banking access.
Below is the complete procedure in detail explaining both processes on how to link your HDFC Card with an existing net banking account and register the HDFC Bank Credit Card in net banking.
Link HDFC Bank CC with existing netbanking account
To link HDFC Bank Credit Card in Net Banking, visit the official HDFC Bank Website
From the home, just click on the login button
From the personal login, pop-up select Netbanking and click on the login button
Click on the Continue to netbanking
On the Netbanking login page, enter your User id/ customer id and click on the continue button
On the next screen, enter your IPIN (Password) and hit on the login button
Once you are logged in to your HDFC Internet banking account just click on the Cards tab

Under Cards tab just click on click here to register a card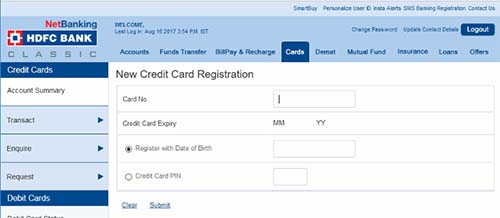 On next page of New Credit Card Registration you will have to enter your Card Number, Credit Card Expiry, Date of Birth or Credit Card PIN and click on submit button

On next page you will be asked to review the details entered, just check if all details are entered correctly and if everything is correct just click on confirm button to proceed further
Next, you will have to complete authentication where you will receive OTP on your registered mobile number, so to proceed just click on the continue button

Just enter the OTP received on your phone in the One Time Password field and click on continue button

On the next page you will get a message saying your card is successfully registered
Now you will be able to view your Credit Card in the Credit Card section and you will be able to manage it in a simple way.
That's it, this is how easily you can link HDFC Bank Credit Card in Net Banking.
Register HDFC Bank Credit Card in Netbanking
If you don't hold savings or current account in HDFC bank then you need to register your card online for internet banking access.
To register your HDFC Credit Card visit official HDFC Website
Click on the login button on the homepage
A pop-up of personal login will appear, from the given options just click on Credit Card login and hit on login button
On the next page, login screen will appear which is for existing user who have already registered their card
As we are not yet registered the card, just click on the Register for Credit Cards which is under Not yet Registered section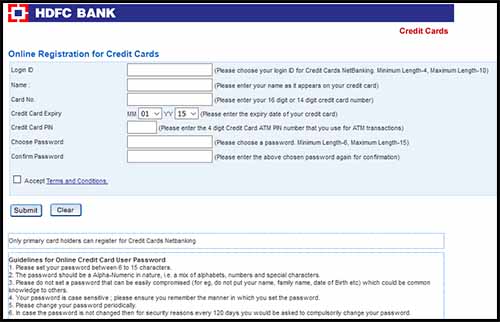 This will open a Online Registration for Credit Cards page, you need to fill the details like:
Login ID (Set login ID for Credit Cards NetBanking as per your choice. Minimum Length-4, Maximum Length-10)
Name (Enter your name as it appears on your credit card)
Card No (Enter your credit card number which would be 16 or 14 digits)
Credit Card Expiry date (select the expiry date as appears on your credit card)
Credit Card PIN (enter your 4 digits credit card ATM PIN number that you use for ATM transactions)
Choose Password (set a password as per your preference, Minimum Length-6, Maximum Length-15)
Confirm Password (enter the password again which you have set for the confirmation)
Once filling up all the details, you need to accept the terms and conditions by tick marking on the Accept terms and condition checkbox and click on the submit button
Internet banking registration for HDFC Credit Card will be successful
Now you can log in using the login id and password which you have set while registration and you will be able to manage your HDFC bank credit card through internet banking.
Are there any charges for HDFC Credit Card Netbanking Services?
There are no charges to register HDFC Credit Card in netbanking.