GPay app formerly known as Google Pay app has introduced a new feature of creating FD from its app. This feature has been provided in the Google Pay app in partnership with Equitas Small Finance Bank. Without actually holding any kind of Savings or Current account with Equitas Small Finance Bank one can easily create a fixed deposit in one go by accessing the Google Pay app itself.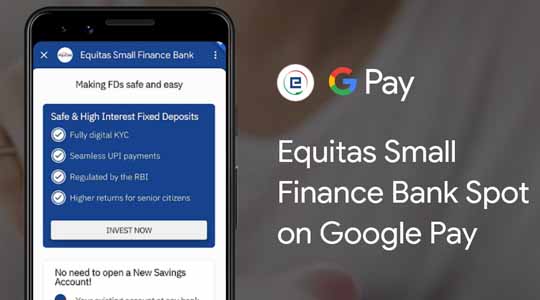 Benefits of Booking Fixed Deposit in Google Pay app
Open FD within few minutes
Earn the highest interest of up to 6.35% for period of 1 Year
No need to open an additional bank account to create FD
Equitas Small Finance Bank is RBI regulated scheduled commercial bank
Redeem your FD anytime
Senior Citizens are eligible for an extra 0.50% p.a
Limitation's of GPay Fixed Deposit
You can book a Fixed Deposit maximum for 1-year duration
The maximum amount which you can invest in Fixed Deposit is ₹90000
Existing Equita's bank account holders cannot book FD through this service (However bank is working to enable existing users to book FD's through this service )
How to Create Google Pay Fixed Deposit
To open Fixed Deposit in Equitas Small Finance Bank through the Google Pay app, you need to have the following things available with you:
Registered on Google Pay app with linked bank account
KYC Documents (PAN Number and Aadhaar Number)
If you have the above two things readily available with you then you can begin following the below steps to book your FD in few minutes.
Launch the Gpay app, scroll down to "Businesses and bills"
Tap on the "Equitas SFB" logo, if it's not appearing on the page then in the search box type fixed deposit or Equitas and tap on it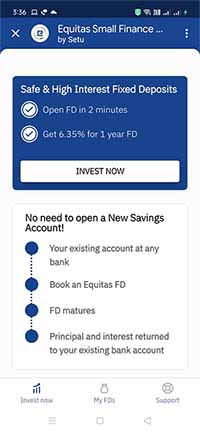 On the Equitas Small Finance Bank Page just tap on the Invest Now button, in case if you need to calculate your returns before you proceed with investing then you can just scroll down to the page and use the calculator tool to know the current interest rates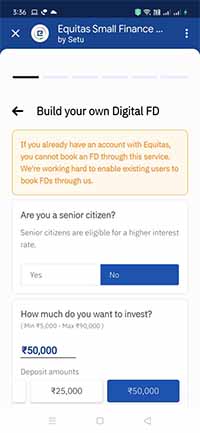 Once tapping on Invest Now, on the next page select whether you are a senior citizen or not (if you are a senior citizen then you will get extra benefit on the interest rate)
Select the amount which you want to invest, the minimum amount which you can invest is ₹5000 and the maximum amount is ₹90,000
Select the tenure for how long you need to book your FD, the minimum tenure is 10 days and the maximum is 1 Year
In the below screen you will get to see a summary, which will display how much interest you will earn on your principal invested and the date of maturity which you have selected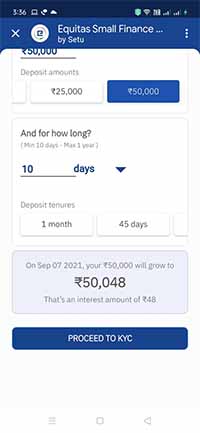 Just tap on Proceed to KYC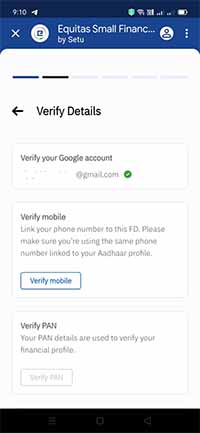 On the next page, you will be prompted to Sign in to Equitas Small Finance Bank with your Google Account. So here you just need to tap on the Sign-in option to verify your Google account. Equitas will use your email ID to secure access to your deposit and you can also use this account to manage your deposit later.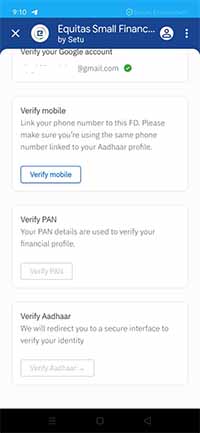 Next, you will need to verify your mobile number which will be linked to your FD, so make sure you're using the same phone number linked to your Aadhaar profile
Once verifying your mobile number you will need to verify your PAN and Aadhaar Number
For Aadhaar verification you will get redirected to a secure interface to verify your identity
Complete the OTP verification using Aadhaar to complete your KYC and then proceed with the payment using Google Pay UPI
Your Fixed Deposit will instantly get created and the Fixed Deposit Advice will get generated which you can download from My FD's section
Is booking an FD in Google Pay diferent than booking an FD from Equitas SFP directly via branch or online in terms of validity and security of the FD?
No, the FD that is booked through Google Pay is just as valid and safe as booking an FD from Equitas SFP directly via branch or online. Your money goes to Equitas Bank directly and FD is booked in your name on their system.
Why can I currently book only one FD with Google Pay?
You can only book one FD at the moment because this feature is still in Beta & has enabled an Aadhaar-OTP based KYC flow. The bank will soon enable a Video KYC flow to enable booking multiple FDs.
What is the benefit of booking an FD on Google Pay rather than just booking an FD from Equitas SFB directly (via a branch or online)?
By booking an FD through Google Pay, customers can book safe FDs from the comfort of their homes, with no physical contact or branch visits, ensuring an easy and hassle-free experience. On maturity, principal and interest of the FD go directly to the customer's existing bank account – which could be in any Indian bank.
What is the minimum amount and maximum amount that I can deposit in Equitas Small Finance Bank?
The minimum amount and maximum amount that can be deposited in Equitas Small Finance Bank are ₹5,000 and ₹90,000 respectively. Want to book an FD for a higher amount? We will soon be introducing options for higher amounts.
What is the range of tenure for which I can open an FD account?
You can invest for anywhere from 10 days all the way up to 1 year.
Want to book an FD for a longer tenure? We will soon be introducing options for longer tenors.
What happens when my FD matures?
The maturity amount (principal + interest) will be transferred to your bank account. The bank account from which you paid for the FD at the time of booking is the same account where the proceeds will be remitted.
What if I need money urgently & need to close my FD before maturity?
No problem! You can close your FD any time before the maturity date through the Google Pay app by clicking on Redeem your FD within the My FDs section.
If you redeem your FD before maturity, the interest rate applicable will depend on how many days you held the FD for. Of course, you will get your full principal amount at all times.
I am not getting my Equitas Small Finance Bank option under business section in GPay app?
If you are not getting this option then just tap on explore option under Businesses & Bills and in the search box type Equitas Small Finance Bank and this will bring the option. If you are still unable to find this option then make sure your GPay app is updated to the latest version.
While opening FD why I am getting message 'We are sorry to say that we are not yet live in the Pincode you have entered'?
This means the service is currently not available on your Pincode. But the bank continuously expanding to enable the service on as many pin codes as possible, so it is recommended to join for waitlist so that you get notified once the service is enabled on your Pincode.