The monthly water bill in Goa can be paid online at the comfort of your home. With the use of online Goa water bill payment, there isn't any requirement to visit banks or water bill payment collection centers to pay your monthly water bill.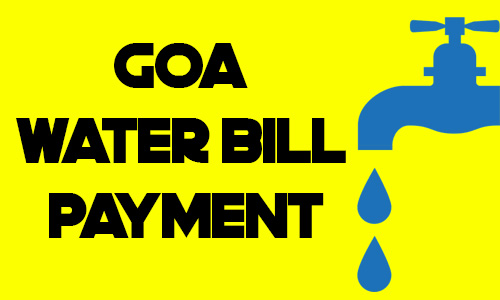 Instead, it's been a while since the Government of Goa, the Public Works Department has started accepting online payments of the water bills. But most of the people in Goa don't know the proper method of how and where to pay their water bill online in Goa. So in this post, we will explain the complete process on how to pay water bills online in Goa.
Process for making Goa water bill payment
To make water bill payment online, you need to have a debit or credit card or net banking or UPI service. If you have any of these payment mode available with you then you are all set to pay your monthly water bill payment without wasting your precious time in visiting the banks or PWD office.
As of now, Goa water biller by Public Works Department has not been integrated with Bharat Bill Pay. So you will not find the option to pay Goa water bill in the leading wallet apps. But you can pay your water bill in Goa from the official Goa Government website.
To pay your water bill visit the official Goa Online, Government of Goa portal goaonline.gov.in
Once you land on the Goa Online portal, just click on All services under service tab
All service page will list all the service listing from all departments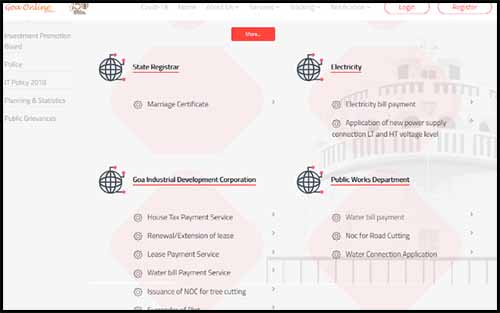 Just scroll down the page and under Public Works Department, just click on the Water bill payment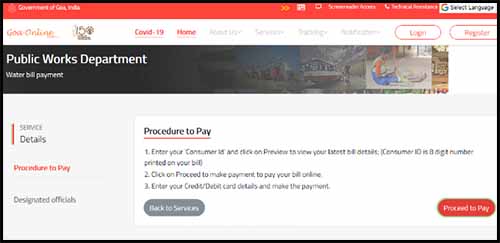 You will be navigated to PWD water bill payment page, where on the intro page procedure will be mentioned
Just click on the Proceed to Pay button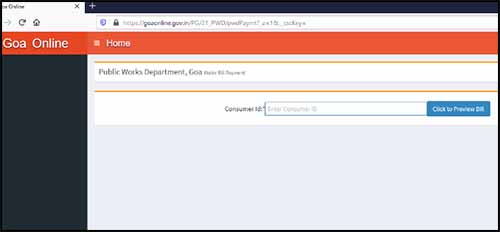 On the next page, you will be asked to enter your Consumer id (you can find your consumer id on your water bill)
Enter the consumer id as it appears in your bill and click on the Click to Preview bill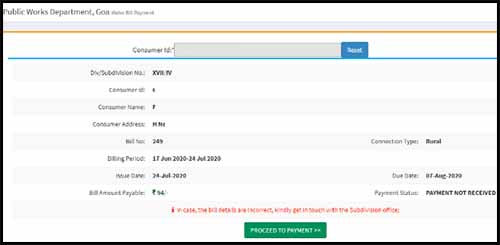 Your bill details will be fetched from the database, which will show the details like consumer name, address, billing period, issue date, due date, and bill amount
To proceed with the payment, just click on the Proceed to Payment button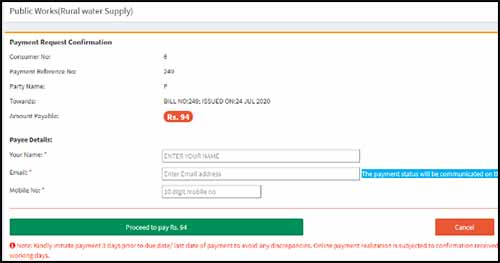 On the next page that is Payment request confirmation, you will need to enter payee details which includes your name, email and mobile number (make sure you enter valid email address and mobile number as the payment status will be communicated on the provided email and mobile)
Once entering the payee details, just click on the Proceed to pay button
A pop-up message will appear saying "you will be redirected to secured payment portal", just click on OK to proceed further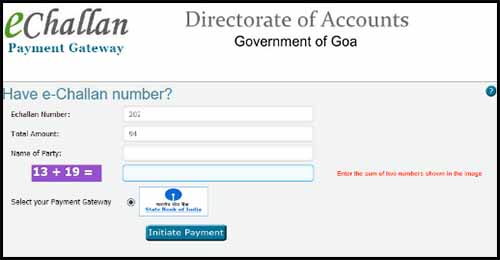 The page will get navigated to eChallan payment gateway, and your eChallan number will get generated on the same page
Just solve the captcha security code, and click on the initiate payment button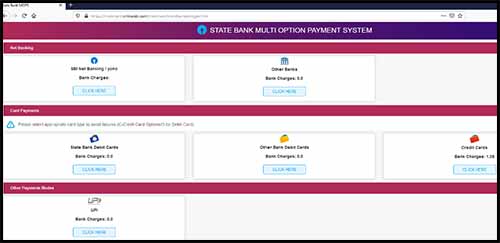 On the next page all the supported payment modes will be listed such as netbanking, UPI, Credit Card and Debit Card
Just select any of the payment mode through which you would prefer to make the payment
If you are planning to make payment with a credit card then make sure you will be charged an additional processing fee as a bank charge. But for rest all payment modes such as netbanking, debit card and UPI, you won't be charged any processing charge or bank fee
Just proceed with the payment as per your preference or convenience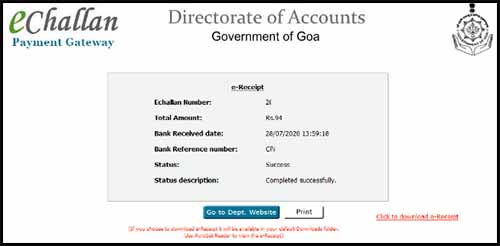 Once making the payment, the payment will be instantly reflected in your account and your payment e-receipt will be generated which you can download or print from the e-Challan Payment gateway page
Download the e-receipt and store it on your device for future reference, this will act as a proof of payment document. The downloaded water bill payment e-receipt will be in the PDF format.
Below is the sample, how the Goa water bill payment receipt looks.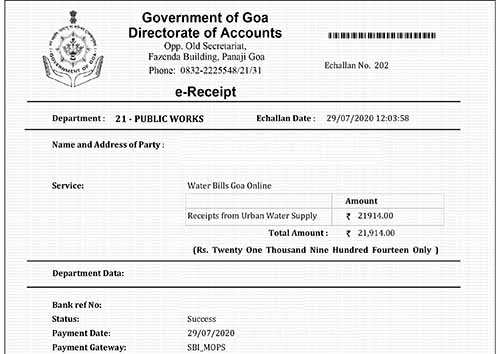 That's it, you have successfully done the payment of your Goa Water Bill Online.
Water Supply Tariff Per Month in Goa
Domestic Consumer
| measurement | rate |
| --- | --- |
| 0 – 15 M3 | ₹2.5/ M3 |
| 16 – 25 M3 | ₹5/ M3 |
| 26 – 50 M3 | ₹10/ M3 |
| above 50 M3 | ₹15/ M3 |
Small hotels and restaurants
| measurement | rate |
| --- | --- |
| 0 – 80 M3 | ₹20/ M3 |
| above 80 M3 | ₹25/ M3 |
| | |
| --- | --- |
| Defense | ₹20/ M3 |
| Industries/ Hotels/ Tourist Hotels | ₹30/ M3 |
| Commercial / Other Establishments | ₹35/ M3 |
| Size in (MM) | Meter Rent |
| --- | --- |
| 15 | ₹20 |
| 20 | ₹70 |
| 25 | ₹90 |
| 40 | ₹250 |
| 50 | ₹300 |
| 80 | ₹800 |
| 100 | ₹1000 |
| 150 | ₹1500 |
By the above tariff plan's, you can calculate water bill in Goa.
The above method was of doing water bill payment using official Goa Water Department Portal.
Alternatively if you doesn't wants to make payment online through official portal due to reasons such as payment failures and site downtime issues, then you can pay water bill through various other bill payments apps and portals.
Below are the other alternatives through which you may pay your monthly Goa Water Bill Online.
Water Bill payment Goa Amazon
As of now Amazon have not enabled Goa Water Biller into their database. So you won't find option to pay Goa Water Bill through Amazon app/ website.
When I am clicking on the click to preview bill button by entering my consumer id, I am getting bill data not uploaded message?
The PWD water bills are issued on the spot using the handheld terminals in many of the parts in Goa. In such cases, the bill data is received by Goa Online in 48 hours of the issuance of the bill. So in such cases you may see message bill data not uploaded. You need to try after 24 hours – 48 hours.
Where can I find my water bill Consumer Id?
Can I pay the water bill on Sunday or Non-working days?
Yes, you can make the water bill payment online anytime. There is no as such time restrictions on online water bill payment.
What if I don't pay the water bill within the due date mentioned?
If you don't pay the water bill within the due date mentioned, then the meter is liable to be disconnected. However the unpaid due will be carried forward and will be added to your next month's bill.
What to do if I haven't received my monthly water bill?
Non-receipt of bill shall not be considered as valid reason for non-payment of the monthly bill. The consumers in their own interest are required to approach the office for enquiry.
How to raise complaint with regard to my water bill?
Complaint, if any with regard to water bill has to be made in writing within eight days from the date of issue of bill, the amount has to be paid on or before the due date.
Why can't I make online bill payment after the due date?
Online payment is not accepted after Due Date. You need to either wait for next month bill which will include the unpaid due or else you can pay the current due by visiting the Goa Water Department Office.
I am not getting the make payment button, instead, a message is displayed "PAYMENT NOT POSSIBLE: Due Date of your bill is crossed. Online payment is not accepted after Due Date"?
If you are getting the above message then it means, the due date of the bill has already been already passed and now you won't be able to make the payment until the next bill arrives which would also include the existing due which was not paid. You should make sure that you always pay the due amount before the due date.
I paid the bill via UPI, but on portal payment status has not been updated?
Bill Payments made through UPI may take time to update on the Goa Online Services Portal. If you have made payment successfully through UPI then you may not worry as within 24 hours you will receive the successful payment confirmation from Goa Online Services on your email address which you have provided while initiating the bill payment.