Jio has officially launched the 5G network throughout the nation. As compared to the 4G network, 5G network will offer a lightening speed internet up to 1 Gbps and a better coverage. With that said Jio is the first telecom operator in India to provide True 5G services. And that's the reason Jio has named heir 5G service as True 5G as its not just for name sake like other competitors in market.
Like Jio is very well known among public to provide free internet to test out its infrastructure like they did during 4G pre-launch days. This time also with 5G launch Jio is providing Welcome Offer with Unlimited Data.
So lets find out more details about the Jio 5G Welcome Offer and how to claim it.
Jio 5G Welcome Offer
Jio True 5G Welcome Offer is a promotional offer provided by Reliance Jio Infocomm Limited, which offers truly unlimited 5G data at up to 1 Gbps speeds at no extra cost.
| | |
| --- | --- |
| Promo Name | Jio Welcome Offer |
| Network | 5G |
| Speed | Up to 1 Gbps |
| Price | Free |
| Applicable for | 5G devices |
How to Claim Jio 5G Unlimited Data Welcome Offer
The promotional Jio 5G Welcome Offer (ul_data_5gdatapack) is on basis of invite only. To get the offer, the user needs to fulfill the conditions as prescribed by Jio.
REQUIREMENT TO AVAIL JIO WELCOME OFFER | Jio 5G Activation
As of now Jio is crediting the Jio 5G Welcome Offer only to those users who have ₹239 or above pack activated on their Jio connection. This applies to Prepaid as well as Postpaid Jio users.
The Second condition to get Jio 5G Welcome Offer is the Jio SIM must be inserted in a 5G supported device. Until and unless you don't use your Jio SIM in 5G Supported phone you won't receive any invite from Jio.
If the Jio user fulfills the above two conditions then he or she is eligible to get Jio 5G Unlimited Data Welcome Offer.
As of now Jio haven't opened any registration form to claim Jio 5G Unlimited Data Welcome Offer. Instead the offer is been randomly credited to Jio users account who fulfills the above two conditions.
This promotional offer is only for the Jio existing users, you cannot get this offer on purchase of new SIM.
So if you fulfill the above two condition then you need to sit back and relax until you receive any notification from Jio regarding the Jio Welcome Offer.
If the Jio 5G Welcome offer is credited into your Jio account then you will get below SMS or WhatsApp message.
To confirm or double check if Jio 5G Welcome Offer is really credited in your account, open the My Jio app
Login with the Jio mobile number on which you have received the Welcome Offer SMS
Tap on the hamburger menu and tap on My plans
If the 5G Welcome Offer is credited into your account then it will show under My Plans add on(s) section, like you can see in the below screenshot.
The Promotional 5G Offer Unlimited Data Pack, validity will also be mentioned.
If you are able to see 5G Data Pack then you can start using internet with 5G Speed right away.
How to Check If Jio Number is Eligible for Jio Welcome Offer
To check if your Jio Number is eligible or already credited with Jio Welcome Offer, open the My Jio app on your phone
Sign in with your Jio Number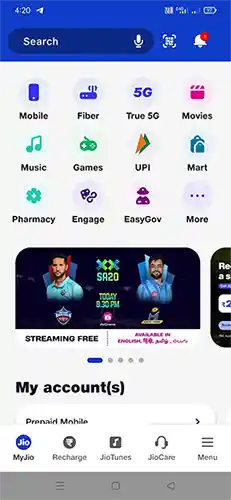 From the app homepage, tap on True 5G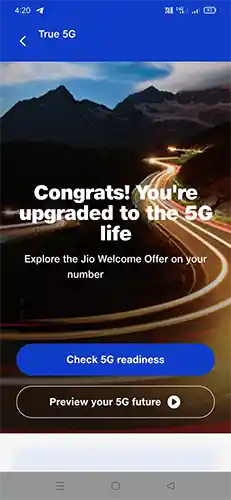 On next screen you will get to see a greetings saying "Congrats! You're upgraded to the 5G life"
Tap on the Check 5G readiness button
On the next screen, you will be able to see if Jio Welcome Offer has been applied to your number or not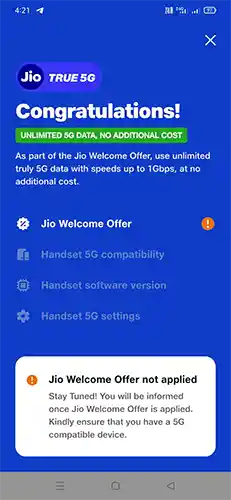 If applied then under Jio Welcome Offer there will be tick mark and it will start checking other requirements like if your Handset is 5G Compatible, Handset Software Version and handset 5G Settings.
Below is the process explained to experience Jio with 5G Speed.
How to Use Jio with 5G Speed
To avail 5G services on your Jio SIM, there isn't any need to switch your Jio 4G SIM to Jio 5G SIM. Instead the existing 4G SIM supports the 5G network.
Place your Jio SIM on which you have received the Welcome Offer into a 5G Phone.
Make sure your phone software is updated to the latest version
From your mobile phone settings, select the network to 5G
And start using the JioTrue5G on your phone.
Your number is on a non 5G device, what does it mean?
This mean your existing mobile device in which you have inserted your Jio SIM doesn't support 5G services, and in order to use 5G services on your device you will need to buy a new 5G compatible device.