Realme XT smartphone is manufactured by Oppo Mobiles India Private LTD, and it is one of the best mid-range smartphones available. The best part about Realme XT's display is that it comes up with AMOLED Display which you will only find in premium range smartphones or flagship smartphones. So getting AMOLED Display at this budget in Realme XT is like the cherry on the cake.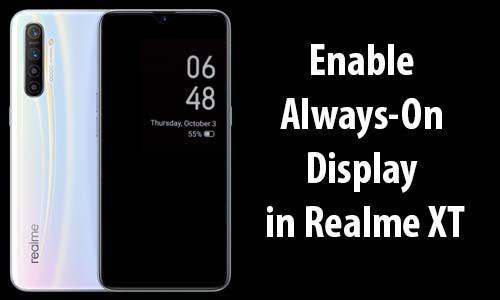 As Realme XT comes with AMOLED Display, it is expected that it will also have a feature called Always-on Display (AOD) which you will find on almost all smartphones that come up with AMOLED Display. And yes Realme XT doesn't disappoint you when it comes to the AOD feature, Realme has integrated a feature that is similar to Always on Display in its ColorOS which is named as "Screen-Off Clock".
You will find the name Screen-Off Clock very awkward, but this feature almost serves the same purpose as Always on Display does on all other Smartphones with OLED Display.
What is Always-On Display or Screen-Off Clock?
Always-On Display or Screen-Off Clock is almost the same feature that you will find in different brand smartphones. With the help of Always-On Display or Screen-Off Clock enabled on your phone you will be able to see the date, time, battery percentage and notifications when your smartphone screen is turned off or locked or while the phone is in sleep.
So if you have still not come across this option called Always On Display on your Realme XT smartphone, then you can follow the below steps to get the Screen-Off Clock enabled on your phone.
Steps to Enable Screen-Off Clock on Realme XT
To enable always-on display or screen off the clock on your Realme XT, just go to settings your phone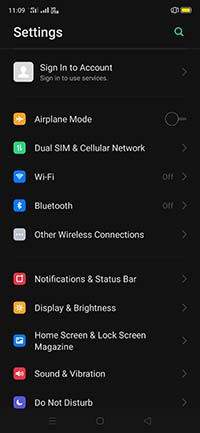 Tap on Display and Brightness option
You will find Screen-Off Clock option, so just tap on it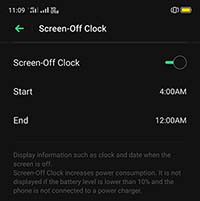 To enable Screen-Off Clock, just tap on enable button
You can even set when to display Screen-off Clock by using Start and End Time (this means if you don't want the clock to be displayed during your sleeping hours then just change the start and end timing)
So now when your phone gets locked or when your screen is off it will display information such as clock and date. This will help you to check time, date and battery percentage without unlocking your phone or pressing the physical unlock button on your phone
The Time, date and battery percentage details will appear all time even when your phone is locked or screen is off as per the timing which you have selected in the Screen-off Clock Option.
Enabling Screen-off Clock increases power consumption and it will not be displayed if the battery level is lower than 10%.
However Always on Display option on other smartphones like Samsung etc. displays the date, time, battery percentage and also notifications of miss calls, messages, and other app notification without unlocking the phone and also there are several customizations that can be done in Always On Display Feature. But here Always On display Realme XT doesn't offer any customization option other than start and end time, so this is the biggest drawback in Realme XT Always on display feature. But Realme may bring improvements in upcoming updates in their Screen-Off Clock feature and you may also get to see several customization options as you can see in always-on display on Samsung brand phones.