A pop-up message has been sent by DoT India to all the mobile subscribers with title "Emergency alert: Severe". If you have also received such message then you might also be curious to know why its been sent to you and what does it mean? Some people may question whether this is a new kind of scam which is going on. Many people have already taken their query on social media sites. So this article will clear out all your doubts regarding this pop-up message "Emergency alert: Severe".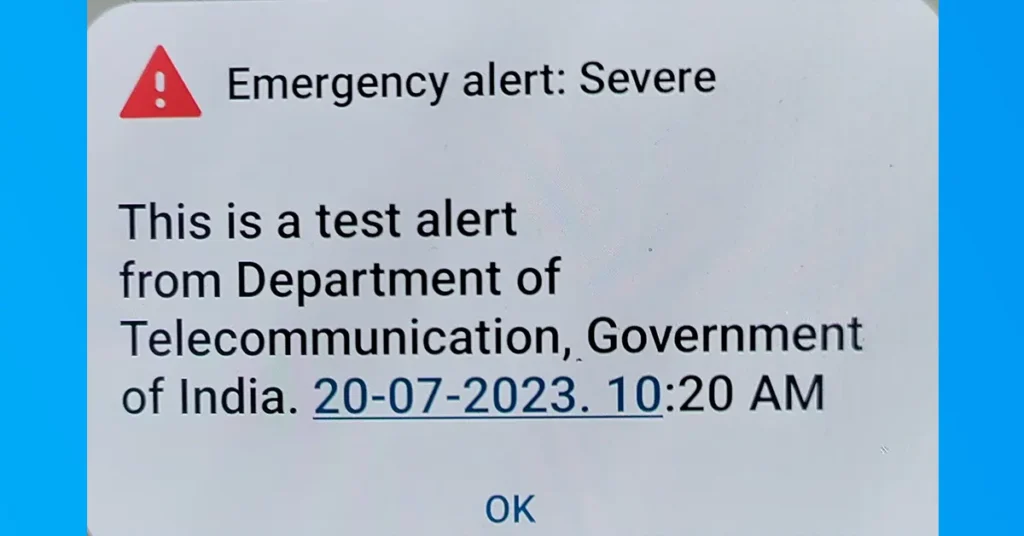 The content of the Emergency alert: Severe is as follows: "This is a test alert from Department of Telecommunication, Government of India. 20-07-2023. 10:20 AM"
On the morning of 20th July 2023, starting at 10 AM, numerous individuals reported the receipt of pop-up messages bearing the title 'Emergency Alert: Severe' on their mobile phones. The content of these messages indicates that they are emergency notifications issued by the Department of Telecommunications, Government of India.
The Government of India did not provide any prior explanations or context concerning this notification, leading to a sense of apprehension among the general populace regarding the nature of this alert.
As of the current situation, the Central Government's Ministry of Information and Broadcasting (PIB) has not provided any official information or updates regarding this matter. Additionally, there have been no statements made on the official Twitter handle regarding the subject at hand.
First, the message was sent in English and later in Marathi. Some people also received the message as a voice recording. However, some individuals chose to ignore the message as they usually do.
Upon clicking on the emergency message, users were presented with the option to choose whether they wish to receive such emergency alerts in the future. The choices available were 'yes' or 'no'. It has been reported that Apple iPhone users did not receive this particular message.
What Does Emergency Alert: Severe Message Mean
According to reports, the message in question is not deemed as a threat; rather, it has been attributed to the Department of Telecommunications, Government of India. It is purported to have been dispatched as a means to assess and evaluate the functionality of the emergency alert service.