Amazon is one of the major e-commerce player in India, so to deliver its items they also need huge force of delivery partners. Amazon has regular delivery partners but sometimes these partners are unavailable or sometimes the packages reaches to nearest hub once their delivery partner is already out for delivery, so during such occasions the need of part time delivery partners occurs.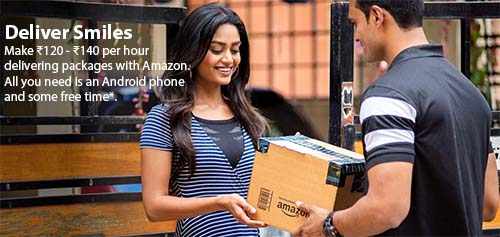 So to overcome this problem they have launched a new program called Amazon Flex, which offers part time earning opportunity. Under this program delivery partner can earn ₹140 per hour by delivering the packages to Amazon Customers.
What is Amazon Flex Program?
Amazon Flex Program gives an opportunity to work part-time or during your free time as a delivery partner. With this program anyone who has free time in their life can make additional income by delivering the packages to the Amazon Customers. However Amazon Flex Program cannot be treated as source of full time income, as delivery blocks are not guaranteed and are subject to availability.
Requirements to Join Amazon Flex Program?
The Applicant age must be 18 Years and above
Applicant should have two-wheeler
Applicant should have a valid driving license, Registration Certificate (RC), Insurance Certificate and Pollution (PUC) certificate
A valid PAN Card
Savings or Current Bank Account
Applicant should have Android phone of version 6.0 or higher with at least 2GB of RAM
Applicant device needs to have a camera with flash, GPS location services, and an active SIM with voice & data connectivity
If you fulfill all the above requirements then you are eligible to join Amazon Flex Program. But excluding these requirements there will be also a background check conducted by Amazon's third-party background verification agency which will verify address, driving license, and criminal records of applicant.
How will you earn money with Amazon Flex Program and what all benefits will you get?
With Amazon Flex program you are your own boss as you work according to your schedule and you get opportunities to deliver the packages of Amazon 7 days a week. On successful deliveries you can earn ₹120 to ₹140 per hour daily, you can track your income earned in the Amazon Flex App itself. You will be paid every Wednesday via direct deposit to the bank account which you had provided while setting up your account. The earning paid will be subject to a with-holding tax of 1% as per the Government regulations.
Your earning are calculated on the basis of estimated length of time. Amazon will aim to ensure that the number of packages which you are assigned to deliver within your block is realistic, they will also take into consideration the traffic congestion and the primary requirement to drive safely. However the actual time taken per delivery may differ because it could occasionally take more or less time than expected.
As a benefit you will be entitled for ₹500000 Accidental Insurance Policy, provided you have accepted to the terms and conditions on the insurance page while onboarding yourself.
How to Apply for Amazon Flex Program?
To apply for Amazon Flex Program, you will need to download the Amazon Flex App on your smartphone.
To download the Amazon Flex App just visit official site //flex.amazon.in/ from your smartphone
On the home of Amazon Flex you will find a form which will ask you to enter your following details:
First Name
Last Name
Town/ City
Pincode
Mobile Number
Email id
Vehicle type
Once entering and selecting these details just click on get the app button.
On next page download app button will appear, just tap on the download app and the app will commence downloading the app on your smartphone.
Once the app gets downloaded on your phone, just open the file by tapping on it and it will start installing in on your phone.
While installing the app if it gives an error Install blocked then you will need to update security settings for the app by going to phone settings > security > turn off unknown sources. And the try again installing the app, it should work fine.
Once the app gets successfully installed on your phone, just tap on the Amazon Flex logo to launch it.
It will ask you to sign up or sign with existing Amazon account, you can setup a new account or if you can sign in using your existing Amazon credentials.
You must approve of all the permissions requested during app setup (being: the current location (GPS), push notifications, and camera access) to be able to use the application. All three of these permissions are required to deliver for Amazon Flex. Not approving all three of the permissions will prevent you from using the application.
Complete your profile by entering your PAN, Bank Account Details and your service area where you would like to make the deliveries.
Answer the questions for background check.
And there will also be videos which you will have to watch to learn best practices for delivering with Amazon.
Your background check will be conducted which will typically take about 5 to 10 business days.
Once you are done with all verification process, you will be admitted and will be allowed to work.
That's it, this is how one can easily convert their free time into real cash for earning ₹120 – ₹150 per hour daily.