CoinMarketCap (CMC) is the world's top most used cryptocurrency price-tracking portal. The main aim of CMC is to make cryptocurrencies discoverable globally by retail users. This portal provides accurate and detailed information about each and every cryptocurrency. So whenever a user wants to do a research about any crypto coin they first lands on CoinMarketCap to find out current price, market cap, volume, historical price data, rank, market from where the user can trade the coin and other essential information.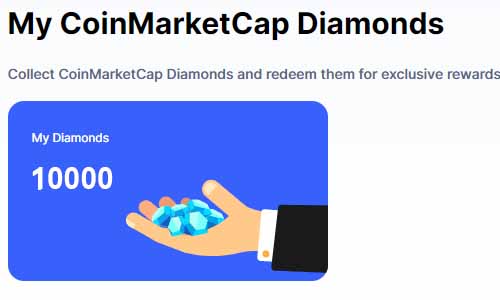 The CoinMarketCap also offers a feature called CoinMarketCap Diamonds to it's user. This feature is similar like reward points which you mostly earn on your Credit Card Spends. However at CoinMarketCap it's almost opposite, at CoinMarketCap the user gets rewarded with CoinMarketCap Diamonds on visiting the CMC portal daily and completing simple tasks. Later on the earned CoinMarketCap Diamonds can be redeemed entirely for rewards.
Earning CoinMarketCap Diamonds
To earn CoinMarketCap Diamonds, you should be a registered user on CMC. The registration is free of cost on CoinMarketCap, you just need to signup using your email id.
If you still don't hold an account on CoinMarketCap then you can register now using my referral link.
Once you have an account on CoinMarketCap, you are eligible to earn Diamonds. These earned CoinMarketCap Diamonds can be redeemed for NFT's or any other special offers.
To earned Diamonds you need to login to your CMC account and click on the Diamond logo appearing on right hand side corner
This will take you to the My CoinMarketCap Diamonds page, on this page you can daily collect diamonds by clicking or tapping on Collect Diamonds button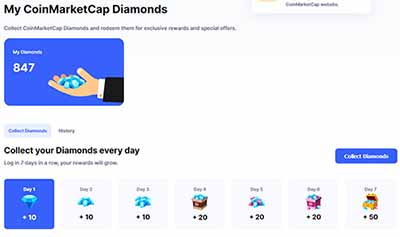 The Collect Diamonds button will be enabled once in a 24 hours after clicking on it
Below is the chart how diamonds are awarded per day on clicking collect diamond
| Day 1 | Day 2 | Day 3 | Day 4 | Day 5 | Day 6 | Day 7 |
| --- | --- | --- | --- | --- | --- | --- |
| 10 | 10 | 10 | 20 | 20 | 20 | 50 |
The above chart doesn't mean that you can earn diamonds only for 7 days after joining CMC. But it goes on vice versa.
Excluding this daily collect option, there are other tasks too on same page which allows you to earn more diamonds such as Predict and Win, Joining Airdrops etc.
Once you earn sufficient Diamonds you can redeem it by following below process.
How to Redeem CoinMarketCap Diamonds
To redeem your CoinMarketCap Diamonds you need to click on the Diamond icon which is appearing on right hand side corner of the page.
From My CoinMarketCap Diamonds page, just click or tap on rewards tab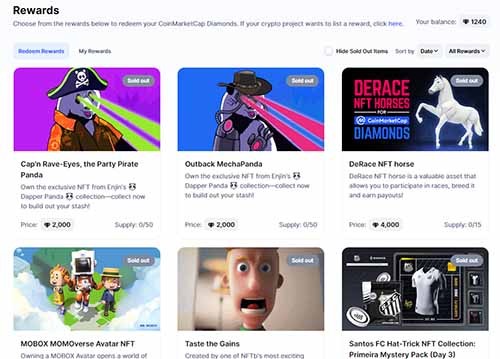 The reward page will open available rewards which you can redeem against your My CoinMarketCap Diamonds
Mostly you will be able to redeem your Diamonds for NFT's
As per your choice you can click on any NFT's available or if it is coming soon then you should be on the page at that specific time to redeem it
Some NFT's are very limited in stock, so you should be very fast enough to get one redeemed
Also you should make sure you should have sufficient Diamonds in your account to redeem the NFT's as per the price set
When you redeem any NFT, you should enter your ERC-1155 address for receiving NFT Avatars and click on redeem button
The NFT will be sent on your ERC-1155 address which you have entered while redeeming.