WhatsApp introduces a Seamless Solution for Managing Two Accounts on One Device using its Dual WhatsApp in One Phone Feature.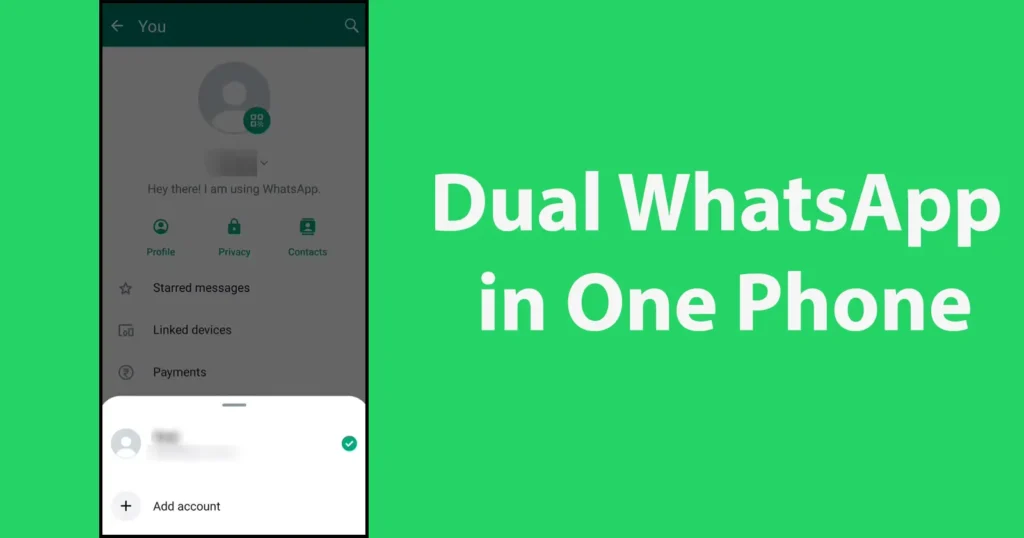 WhatsApp, the widely-used messaging application, has unveiled an innovative feature known as "WhatsApp Dual Accounts." This feature empowers users to simultaneously manage two separate WhatsApp accounts on a single device, eliminating the need to repeatedly log in and out. This new Double WhatsApp functionality is designed to simplify personal and professional communication by allowing users to conveniently switch between the two accounts.
Previously, WhatsApp introduced the ability to use a single WhatsApp account across multiple devices, enhancing user convenience. Furthermore, the platform recently integrated the Passkey feature for Android, streamlining the login process by eliminating the need for repetitive OTP authentication.
Setup WhatsApp Dual Accounts
WhatsApp Dual Accounts enables users to maintain both a personal and a work-related profile on the same device concurrently. This dual functionality aims to enhance productivity by keeping personal and professional communication channels separate, allowing users to focus on their respective spheres without mixing them.
To set up Dual WhatsApp in One Phone, follow these simple steps:
Update WhatsApp: Ensure that you have the latest version of WhatsApp installed on your device.
Access 'Settings': Open the WhatsApp application, tap on the three dots appearing at the top right corner of the app and tap on the Settings
Enter 'Account': Inside the 'Settings' menu, select 'Account' to access account-related options.
Add Account: Choose the 'Add Account' option, or you can alternatively access this option through the down-arrow button located beside your name.
Verify with a Second Mobile Number: Enter the second mobile number you wish to associate with your WhatsApp Dual Account and complete the verification process through OTP (One-Time Password).
Completion: Once the verification is successful, you will have two WhatsApp accounts on the same device. You can easily switch between them by clicking on the down-arrow button located beside your name and QR code.
This remarkable feature eliminates the inconvenience of carrying two separate devices to manage personal and professional communications. WhatsApp Dual Accounts streamlines your messaging experience, ensuring that your personal and work-related conversations remain distinct and organized.
Each of the two accounts comes with its own set of privacy settings, notifications, and preferences. This means you can tailor each account to meet your specific requirements. In essence, your WhatsApp Dual Accounts function like regular WhatsApp instances, only separated into distinct tabs, making it intuitive and seamless.
Gone are the days when users had to resort to third-party clone applications to enjoy this dual account feature. With WhatsApp Dual Accounts, managing personal and professional conversations is now as effortless as a click of a button. This new feature exemplifies WhatsApp's commitment to enhancing user convenience and expanding its array of functionalities.
WhatsApp's introduction of Dual Accounts is a significant step toward simplifying the way users manage their messaging, making it a versatile and invaluable tool for both personal and professional communication. Say goodbye to the hassle of carrying multiple devices, and effortlessly switch between your personal and work-related WhatsApp accounts with WhatsApp Dual Accounts.
Can I add more than two WhatsApp in one phone?
WhatsApp allows maximum two accounts to setup on one phone.